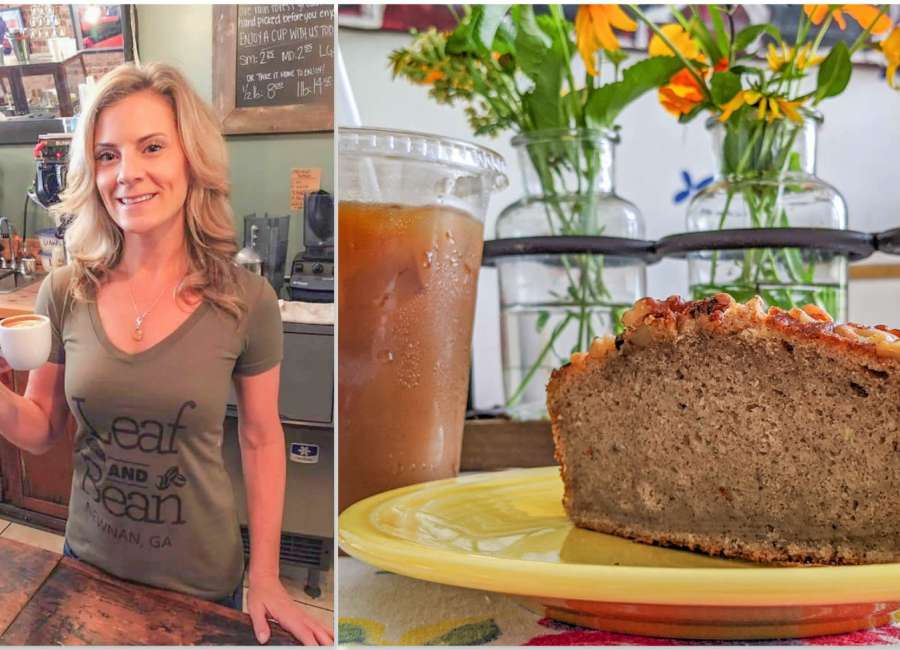 By Rachel Adams, NTH Contributing Writer

Local coffee shop owner Cher McWilliams likes her job a "latte."
Previously named Espresso Lane, Leaf and Bean has been serving the community for about 6 ½ years now since McWilliams bought the store back in 2014.
McWilliams decided to go into the coffee business after 20 years as a Radiology Technologist in the medical field.
"I didn't even know how to make a latte before owning Leaf and Bean. I'd never worked in the coffee industry, but I was ready for a career change, and the opportunity was there, and I'm extremely glad that it worked out because I think it's been a really good fit," she said. "I had been living in Newnan already, so when this opportunity came up and I knew that the coffee shop was for sale, it piqued my interest."
Leaf and Bean currently serves multiple flavors of coffees and teas, as well as breakfast items, sandwiches and desserts. The store uses organic and sustainable ingredients in its coffee and food to create a well-rounded, healthy menu.
"My hope was always to create some kind of place where I could provide healthy meals of some kind for people. At Leaf and Bean, we have been able to design a menu that not only has specialty and amazing coffee, but also food items that are healthy and quick, and to provide a place for everyone in the community to come and hang out and enjoy."
Leaf and Bean has also recently been approved for its liquor license, and McWilliams said she has plans to integrate after-dinner drinks into the store's menu on weekends.
"We'll have a whole 'nother level of something to provide for Newnan that is a need, I think," she said.
There are also challenges to running a small business, and McWilliams said that one she faces is the uncertainty that comes with each day.
"On any given day, you never know what may happen, whether it's a roof leak, or the oven's not working, or the sink won't drain, or the refrigerator's out, or an employee's sick," she said. "Every day is so unique and different, and that always makes it a little bit challenging, but it also makes it fun. I just take it all in stride."
Leaf and Bean is staffed by about 12 employees at any given time, ranging in age from late teens to mid 30's. A few of the employees work full time, with the majority working part time.
"I'm always looking for hardworking, happy, fun people," McWilliams said. "We have a really good crew right now. It makes me happy to go to work; they make me laugh, and they're entertaining."
McWilliams said her favorite thing about owning and running Leaf and Bean was that it gave her the chance to create a place she felt was good for the community, which shows through the growth of the store.
"It's grown every year — more customers, more sales, and it's just an evolution every year of what we're doing and providing. I'm always excited to see what I've created and have the customers coming in," she said. "That definitely shows that we're doing something right."
Leaf and Bean is located at 22 W. Court Square and is currently open all seven days of the week.
Leaf and Bean won first place for Best Local Coffee in Newnan-Coweta Magazine's 2020 Best of Coweta Contest. Check out more winners in the magazine's July/August issue, available around town or online at newnancowetamagazine.com .
Cher's Banana-Nut Muffins
PRER: 10 MINUTES
COOK: 20 MINUTES
Ingredients:
1 ¾ cups all-purpose flour
2 ½ teaspoons baking powder
½ teaspoon of salt
1 Large egg, lightly beaten
1 cup mashed ripe banana
½ cup of milk
1/3 cup of vegetable oil
½ cup of chopped pecans/walnuts
Combine first 4 ingredients in a large bowl; make a well in center of mixture. Combine egg, mashed banana, milk, and oil; add mixture to dry ingredients, stirring just until moistened. Stir pecans.
Spoon batter into greased muffin pans, filling ¾'s full. Bake at 350 F for 10 to 15 minutes or until golden. Remove from pans immediately. Yield: 1 dozen.
For Banana-Nut Bread: Spoon batter into a greased 8 1/2-x- 4 ½- inch loaf pan. Bake at 350 F for 20 minutes or until a wooden pick inserted in center comes out clean. Cool in pan for 10 minutes. Yield: 1 loaf or 4 mini loaves.
Newnan-native Rachel Adams is a recent graduate of Georgia Southern University and a contributing writer for The Newnan Times-Herald.