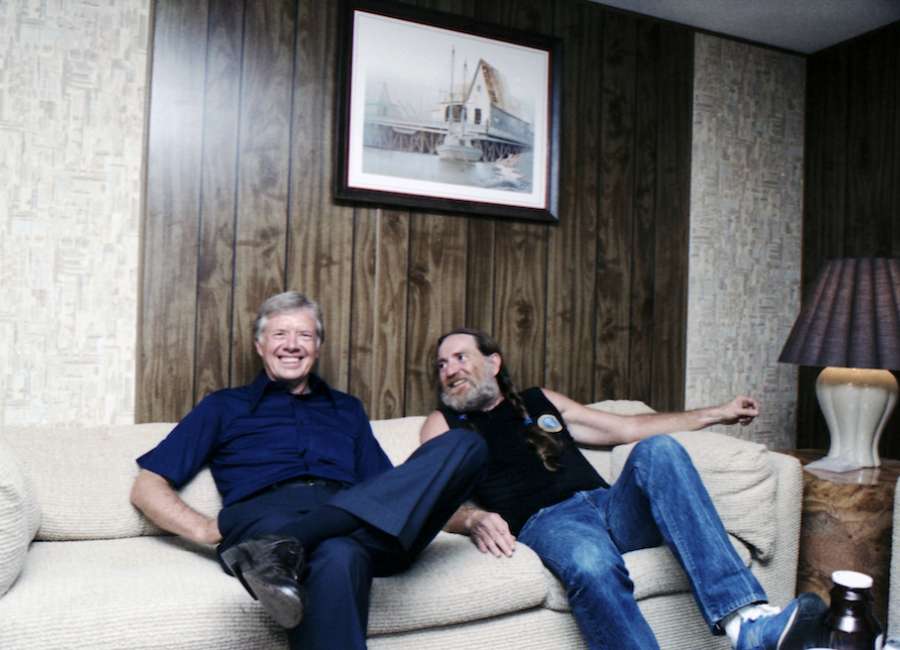 Review by Jonathan W. Hickman
"Jimmy Carter: Rock & Roll President" is an exuberant celebration of a good man, who became one of America's most effective ex-presidents.
Whether or not history will judge his presidency kindly, the Georgia peanut farmer who rose to the land's highest elected office is undeniably a likable fellow. And back in the 1970s, his relationships with some of the biggest names in music helped expand his appeal.
In the documentary, Grammy award-winning producer turned director Mary Wharton explores the intersection of music and politics. The film takes us behind the scenes with some of rock & roll's most prominent players and 95-year-old President Carter in a series of intimate interviews.
Among the musical luminaries featured in the film, we hear from Jimmy Buffet, Garth Brooks, Rosanne Cash, Larry Gatlin, Willie Nelson, Nile Rodgers, Paul Simon, Trisha Yearwood, Bono, and even Bob Dylan. But most touching, I think, are the interviews with the late Gregg Allman (who died in 2017).
"The Allman Brothers helped put me in the White House by raising money when I didn't have any money!" Carter says in the film.
And it's the 39th president's relationship with Gregg Allman that helps demonstrate the character of Jimmy Carter. Following Allman's famous mid-1970s drug bust, and his subsequent testimony against his personal road manager, it would have been easy, even understandable, for Carter, a good Christian, to abandon the troubled southern rocker. But true to form, and by relying on his lifelong Christian sense of forgiveness, Carter's big heart and loyalty to his friend endured.
Risking political blowback, Carter maintained ties to Allman, even continuing to have the struggling musician and his then-wife, Cher, to the White House. If Carter only valued the benefit of celebrity connections, he would have stopped taking Allman's calls. The humility and grace on display are palpable.
And the interviews with Carter, whose son, Chip, describes as only being able to "play the stereo," are rich and insightful. Regardless of your political affiliation, it's hard not to appreciate Carter's calming approach to life.
Aside from a trip back through political history, "Jimmy Carter: Rock & Roll President" works as a musical time capsule. Containing rarely seen performances by some of the business's biggest names, it's a joyous and rocking movie. And Wharton, daughter of famous blues guitarist Bill Wharton aka "The Sauce Boss," smartly populates her film with a seamless tapestry of overlapping tunes.
At one point, the narrative features a soulful rendition of "God Bless America" by Aretha Franklin at the presidential inauguration. It's impossible not to be moved by the performance, which was proceeded by a surprise appearance on stage by none-other-than actor John Wayne, the opposition's loyal voice. Later, it's pointed out that Wayne helped with the iconic Panama Canal Treaty.
Even though Wharton presents a solidly positive view of the former one-term president, whose legacy was forever damaged by the Iran hostage crisis, this documentary doesn't shy away from his political failures. But as history looks back on the man, harsh words don't come easily. And his infectious smile and kind manner are on full display.
A must for music fans, and an intriguing, unique perspective of interest to politicos, "Jimmy Carter: Rock & Roll President" places a tough time in our nation's history in a musical context. It also begs us not to turn our back on a friend even if that relationship is unpopular.