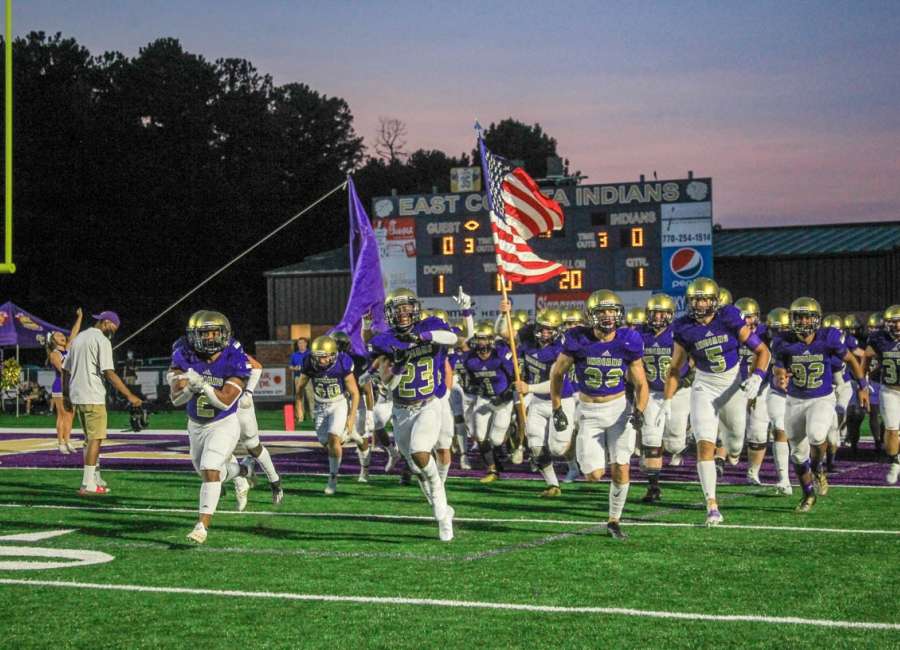 By Arvon Bacon

The East Coweta Indians extended their winning streak to two after a dominant performance in all phases against the New Manchester Jaguars.
The Indians' defense and special teams forced six turnovers, four fumble recoveries and two interceptions.
Initially, defenses from both teams were stingy in giving up yards.
However, the Indians' offensive line, led by Vanderbilt commit Gage Pitchford, opened up running lanes for their running backs to get in an early rhythm.
Thanks to the persistent push from the offensive line, it eventually propelled Coach Small's Indians to score first on a 25-yard touchdown by running back Trey Bowles.
As the night progressed, the Indians' offense leaned heavily on their running game, averaging 9.5 yards-per-carry. Both running backs, Jayden Bolton and Trey Bowles, combined for 325 yards and five touchdowns.
The highlight run of the night occurred when Bowles appeared to be gobbled up in the backfield, broke a tackle in Houdini-esque fashion, gaining 38 yards, which propelled the Indians to their second touchdown of the night.
Quarterback Daniel Shoch completed a 10-yard touchdown pass to Amariyon Moss, extending the lead to 14-0.
The Indians' defense shut out the New Manchester Jaguars' offense for the first quarter, and wouldn't score until eight minutes into the second quarter.
Despite allowing the Jaguars to score, the defense redeemed itself by forcing three fumbles and intercepting two passes.
The most significant of the two occurred on a third-down and 12 yards away from the goal, as Jaguars' quarterback was hit by Ryan Barber when he tried to throw the ball out of bounds, but was fortunately for the Indians caught by Myles Bridges on the sideline.
That play would bring the coaching staff lesson of not worrying about yards all the time to life.
"We called a timeout after the Jaguars got to the goal line, and one of our kids said, hey yards don't matter and the next play we picked it off," said Coach Small. "They can drive from the 1-yard line to the other, but as long as they don't score, that's what matters."
As the game progressed, East Coweta's special teams recovered a fumbled punt from the Jaguars.
That turnover sucked all of the wind out of the sails of New Manchester's comeback effort, which propelled the Indians to 2-0 by a score of 42-20.