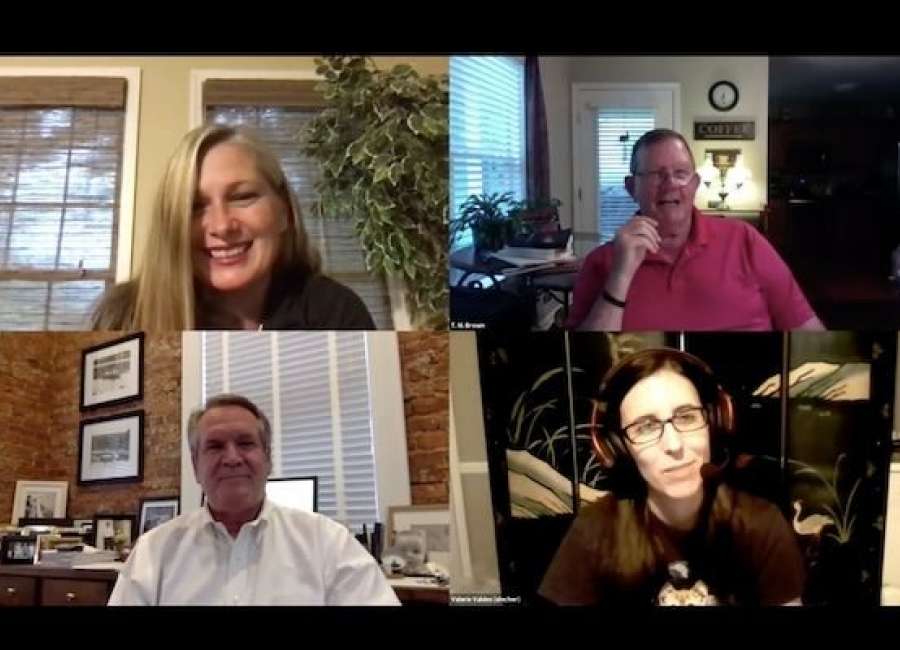 Like other local organizations, when the COVID-19 pandemic hit in March, Hometown Novel Nights had to pause it's event schedule.
Author Mike Brown of Hometown Novel Nights said the last event they held before the pandemic was in Warm Springs at the beginning of March. "We were paralyzed," Brown said.
Hometown Novel Nights is an organization that connects regional authors with the community through events such as author panels.
HNN events began to pick back over the summer, and Brown said they have been able to host its "Lines Between the Wines" event at the Warm Springs Cellar, following social distancing protocol, monthly since June.
Typically, HNN has held monthly author programs at the Newnan Carnegie Library. However, with social distancing recommendations, they haven't been able to hold in-person events at the library.
In August, the Newnan Carnegie Library hosted the first author's program in a virtual format via Zoom. Brown moderated the panel of three authors, including Angie Gallion, Pat McKee and Valerie Valdes.
Through the fall, the Carnegie plans to continue to host author programs monthly via the virtual format. This month's author program will be Sept. 17 at 7 p.m.
Featured in September's program will be Mark Wallace Maguire, author of "In Pursuit of the Pale Prince" and the Alexandria Series; Barbara Conrey, author of "Nowhere Near Goodbye"; and Caroline Cole, author of "Synthetic Sanity."
"We are really excited to have our second Hometown Novel Nights virtual event in September," said Carnegie Director Susan Crutchfield. "The first one was so great and we heard terrific stories and advice from three authors."
"These virtual events have been really enjoyable because you can still ask questions and interact with the authors from the comfort of your own home," Crutchfield added.
In addition to the virtual events, Brown has been able to connect with residents at the Monarch House in Newnan through weekly readings.
In March, Brown wasn't allowed in Monarch House for the readings because of COVID-19. He said at the beginning of May, they invited him back and he is able to read to the residents outside, socially distant using a microphone.
Brown said he has been reading three to four chapters of a book each week. Weeks where he can't visit Monarch House in person because of health concerns, he is able to record himself reading for the residents.
He said Hometown Novel Nights is growing, despite challenges from the pandemic. Brown said Gallion helps him identify authors and promote events on social media, and Scott Ludwig serves as the moderator for the panels.
"I couldn't do this without them, period," Brown said.
Brown said he thinks people are growing more interested in Hometown Novel Nights, especially as people have been reading more during the pandemic.
"People can get their minds focused on reading other than the news," Brown said. "We all need some place to go; books are a great option."
The monthly author panel's will be posted to the Newnan Carnegie Library's Facebook page and Hometown Novel Night's Facebook page .
The Newnan Carnegie Library will be selling the books of the authors featured in the monthly programs with 25 percent of each purchase benefiting the library.
"We're looking forward to when we can return to some form of normalcy," Brown said. "When we can get back together face-to-face and meet authors."
Gallion and Brown will be outside Corner Arts Gallery and Studio this Friday for the Forward Friday event. Brown said HNN authors are encouraged to stock their books at Corner Arts Gallery so book lovers can find their books in Newnan.