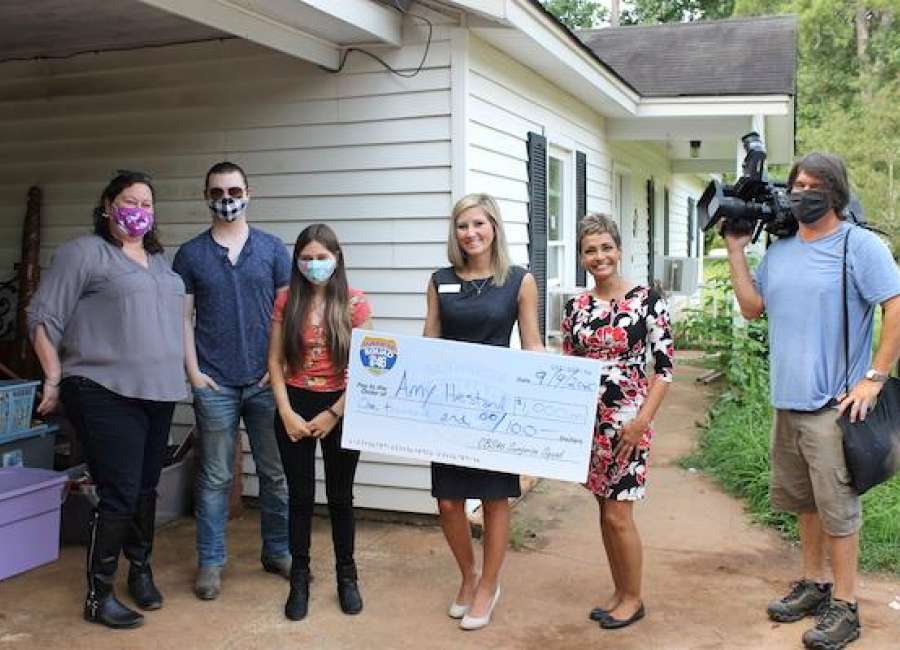 Amy Hiestand was recently recognized by CBS46's Surprise Squad for her collection of Little Free Libraries in Coweta she calls "Hometown Book Nook."
The Surprise Squad gave Amy a new laptop to replace her old one that broke. The sponsor for the Surprise Squad, United Community Bank, also donated $1,000 to Amy for her project.
"That is for you to write your special stories, and maybe someone will be reading your story one day," said Gurvir Dhindsa with CBS46. "For all she's done, the CBS Surprise Squad wanted to do something for her."
Amy said she's probably going to buy more books with the donation.
"I've known about the Little Libraries so she's done such a great job, and her servant heart – it's wonderful," said Makinley Cook from United Community Bank.
Hometown Book Nook
Amy, a local 14-year-old, decided to share her love of reading with the community through building and maintaining several Little Free Libraries. She is medically fragile, and she said when she was sick or going through testing, she would always read to escape.
"So being medically fragile meant there were times where she was sick or undergoing treatments or diagnostic tests, and she's always loved reading, so she disappears into the world of reading," said Amy's mom, Tawny Hiestand.
Her first Little Free Library went up at Northside Baptist Church off of Highway 29 in 2018. The second library, which was put up in June of this year, is at Loblolly Pine Co. off of Franklin Highway in Newnan. The third library at Ray Park in Newnan was put up earlier in August and is a collaboration with Keep Newnan Beautiful.
Each library is registered with Little Free Libraries, which maps where libraries are located on it's website, littlefreelibrary.org .
Amy wanted to focus on putting the libraries in disadvantaged areas, after hearing from Tawny's sister, who teaches elementary school in Fulton County and specializes in reading.
"Hearing her talk about children who don't have access to books – mom and dad can't get them to the library during the hours the library is open – it instilled into Amy wanting to get books into more disadvantaged areas," Tawny said.
Amy is the face of Hometown Book Nook, and the rest of the family helps her behind the scenes, including Tawny, Amy's best friend and Amy's grandparents.
Amy and her grandfather worked together to build the second and third libraries. Tawny said he cut and constructed the main structure, and Amy sanded and painted.
Each library has different designs but is painted with Amy's signature colors, teal and pink.
All three of the libraries have books ranging in reading levels from babies up through adults. Tawny said all of the books are family-friendly, and nothing is in the libraries that she wouldn't let Amy read.
Tawny said they are realistic in that sometimes books leave their libraries, and don't come back. She said she is constantly asking for donations to keep the libraries filled.
Since Amy is immune-compromised, all books are quarantined when they come in. When they receive new books, they put them in bins and leave them in their carport for three days to kill off anything that could be growing.
They said they have about 200 to 300 books that they rotate out between the libraries. Tawny said they rotate the books by season every quarter.
Amy makes sure to stock the libraries weekly, with about 15 to 20 books each time. If they come across other Little Libraries, they will check to see how many books they have and if they need more, they will add some of their own.
Each chapter book they have in the libraries has a bookmark for the reader to use.
"My getaway from all the medical stuff is to read," Amy said. "Reading, you can go places and be back for dinner."
Tawny said by reading, Amy is able to go places she wouldn't be able to go in real life.
"A lot of people underestimate her," Tawny said. "With her medical stuff, people will tell her she can't do this, and we've always told her 'can't never could,' and she's not allowed to use the words 'I can't.'"
Tawny said she's always told Amy that anything she wants to do, they will support her. She said if Amy needs help to reach a goal, they will always help her achieve it.
Amy's goal is to have 12 libraries set up by the end of this year.
They are currently in need of young adult and teen books, books for men, self-help books and diverse books. The Hometown Book Nook Facebook page has a link to their Amazon Wish List.
"There's a big movement now to get diverse books out there," Tawny said. "The only way to conquer especially what's going on in the world right now is to open the minds of everybody, but to start that is with your children."
Watch Amy's interview with CBS46 on its website .