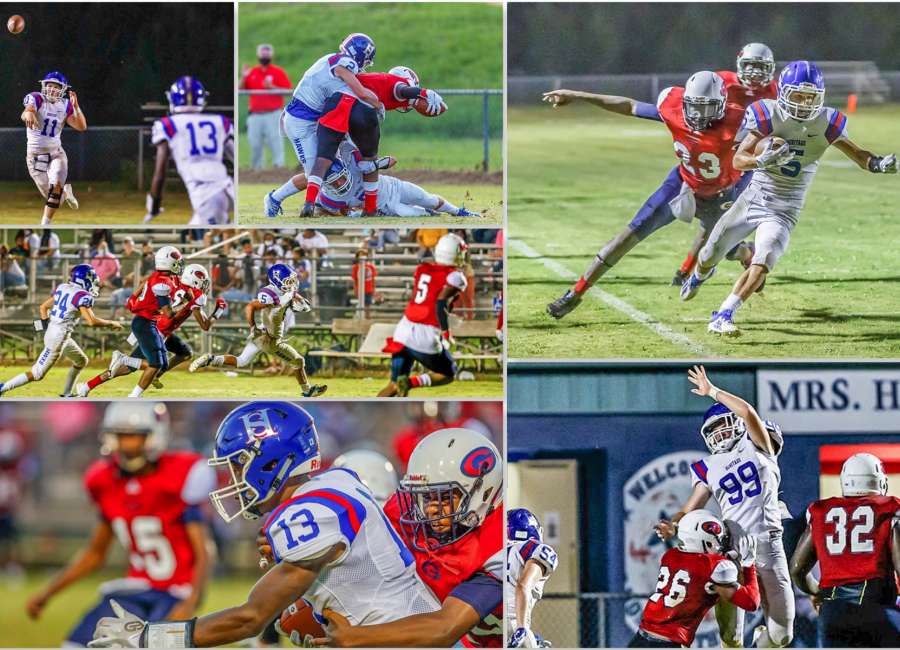 By Rob Grubbs
(Greenville, Ga) – It was not the ending that everyone envisioned.
On the first play of the fourth quarter, Heritage senior back Andrew Rich scored on a 30-yard burst and the Hawks had a 36-20 advantage. However, things changed quickly.
A Greenville team that struggled to get into offensive formations earlier in the game found a huge dose of bottled up momentum and outscored the Hawks 22-3 the rest of the way for the 42-39 gut-wrenching Heritage loss.
The game could not have started any better for Heritage in their GHSA debut. After the Hawk defense forced a three-and-out on Greenville's first drive, a poor snap on the punt produced a safety and a quick 2-0 lead.
Heritage followed that with their first offensive touchdown of the season. It took just three plays; all runs but Rich to find the endzone. Then William Bryant took an interception back for a touchdown and less than six minutes in, Heritage had a 16-0 lead.
Perhaps the quick start gave them a little bit of overconfidence, or perhaps they let off the throttle just a tad, but they were brought back to reality when Greenville scored their first touchdown of the night. It was there the Hawks got a glimpse of how powerful and fast the Patriot running game could be.
Greenville possessed speed, and they displayed that multiple times; they scored touchdowns on runs of 58, 62, 58 and 81 yards, respectively.
Heritage closed out the first half with two touchdowns, one on a quarterback sneak by Harris Celata and another of a powerful run by fullback Fred Tolbert for a 30-14 lead.
Greenville began to turn the tide the right after the intermission. They controlled the entire third quarter and only allowed Heritage eight offensive plays. That break gave the Patriot defense a chance to settle down on the hot-sticky night.
After the Rich touchdown that started the fourth quarter, the Greenville onslaught began. With the help of an interception, the Patriots scored twice in six minutes to make it a 2-point game.
Heritage looked to ice the game with one final drive, but a Greenville stop on a third-and-three forced a Mack Mikko 40-yard field goal to go up 39-34 with 3:29 left. All the Hawks needed was one stop to celebrate.
What they did not need to do was give Greenville any free yardage, but on the Greenville winning drive, the Hawks committed an uncharacteristic three 15-yard penalties to put them 45 yards closer. The Patriots took full advantage and scored the winning touchdown and conversion with 36 seconds remaining.
Celeta tried to lead a desperation drive to get Mikko in possession for a tying field goal attempt, but ran out of time.
Head Coach Micah Alba shared after the tough loss, "The biggest thing we talk about all time is everybody doing their job. A guy here or a guy there not doing that hurts us, and that is youth. This film will be invaluable, it is tough to take but great opportunities for these kids to learn that we execute, we shut them down. I am proud of the way they played, they fought and they battled. We have a lot of young guys just learning. I am excited to see what they will do going forward."
The Hawks got solid performances from their running game, Rich finished with 131 yards rushing on 11 carries with 2 TDs and Tolbert added 108 yards on 11 carries with 1 TD.
Heritage will be on the road next week as the travel to McDonough to face the defending state champion ELCA Chargers.
Photos by Chris Martin