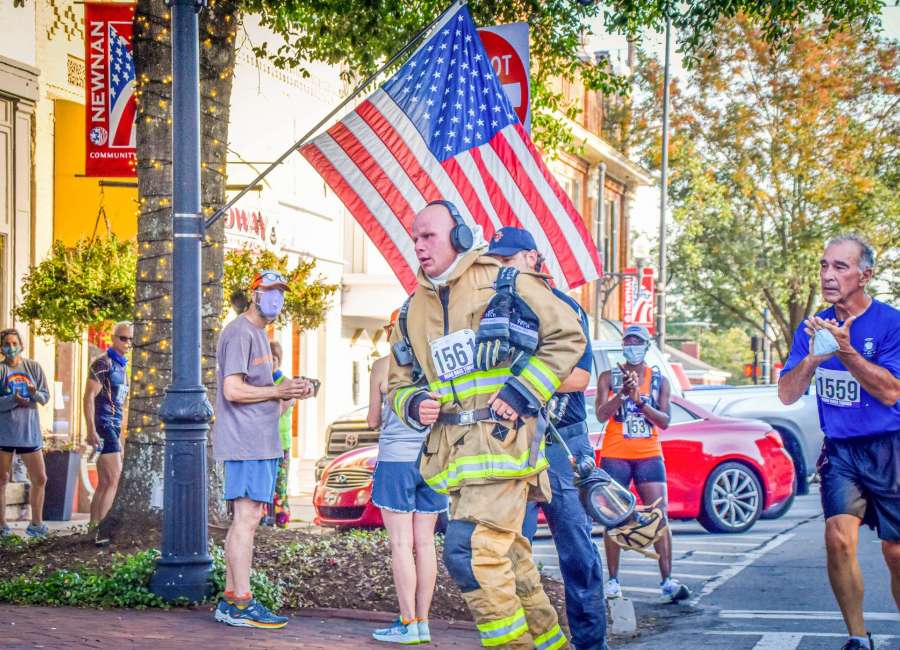 Newnan Firefighter Jason Scott isn't afraid of a challenge. In fact, he seems to welcome the opportunity.
Last Saturday, Scott was among the 164 participants in the 43rd annual Sunrise on the Square 5K. But instead of wearing traditional jogging garb, Scott strapped on 50 pounds of gear and dressed out in his full firefighting suit.
For the first two miles, Scott said he felt fine. Around the third mile is when he reminded himself of his promise of not giving up.
He completed the race in 41 minutes and finished 110 out of 148 participants.
"I wasn't too worried about my time; I just didn't want to walk or stop," Scott recalled. "I wasn't trying to set any personal records, but wanted people to see me not giving up."
"Driving up Jackson Street is a whole lot different than running up it," he continues. "But in the end, all that excitement and encouragement made me feel like a pro athlete taking the field."
After completing the race, Scott went back to the station to shower and carry on with his shift. He would work a fire call only hours later.
This isn't a one-off challenge for Scott, who says he's spent years testing himself physically.
"I like a challenge, and I want to make it as firefighter-oriented as possible to simulate those same conditions," he said. "In the California wildfires, you see them walking miles and miles through the woods in full gear or maybe seeing those images of 9/11 firefighters who left their engines in the middle of the road to rush into buildings."
For the last several years, he's participated in the 9/11 climb, where Scott hops on a StairMaster at the gym, donned in full gear, and climbs 150 flights in honor of those first responders who perished in the towers.
"If they can do all that, I can definitely run three miles in my gear," Scott said.
So how do you train for something like this? Well, Scott works out around two hours daily and utilizes exercises including the push sled or tire flip, all of which help him focus on his breathing. When he first came to the Newnan Fire Department, he practiced jogging around the block in full gear, including oxygen tanks.
Scott said he's inspired to keep going by a good friend and workout partner who was battling cancer and provided him with some perspective.
"When I would get tired, he talked about how he fought cancer and wished he had the health I do," Scott said. "When someone tells you that, it makes it hard to say 'I can't.' No matter how tired I am, if there's still work to do, I'm good to go."
Scott said he plans on doing it again, but would aim to beat his time from this year. However, his passion for pushing himself is rooted in gratitude for his community. A former railroad employee, he worked with CSX for over a decade before being laid off after his shop closed. He spent the next eight months trying to become a firefighter.
After several years working in Clayton County, the father of three and 14-year Newnan resident was given the opportunity to work for his local fire department.
"It's another reason I try to show age is just a number and how grateful I am that Newnan gave me a job," he said. "It feels good to do it for your community because they treat us so well. I want people to say 'That's Scott. He's one of ours.'"
Scott said he plans on running it again, but will focus on beating his 2020 time.
What advice does Scott have for someone looking to challenge themselves and attempt to reach outside their comfort zone?
"If you tell someone you're doing it, you can't back out," he smiled. "When I told everyone I'd be out there, there's no way I could back out. When you have a crowd watching you, you can't help but give it your best."
For a gallery of images from the 43rd annual Sunrise on the Square 5K, click here: https://photos.times-herald.co...