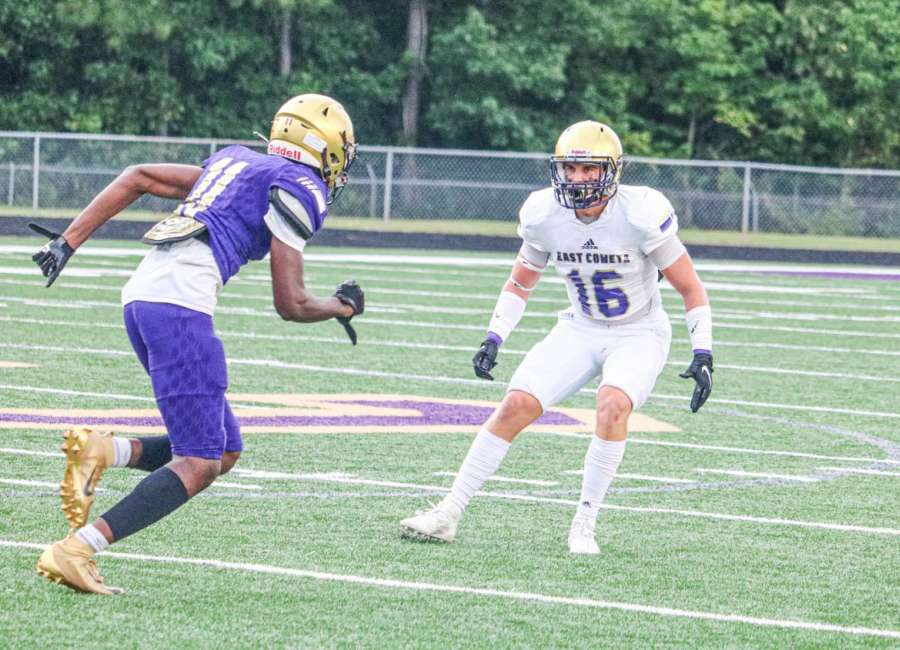 By Rob Grubbs
The 2020 football season has unveiled a considerable amount of talent at the quarterback position. All five high schools have a bonafide star directing their offense. But there is only one player in the county that has started and won a playoff game at quarterback, and that young man plays on defense.
In the past offseason, East Coweta senior Gabe Gray made the selfless decision to change positions to better his team. In a world that says, "Look out for yourself first," Gray decided to put his teammates, coaches and school first.
There is an aura in being the starting quarterback. It is a demanding position, requiring physical skills, good decision making and leadership. In the offensive huddle, there are 10 sets of eyes focused on you, hanging on your words and demeanor. In the school building, everyone knows you. It becomes your identity.
Gray accepted that responsibility when he started playing quarterback in the eighth grade. Once at East Coweta, he started the entire year on the ninth grade team. His career path seemed set; after a full year in the system, he would compete for the varsity job as a sophomore. That job was ultimately won by then senior Nathan Cronic.
Gray assumed the JV quarterback role, but in a move that would foreshadow his career, ended up playing some running back as well. He also got his first varsity experience on the kickoff and kickoff return teams. The young man was growing up.
To prepare, Gray credits Christian Reid, former East Coweta quarterback, now at Alderson Broaddus University.
"We would have workouts and throw with receivers," Gray recalled. "He would coach me up on helping my technique and ball placement."
Gray's moment came last year. After backing up senior Devin Gelband in the 2019 opener at Mercedes Benz Stadium, Gray was named the starter for week 2 against Carrollton.
On hearing the news, Gray's first thoughts were, "I am prepared for this."
"If you are prepared, then you don't have to feel the pressure," he said. "Your preparation will keep you from stressing. I know my job, I know what I need to do, I just need to go and execute. That is how I approached Friday nights."
Once installed as a starter, there was a slight detour when he injured his ankle and missed two games. He came back in time to start the win at Newnan.
East Coweta opened the 2019 state playoffs at Etowah. Down 13-0 in the third quarter, Gray led the Indians on what would eventually be their first scoring drive of the night. Unfortunately, Gray was not there, on a key 20-yard run he was injured and finished that drive headed to the hospital.
Head Coach John Small's Indians regrouped from the injury and earned the first-round victory with Gelband at the helm.
A fully recovered Gray started preparation for 2020 when there was another twist. On a workout day with his receivers, Coach Small told him another talented quarterback could be moving in from Pennsylvania (current East Coweta quarterback Danny Shoch).
There would be competition for the job, but Gray had never backed down from competition.
Then the opportunity came to move to safety, where he had played a little on the ninth grade team. Gray said the decision was easy.
"I am going to do whatever the team needs me to do, and I am going to execute to the best of my ability," he said. "I am not going to be selfish; I am not that type of guy."
Coach Small has a high opinion of Gray, calling him "one of the best all-around football players I have had a chance to coach in my career."
"A very unselfish kid that does anything you ask him to do," Small said. "We wanted to play him on defense the past couple of years because he is such a physical player, but he had to play quarterback. He loves his teammates and will do anything it takes to win. The kid has character and is a great leader."
The transition is complete; Gray started at safety last week in the Indians' 21-20 win over Starr's Mill. His play was instrumental in slowing down the Panther option attack.
Gray summed up his thoughts: "We have a great team this year, and we have a chance to be really good. I just appreciate Coach Small and what he has done. He came in with the mentality that we are going to play the best teams in the state, and we are better because of him."
In so many instances, high school football provides a glimpse into life. These young men are our future leaders, and from what our country has witnessed recently, we are starving for leadership. Everyone should take a moment and take an introspective look inside themselves.
We need selfless role models to emulate. We all need to put some Gabe Gray mentality in our life, now more than ever.