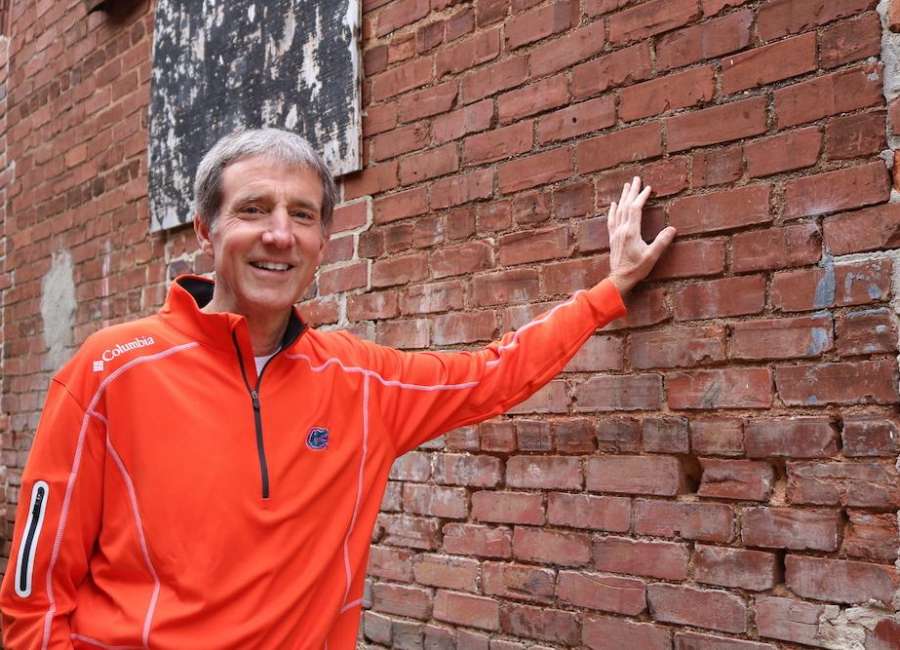 When I first began writing, I wrote mostly about running. I wrote for several running magazines and periodicals before writing my first book about running.
To date, I've written eight books about running, with another in the works. This next one will be my last one on the subject because, quite frankly, I'm just about out of gas.

***
Four of those eight books have reflected my personal journey as a runner. The first of the four, Running through My Mind: Confessions of an Every Day Runner (2007) chronicles my first 25 years of running every day and what people, places, aches and pain factored into my first 100,000 miles. My son Josh wrote the Foreword.
The second, Distance Memories: Reflections of a Life on the Run (2013) is about turning 50 and accepting the fact I wasn't ever going to be as fast as I used to be. The book also discusses how running helped me cope with the loss of my parents – both of whom passed away within a span of just 24 days in 2007.
The third, Running Ultras: To the Edge of Exhaustion (2014) is – at this point, anyway – the closest thing I have to an actual autobiography. The book contains my quest to compete in the 'four majors' of long-distance running: the JFK 50, the Comrades Marathon, the Badwater Ultramarathon and the Western States Endurance Run. The last two are especially memorable, as Josh played a large role in both.
The fourth, Running Out of Gas: A Lifelong Runner's Take on Slowing Down (2018) was originally titled Running Past the Edge of Exhaustion, but my publisher had other ideas. Being totally honest, the publisher's final choice grew on me. The title fits: I am a lifelong runner, I am slowing down and I most definitely am running out of gas. I ended the book thusly: 'I may be running on fumes at this point, but I'm still running.'
That brings me to my fifth book. While I continue to run on fumes, I'm not sure if what I'm doing is still technically 'running,' but I do know I'm still out there getting in my fair share of miles. After all, I need to keep my mileage up just a little while longer to finish the book and get to the end of one last long run.
***
For all intents and purposes, it will be the last long run of my life. It will also be the most significant run of my life.
On October 21, my friends Antonio and Keith will be joining me for 35 miles on the country roads of Senoia as we commemorate what would have been Josh's 35th birthday. Several other friends will join us throughout the day to run a few miles with us as well. Many of you are already familiar with what happened to my son. For those who aren't, Josh lost his life on March 27 from a drug overdose. If Josh was still here today, I believe the two of us would have completed the run together. It's now up to me and my friends.
I always considered the worst thing that could happen to a parent was to lose a child. Last spring, I found out for myself: Josh's death was completely devastating to his mother and I. It was devastating back then, and it remains so to this day. And I don't expect that to ever change.
So on Josh's birthday, my friends and I plan on remembering all of the good things in his brief time on this planet: the fond memories, the inspirational moments and the many other things I hold in my heart that will keep me moving forward the rest of my days.
Everything that happens that day will be the premise for that last chapter in my final book about running. If there is such a thing as a perfect ending, I hope this will be it.
But first, just one last time, I'm going to need a full tank of gas. Just one last time, I must summon the strength, willpower and endurance to get me to the finish line.
And maybe, just maybe, I can reflect on the horror of losing a son and the tragic loss suffered by our friends and family for the last time. For one last time, I want to use the opportunity to say goodbye; then maybe I can turn my attention on the day I will see him again.
At least that's what I keep telling myself.
***
If you would like to join us on October 21, we will meet at 6 a.m. at the Haralson Park Pavilion (121 Aaron Todd Road) in Senoia. We will begin at 6:05 a.m. and run three 5-mile loops (Rowe Road to Dead Oak Road) followed by eight 2.5-mile loops (Rowe Road to Line Creek Road to Main Street).
Someone will be stationed at the pavilion at 10 a.m. to advise you of the routes (if I'm not in the vicinity) as well as to let you know where Antonio, Keith and I are at any given time should you want to run and/or walk with us. Refreshments will also be provided. Please let me know if you plan on joining us.
Our anticipated finishing time will somewhere in the neighborhood of 5 p.m. (we're in no hurry). You can reach me at magicludwig1@gmail.com. If you choose to run somewhere else on your own that day and dedicate a few miles to Josh, please let me know so I can extend my appreciation.
****
Scott Ludwig lives, runs and writes in Senoia. His latest book, "Southern Charm" is a collection of his first 101 columns for The Newnan Times-Herald. He can be reached at magicludwig1@gmail.com .