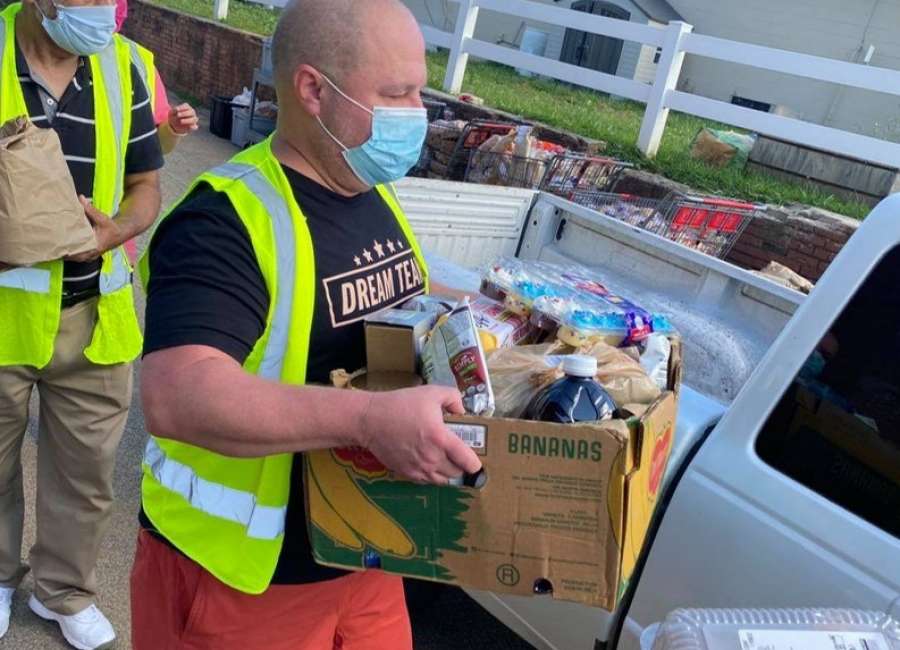 Food pantries across the state are seeing increased demand for food as the COVID-19 pandemic continues, and local pantries are no different.
There was already a big increase when the pandemic began and people lost jobs, but local pantries are continuing to see increases.
Ann Kerlin of One Roof/The Coweta Community Food Pantry said that demand was up nearly 5 percent in August compared to July. And that doesn't even count the 50 food boxes that One Roof provides every two weeks for giveaways in Arnco through the feeding ministry of Providence Baptist Church.
Kelli Yeager of Bringing the Gap said that not only is the organization seeing a continued increase in new families every week, "but we're also seeing people who had not come in a year or two who are returning to get food now."
"Most report having lost a job through furlough, forced retirement or their employer closing its doors for good," Yeager said.
Karhma Novak of The I-58 Mission in Senoia said that the organization went from serving roughly 50-75 families a week before the pandemic to serving 125-150 families a week. That's an increase from 9,000 pounds of food to 23,000 pounds of food, she said.
I-58's increase has been steady since March, Novak said, but she's seeing five to 10 new families per week.
All that demand is pinching supply at I-58. "I've never seen the shelves this empty. God is literally providing week by week," Novak said. A recent food drive by Cornerstone UMC helped I-58 feed approximately 40 families, she said.
People can help I-58 by being a part of the ministry's Facebook community to see weekly needs, Novak said. Items can be dropped off at the ministry, 2450 Highway 85, Senoia, from 10 a.m. to 2 p.m. Monday through Wednesday, or they can be shipped directly. Financial support can be sent by check or PayPal to thei58mission@gmail.com .
Sharing the load
Kerlin said that the demand on the primary food pantries would likely be higher, if it weren't for other organizations sharing the load.
"Additional nonprofits and churches are providing food this season," Kerlin said. "The Housing Authority has stepped up under Alfrieda Thomas' leadership to feed its communities, Salvation Army is providing more food than ever, and Sisters for Society is also out there serving many needs of their clients, for example."
One Roof has joined Midwest Food Bank, which provides fresh fruits and vegetables, milk and sometimes chicken. The pantry has also been accepted into the Atlanta Community Food Bank.
With the additional resources, One Roof is giving out more food to each family. "Our folks receiving food get a dry goods box containing about 25-30 pounds of canned or bagged food depending on family size, a gallon of milk, several bread and/or desert items, and a box of fresh vegetables when we have them," Kerlin said.
One Roof then purchases additional proteins for more well-rounded meals, including eggs and chicken.
Currently, One Roof is having some issues with its walk-in freezer, which has been repaired multiple times.
End of unemployment supplement a big driver
Some of the more recent increase is likely associated with the end of the federal unemployment insurance supplement, which was giving everyone who received unemployment an additional $600 per week. Without it, the maximum unemployment payment is $365 before taxes. A new federal supplement, of $300 a week, was approved in August but only lasted six weeks. Georgians are receiving that $1,800 in two lump-sum disbursements.
"We have definitely experienced that," Yeager said of an increase since the unemployment supplement ran out. The organization is also concerned about impending evictions. An executive order from the Centers for Disease Control and Prevention offers tenants a way to stay evictions through the end of the year. Tenants must fill out a declaration form to take advantage of the moratorium – and all back rent will be due at the first of the year.
Worries about the future
So things could get much worse in January. There are also concerns about the federal program that temporarily waives Social Security and Medicare taxes – commonly called payroll taxes – but only temporarily, and employees will have to pay the waived taxes back with their 2020 tax filing. Many private employers are choosing not to participate in the program, she said.
"So we're a little concerned," Yeager said. "I would rather be prepared for the worst and have it not happen, than to have it happen and not be prepared."
Yeager said that about 38 percent of Bridging the Gap's clients during the pandemic have been new clients. On Tuesday, she saw 10 new families.
Yeager said what she's hearing is that people's companies went out of business or they were forced into early retirement.
She's also seeing an increase in senior citizens, as well as clients who are starting to come more frequently.
Yeager said when she and staff talk to the returning clients, they'll say things like, "I knew I could make it on what I had, and I know there is a lot of need. I wanted to make sure there was enough for the other people who needed it."
"By and large, that was the response we were getting," Yeager said.
More than half of the families BTG sees are headed by a single mother, and 77 percent of the individuals BTG serves are children, the elderly or disabled.
In addition to the food distribution held each Saturday, BTG also delivers food to clients who are unable to attend the weekly food distribution. And more drivers are needed to make those deliveries on Tuesdays and Fridays, Yeager said. To volunteer, visit handsonatlanta.org , type in BTG Community Outreach, and click on "food delivery volunteer."