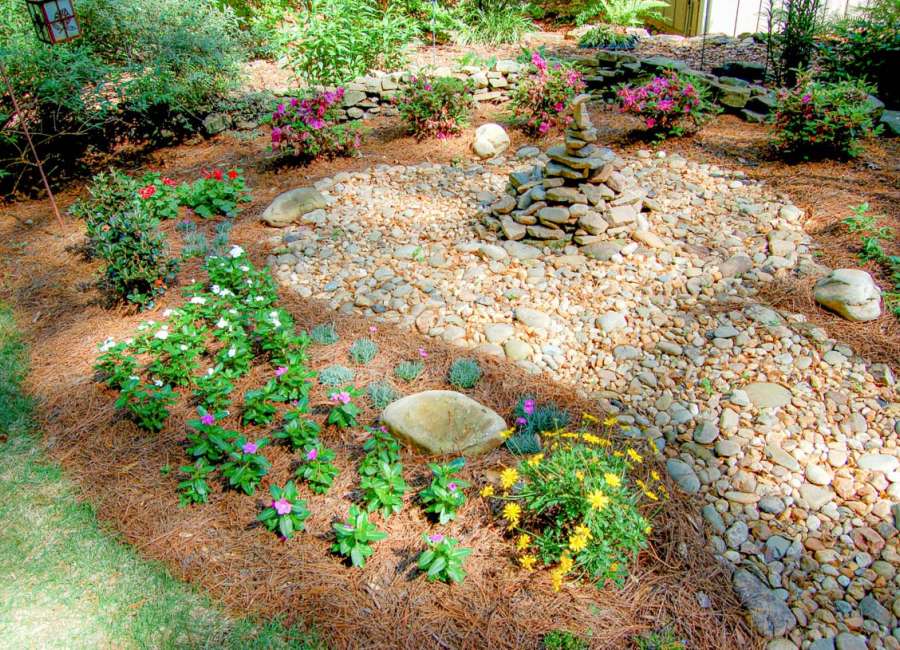 By Susie Berta
It was once a lovely, shady spot in our backyard: two small dogwood trees, surrounded by lush green ivy ground cover, neatly kept within a curving bed line at the grassy sod on one side, and at the rock wall that borders the woodland path on the other side. For years it was this way. I grew accustomed. Comfortable. Familiar. Another plus? Low maintenance!
Then things started changing. The dogwoods got sick and spindly; their branches produced fewer leaves, and those that remained were yellowing and falling. We pulled all the ivy underneath, hoping to clear the roots of any competition for food and water. We mulched. We fed them with tree spikes. All to no avail. The dogwoods continued to struggle and die.
So we made plans. The dogwoods came down, leaving behind a glaring, bare slash of shadeless ground that was once tranquil and lush. The sudden starkness and a shocking unfamiliarity put me off-kilter. What to do? We dreamed of a lovely patio pad, a place to put chairs and a fire pit in the fall and spring. In summer, we would lay out our grandson's inflatable kiddie pool there. I was envisioning the plantings around our patio addition, which would provide what I call the all-important "nestle factor." (nestle factor: not an official landscaping term but coined by me as my personal landscaping criteria.) We could do this ourselves, we decided with confidence, and so we eagerly got string and wood and started staking off the spot.
Enter reality. The slope of the land was steeper than we had realized and the area needed significant leveling if we were to relax someday on a patio here; enough leveling to require major digging, major footings and more manpower than we were willing, or let's face it – able, to dedicate. This dream was no longer a quick DIY weekend project. We called a landscaper to bid on the project. When the bid came in at triple our max budget, our vision slid straight into the dumper. We could not afford our dream.
When I am forced to take a philosophical approach – when I don't get what I want – I am given two options:
1. Pout, fume, abandon all hope, take my ball and go home.
2. Pout and fume – or not (always a choice) and/or hang on and move on, opening my mind to the possibility of exploring other options.
Defeat? Hopelessness? Nope. I chose Door Number 2, which might not produce ideas right away, but giving myself permission to accept that an idea will come, whenever it comes, opens up the channels. Being closed off, angry and inflexible creates nothing but an impossible void surrounded by impenetrable walls, where creativity is neither welcome nor possible.
I decided to "be with it" for a while. I had no idea what to do with our bare spot, the spot that made me itch with discomfort and squint from the glare. But I let the old heart and brain perk, while giving myself permission to embrace the change forced upon me. I was "ready to receive."
Several weeks passed as I called on my patience yet again and studied that spot. Each time I came up with nothing, I reminded myself this would be a process, and it would take what it takes. I had to trust in the process.
Then, after the emerald lawn smelled of fresh grass clippings, the backyard was clean, and the day crystal blue, I took my place on the sunny bench across the yard from "the spot." This time something shifted in my brain, dropping a piece of a puzzle into place.
As though for the first time, I noticed the familiar stones that had been serving as single-file border stones on the grassy edge. I walked over and started chucking the stones into the center of the bed. I wasn't sure why yet, but I knew I didn't want that stone border any more.
Dismantling the border of stones was transformational, clearing a place in my mind for the next step. How this one simple act could invigorate me in an instant astonished me. I hadn't realized I had been holding my breath all this time, waiting for an all-encompassing answer, when what I needed was the just first step. Nothing more. Chucking those rocks opened up room to breathe and see. I originally considered the pile of discarded stones sitting in the center to be a temporary repository, and then the next step came to me; another puzzle piece fell into place in my brain. A cairn? Really? Yep. That's it. A cairn.
I approached the pile of stones, examining each one, stacking and carefully balancing them like a totem. It became the funkiest sculpture, and it was simply the most mind-bending, satisfying, Zen-like artistic endeavor I had undertaken in recent memory.
This was the ticket. So I created a spot where nothing is forever; nothing is constant, and everything is changing; a place that invites, even requires, interaction. This describes what gardeners do, anyway. Nothing we plant is forever. We interact, move plants and create spaces. So I guess this space is no different in that way. But coming to this solution with this space became a new, revelatory process, most likely because it involves not only input from me as creator-gardener but also from anyone who visits my garden.
Rarely – ok, never – have I ever created a bed with the thought that any old soul passing by had permission to dismantle it and create their own vision. No, this spot is unique. The simple cairn I built will stand until someone – anyone – walks by and makes their own version with the stones available there. Or until the wind blows it down, or a squirrel dislodges a stone, and it all tumbles into a heap. Whatever happens, it's interactive, meditative, ever-changing fun, destined for change; an opportunity waiting to happen; a lesson in letting go, expecting and embracing transformation in ways I cannot predict by starting over, rebuilding, finding balance.
Cairns have an ancient history, existing for diverse reasons. Cairns mark burial places; stand as markers to travelers, pointing the way to safety or home; represent symbols of friendship and hope; serve as metaphors for spiritual beings. These rock formations – sculptures, if you will – stand balanced, without benefit of cement and exist everywhere, from Scotland to Sedona. And now, in my backyard.
I installed small starter plantings that will grow and nestle around the bed and into the sunny landscape, and I have my first cairn as the seed from which more ideas will germinate. Oh look, here's one: lay stones as a hardscape ground cover around the cairn, serving as an anchor and a bridge between stone and natural plant materials. If I've learned anything from this experience, it is that decisions take you forward, and they don't always have to be all-encompassing, either. Just one decision will knock down a roadblock, and you're on your way past it, one decision at a time.
I recently rewatched my DVD of one of my favorite musical productions, "Sunday in the Park with George," based on the painter, Seurat, and his revolutionary painting, "La Grande Jatte."
It's no coincidence the music and lyrics from that show resonated within me during this whole adventure, reminding me of the elements to consider: Order. Design. Tension. Color. Balance. Light. An artist and a gardener must find their own way. It starts with the willingness. So, I am moving on. I am exploring the light. I am getting through, and it is something new and different of my own. One decision at a time.
Thanks be to the universe. Eureka. I'm on my way.
Susie Berta has many creative pursuits, including music, art, writing, cooking, gardening, entertaining and decorating. She has lived in Newnan with her husband, Rick, since 1977. They have raised two boys and have two grandchildren. She is retired from a long career as a vocalist/performer, having sung for many years in the Atlanta Symphony Orchestra Chorus and Chamber Chorus, as a staff singer at St. Mark UMC in Atlanta, and in many other venues, in addition to her one-woman show, "All Grown Up," at the Rialto Theater in Atlanta. As an empty nester, she returned to school in 2003 and earned a BFA in art at Atlanta College of Art and SCAD Atlanta. She is now pursuing her passion for writing and is currently working on her memoir, The Veterinarian's Wife.