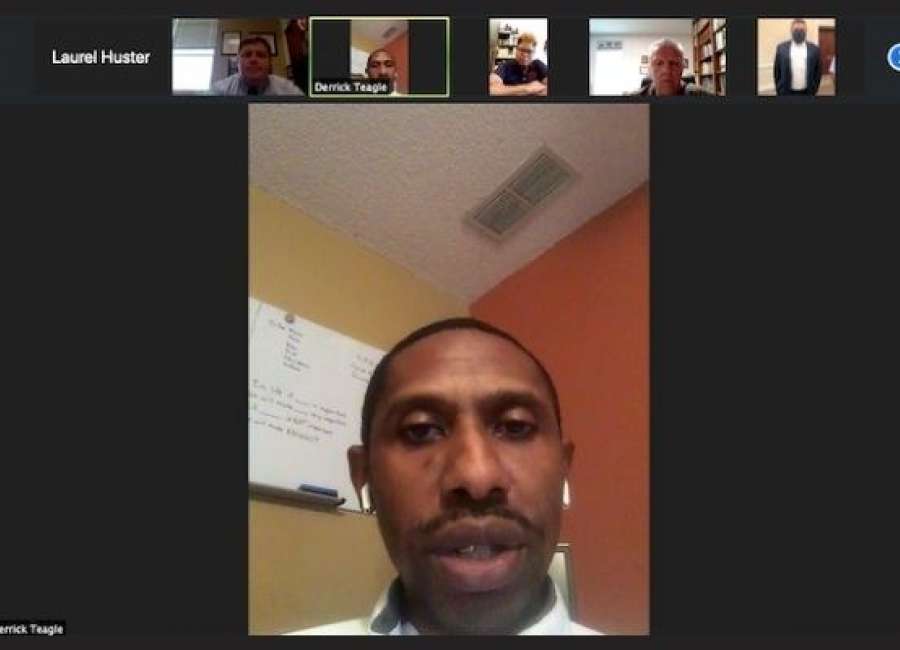 Empowered 4 Life Director Derrick Teagle presented on how his organization mentors local students at the monthly Pastors and Leaders Luncheon via Zoom on Monday.
Empowered 4 Life was established in 2007 as a way to train and mentor student-athletes year-round. Teagle said it got started after he read the book "The Purpose Driven Life" by Rick Warren, which made him wonder what his purpose was in life.
Teagle said one of the things the book showed him is that the mentors he had in high school weren't the right mentors. He said most of his mentors in high school were drug dealers.
"My mentors in high school were people that idolized the idea of selling drugs," Teagle said. "It showed me a way of life that seemed so glamorous."
He said after seeing how they lived, he didn't want to play basketball anymore, but follow the lifestyle of a drug dealer.
"Basketball was not a priority anymore, doing right was not a priority anymore, people that showed me love were people in the streets," Teagle said.
He said when reading the book, he realized that he needed to give back, and make right some of the decisions he made in high school. Teagle said one day he was on Wesley Street, looking at a house drug dealers used to operate out of.
"I was like, man, instead of messing up this part, I want to clean up this part," Teagle said. "I'm looking at this house and I'm staring across the way, and I'm literally crying because I did a lot of stuff to mess up this community, this side of town, and what can I do to change that?"
Teagle said that night, he prayed and realized that it was his passion to help kids, and he decided to try and help one Black student, one Hispanic student and one white student.
Empowered beginnings
He said he found three students at Newnan High School, and told them he wanted to be a mentor and asked if they would be interested. Teagle said he met the three kids' parents and explained to them what was on his heart.
The following week they hung out again, and Teagle said one of the students told him that he wanted to advance in sports, and asked Teagle if he could help him train. Teagle said he decided to take his expertise, and help them train.
"These three kids were doing really well, so they told other kids, and a month later, those three kids turned into 27 kids," Teagle said.
Teagle said one day, one of the students told Teagle that he wanted to go to college on scholarship, and asked if he could help him. Teagle said he had dabbled in recruiting, and watched signing day every year, and decided that he would learn recruiting to help him.
He said his brother-in-law's best friend was a recruiter at Florida State University, and Teagle asked him if he could go for the summer and learn how to do recruiting. He said he went to Florida State for three weeks to learn, and then did the same thing at Mississippi State.
Teagle said the program grew to 41 students, and they worked out every Saturday on the football field behind the Waffle House on Temple Avenue. He said they would work out and talk about life.
"That's how I kind of got started, where we were just hanging out with young men, talking to them about life, training them in football, and that first year, 2008, was the first time I ever helped a kid get a college scholarship," Teagle said.
Now, Teagle said Empowered 4 Life has helped over 300 kids get athletic scholarships. He said they also have 31 kids under the age of 30 that are business owners.
"It went beyond football, and basketball, and baseball. The organization's foundation is mentorship, so we're really big on mentoring, we're really big on day-to-day activities," Teagle said.
More than athletics
He said he reaches out to the students and parents once a day. Teagle said they have activities almost every day, and when they are able, they take students to visit colleges on weekends.
"We try to be active with our kids; we really believe in mentoring, but also and most importantly, we believe in maximizing our kids' gifts," Teagle said.
He said there are currently 191 students in the program, and 79 of those are student athletes. Teagle said they believe in maximizing all their students' gifts, even if that isn't athletics.
Teagle said Empowered 4 Life is also focused on giving. The organization recently held a golf tournament and raised over $11,000, with $3,700 going to Newnan High School basketball and $3,700 going to Children's Healthcare of Atlanta.
He said he believes every student in the organization needs to be active in school, and they have to volunteer 20 hours per year.
Teagle said Empowered 4 Life hosts four seminars per year, and they've held 56 seminars total. He said they try to educate the students on things they don't talk about in school or church, such as drugs, vaping or suicide.
Empowered 4 Life held a seminar in July called "Connecting the Dots" that featured conversations between cops and citizens. The second "Connecting the Dots" seminar about next steps will take place Oct. 11 from 4 to 6 p.m. at the Wadsworth Auditorium.
Teagle said the seminar will feature guest speakers such as District Attorney Herb Cranford, Coweta County Sheriff Lenn Wood, FCA Representative Daryle Smith and two Empowered 4 Life students.
He said the seminar will also feature a live reenactment of what happens when a cop stops you.
"At the end of the day, as a citizen, I want law enforcement officers to go home safely to their family; but as a citizen, I want citizens to go home to their families as well," Teagle said.
No registration is required for the event. Teagle said they will social distance through the auditorium, check temperatures at the door and masks will be required.
"I think it's important what you're doing; it's fantastic," said Chris Carlyle of Purified Living Ministries. "I commend you for that, young brother. For going out of your way to really put your life down to go out and reach these particular kids no matter what their creed, color or sex."
For more information about Empowered 4 Life, visit e4lifeathletes.com .