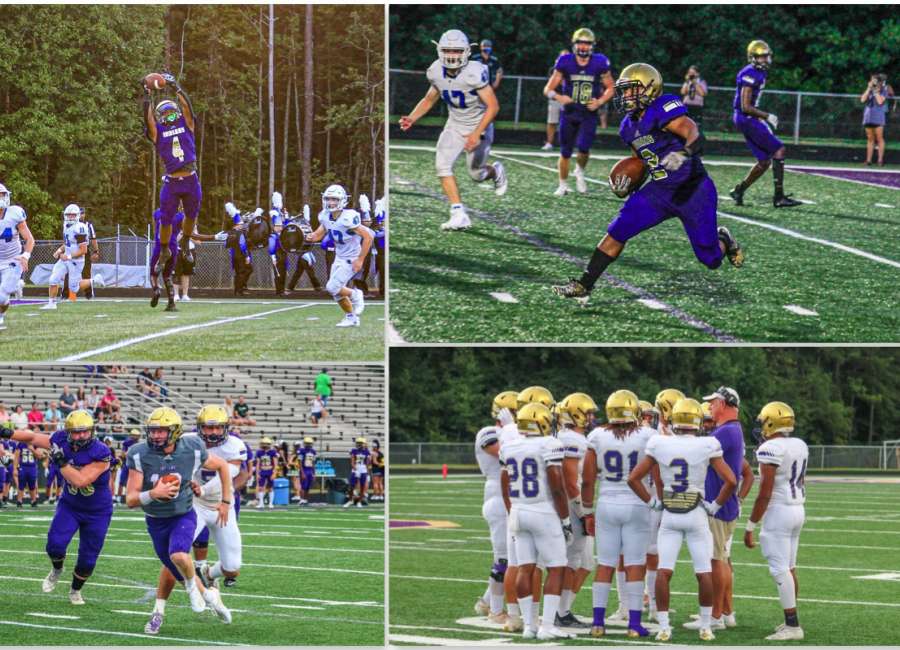 By Rob Grubbs

As East Coweta enters their fourth season of the "Head Coach John Small" era, two things have become clear. The Indians are not afraid of competition — they have played some of the toughest schedules in the state the past few seasons — and they always finish the season strong.
As the 2020 football season emerges from a bit of the unknown from the pandemic, the foundation has been built and a lot of heavy lifting has been completed to get to this point. The Indians are looking to make a deep playoff run, and the pieces are in place with a new quarterback, an overall selfless attitude and a huge offensive line.
Small is a graduate of Westside High School in Augusta where he played for Head Coach Don Fendley. After lettering four years at West Georgia at tight end, he stayed on as graduate assistant before moving to South Gwinnett as an assistant coach under legendary T. McFerrin. Small later returned to be their head coach in 2005.
The Indians are returning 7 starters on offense and 9 on defense.
OFFENSE: The Indians will run a hybrid offense, they are going to spread it out more this season, which will open the running game because it will prevent the defense from trying to pack the box. Overall, they look to be more balanced than last year.
Small shared the overall offensive philosophy, "Last year we had Gabe Gray playing quarterback and he did a phenomenal job for what we were doing; his strength was running the football. This year, we need to open our offense up a little more, and we had a kid move in from Pennsylvania — Danny Shoch. He came in and competed with Ethan McCawley for the job; they battled it out in camp. They competed hard and we feel, and we have two quarterbacks capable of moving the ball, but Danny got the nod as the starter."
Gray has moved solely to defense for his senior season, and it shows the character and desire to win he has. Small said, "Gabe is one of the best all-around football players I have had a chance to coach in my career. A very unselfish kid that does anything you ask him to do. We wanted to play him on defense the past couple of years because he is such a physical player, but he had to play quarterback. He loves his teammates and will do anything it takes to win. The kid has character and is a great leader."
Behind Shoch in the backfield are running backs Jayden Bolton, a senior, and Trey Bowles, a sophomore. Small described combination, "We feel like we have two really good running backs that complement each other well; they are both relentless runners and hard to bring down."
The wide receiver group is led by another ex-quarterback, senior Fate Simmons. After a couple of injury seasons, he is back healthy and primed for a breakout season. Also included are Amariyon Moss — he and Simmons are the two inside guys, while Mason Holmes and Christian Cook, who is also on Coach Royal Marshall's East Coweta basketball team, look to stretch the field vertically. There is also depth with Tyrell Fudge and Nolan Miyamura. With the elite arm talent of QB Schoch, the receivers will be getting a lot of touches.
C.J. Stubbs has played some offensive line in his career but has moved to the tight-end position to give the Indians some running focused formations.
The strength of the offense is going to be the line. According to Small, "They have played a lot of snaps together, they have grown up immensely in the past two years against some tough opponents. They are strong and the strength of the offense — they have really meshed well."
The starting line includes tackles Gabe Pitchford, a Vanderbilt commit, and Nelson Ramirez, the guards are Jeden Watson and Dallas Vineyard and the center is Aaron Fenimore. The depth will come from Prince Seymore, Deandre Rivers, Addison Brown, Jacob Fields and Colton Eidson.
DEFENSE – The Indians play a multiple front defense that includes a lot of movement. They base out of a 4-2-5 but will slide into some 3-man front as well.
The defensive front is led by Dylan Spelios, a Naval Academy commit, and according to Small, a "phenomenal football player, he is hard to block and loves the game. We ask him to do a lot of stuff and he picks it up. He has played five positions on defense since he has been here." Ryan Barber is the other end, while Aughnae Waggoner and Malakai Dudek are inside. Like the offense, the line will be the strength here as well. Solid backups include Kenyon Cambrice, Sean Culpepper, Shurmack Brazil and Keelan Kornegay.
At the inside linebacker, Chase Lewis, who is the returning county defensive player of the year, joins Christian Richardson with Eric Adams and Brandon Johnson included in the rotation. The outside linebacker position has four guys who can play the two spots, Myles Bridges and Michael Burse at the Dog position, and Carlos Montgomery and Pierre Robinson are the Star linebackers.
The defensive backs are Jordan Crosby, who had a pick-6 in the scrimmage last week, and Willie Rice, who is a Western Carolina commit. Josh Goffe and Ryan McKelphin will get some playing time there as well. Gray will be a mainstay at safety, with Makai Sullivan ready to step up.
Small concluded, "Overall, we really like our depth on defense."
SPECIAL TEAMS – Pitchford is the snapper, one of the best Small has ever seen. Beau Beldon and Lucca Labattaglia will handle the punting and kicking chores. The Indians will utilize a slew of return men, mostly offensive skill players, including Rice, Gray, Bolton, Crosby, Cook and Moss.
OVERALL OUTLOOK – The Indians handled the downtime well; they came back stronger and ready to play. Small was quick to recognize his staff: "I have an outstanding coaching staff; these guys do things the right way. They pick up my slack all the time; the assistants are doing a phenomenal job, and I could not ask for a better bunch. We knew if we did things right and preached the right message that our kids and program would benefit and grow."
They have played some tough opponents and have made it to the second round of the playoffs two years in a row. They are at a point where players do not just hope to make the playoffs; their expectation is to be in the playoffs and then make some noise.
From a region standpoint, Westlake and Wheeler were moved out, but McEachern, a traditional power, is in their place. Small was quick to point out, "We have played them before; you got to play good people. Our kids will not be enamored by any opponent."
With the addition of the skilled quarterback and the offensive lines up front, things are aligned for something special at Garland Shoemake Memorial Stadium this year. All of the hard work has brought them to this point; now it is time to perform.