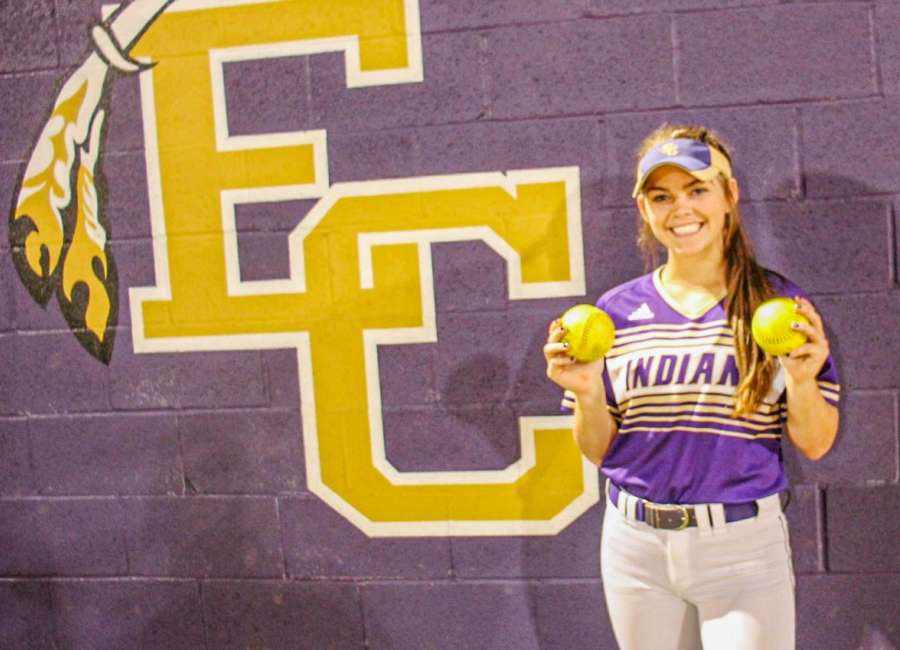 By Rob Grubbs, sports@newnan.com
Sharpsburg, Ga. — The East Coweta Lady Indians had a special night for their ten seniors Tuesday in an 11-0 win over Troup County.
On Wednesday, it was back to business as they welcomed the 14-4 Heard County Lady Indians, one of the top teams in Class AA. After giving up a first-run homer, the East Coweta offense explored behind two home runs from senior Kylie Ferguson to win 9-1.
The win improves East Coweta to 18-1 on the season.
Down 1-0, Ferguson tied it up quickly with a home run to center field that hit one of the spectator trucks parked against the outfield fence. East Coweta proceeded to load the bases on an Ashleigh Griffin walk and hits from Olivia Cook and Katie Taylor.
Kaliyah Matthews followed and had appeared to hit a grand slam over the right field fence, but it was just short for a sacrifice fly that brought Griffin home
Kip Heggood followed with a single to plate Makayla Swanson and suddenly, East Coweta was up 3-1. Ferguson returned to the plate in the bottom of the second and hit her second home run of the game.
East Coweta would add three more in the fifth on hits by Heggood and Macie Wiggins and a sacrifice fly by Emma Elrod. Matthews finished out the scoring for the night with a home run that also scored Griffin.
Jaliyah Holmes shook off the early home run to limit Heard County to only one hit the rest of the way. She struck out 11 and walked no one for the win. Matthews led the offense with 3 RBI, and Bailee Echols also added a hit off the bench.
After the game, Head Coach Franklin DeLoach shared, "We sprinkled the hitting throughout the lineup, and that is what I am most proud of. The strength of our offense is that we have a chance all the way to the bottom of our order."
While much is made of Coach DeLoach's amazing senior class, there is a trio of sophomores in Heggood, Elrod and Wiggins who will carry the torch of East Coweta success into the future. That trio went 4-for-5 with 3 RBI in the game.
The season continues for East Coweta next week as they host Columbus, Alexander and Stratford Academy. The region tournament will begin on Oct. 13.