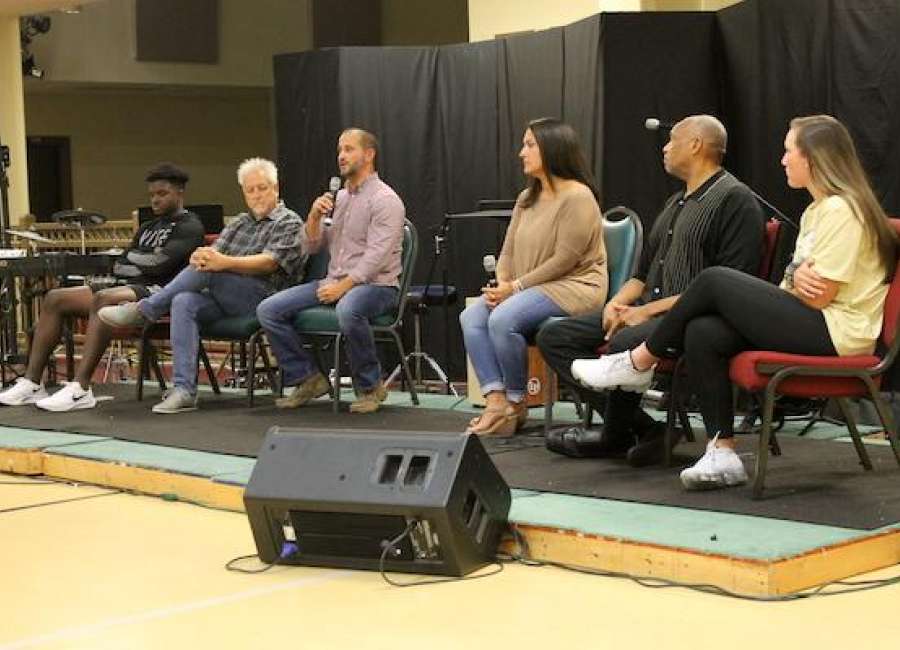 Coweta Fellowship of Christian Athletes kicked off its new countywide weekly huddles Tuesday featuring panelists that spoke on diversity and current racial issues.
Ryan Foles, chairman of the board for Coweta FCA, moderated the panel and introduced the panelists, who were of all different ages, races and backgrounds.
"Tonight you're going to have an opportunity to hear from some very special people, people with backgrounds that are extremely diverse," Foles said.
Panelists included James Paige, a sophomore student athlete at Northgate High School; John Hobbs, care and counseling pastor at Crossroads Church; Jose Ramirez, a law enforcement officer; Andi High, a parent of student athletes and Coweta FCA volunteer; Ezra Thompson, Coweta FCA board member and former state trooper; and Ashleigh Griffin, a senior student athlete at East Coweta High School.
To start off, Foles asked Ramirez, who is Puerto Rican, if he's ever been a victim of racism. Ramirez said he's been a victim of both racism and discrimination.
He said as a young athlete, he was good at baseball and when he moved to Savannah, Georgia, in 1989 he started playing on a travel team there.
"The assistant coach made a comment to me in the dugout, and I remember that comment, and that comment was, 'Why don't you go back to the country you came from?'" Ramirez said.
Thompson, a Black man who grew up in Hannibal, Missouri, said he has "absolutely" been a victim of racism.
He said the first arrest he made as a highway patrolman in Missouri he stopped a drunk middle-aged white man. Thompson administered a field sobriety test, which the man failed, and Thompson tried to arrest him.
Thompson said when he went to put the handcuffs on him, the man looked at Thompson's field training officer and used a racial slur in reference to Thompson.
"It stuck with me, but I didn't dwell on that because that was his problem; it wasn't mine," Thompson said.
Foles said Satan uses racism to divide the church. He asked the panelists how they make sense of what's going on in the world right now.
Thompson said if you've never been a victim of racism, you may not see it. He said if you haven't been a victim, find someone who has experienced racism and ask them what it feels like.
"As long as you open your mind up to outside influences, Facebook, Twitter, Instagram, you're being spoon fed a narrative that is designed to keep you angry and anxious," Thompson said. "If you spend as much time in the Bible as you do in social media, that is the start of it."
Hobbs said the world is lost in sin, and racism is one of the ways sin presents itself. He said he expects this from the world.
"It's the rampant racism that exists sometimes within the body of Christ that breaks my heart, because we should know better and we should do better," Hobbs said.
Foles then quoted Romans 13:1-2 which says, "Let every person be subject to the governing authorities, for there is no authority except from God and those that exist have been instituted by God. Therefore, whoever resists the authorities resists what God has appointed."
When talking about authority figures, Foles asked the panelists if they think we should obey the police and why.
Ramirez said you need to obey the police because the law enforcement officer that stops you is just as scared as you are. He said law enforcement officers are trained to look for threats.
He said throughout his career, he has dealt with several individuals who had guns in the car, and he never shot one. Ramirez said he's also had to fight several suspects, but never shot one.
"I promise you this: The majority of law enforcement, and I'll say the majority because there's a human element involved, but the majority of law enforcement officers do not wake up and say, 'You know what, today I'm going to shoot somebody,'" Ramirez said.
Paige said when he hears that an unarmed Black man has been shot and killed, he feels scared.
"It's sad that I have to think that way, but with what's going on now in our world I just feel scared to even do anything," Paige said.
He said his mom has had to tell him not to walk in a store with his hood on because it makes him look suspicious. "It's sad that we have to think that way but it's just how it is in the world and how we have to talk to each other," Paige said.
In closing, Foles asked the panel where do we go from here in the discussion about racism.
Thompson said the ultimate answer to racism is having Christ in your heart.
"If you hear something bad that you know is not true, speak up," Thompson said. "Don't let that falsehood persist and just stay out there. If you hear or see something crazy, put it in check."
Griffin said that we shouldn't have hate in our heart, but we should love each other. Ramirez said we should follow Jesus' example, and love everybody and spend time getting to know people who are different from you.
Coweta FCA's weekly huddles will be held in the gym of Heatherwood Baptist Church every Tuesday from 7:30 to 8:30 p.m. Masks will be required at the weekly huddles, and everyone will have their temperature taken. The huddles will also be streamed on FCA's Instagram page, @coweta_fca, for those who are ill or don't feel comfortable attending.
For more information about Coweta FCA, visit www.cowetafca.org .