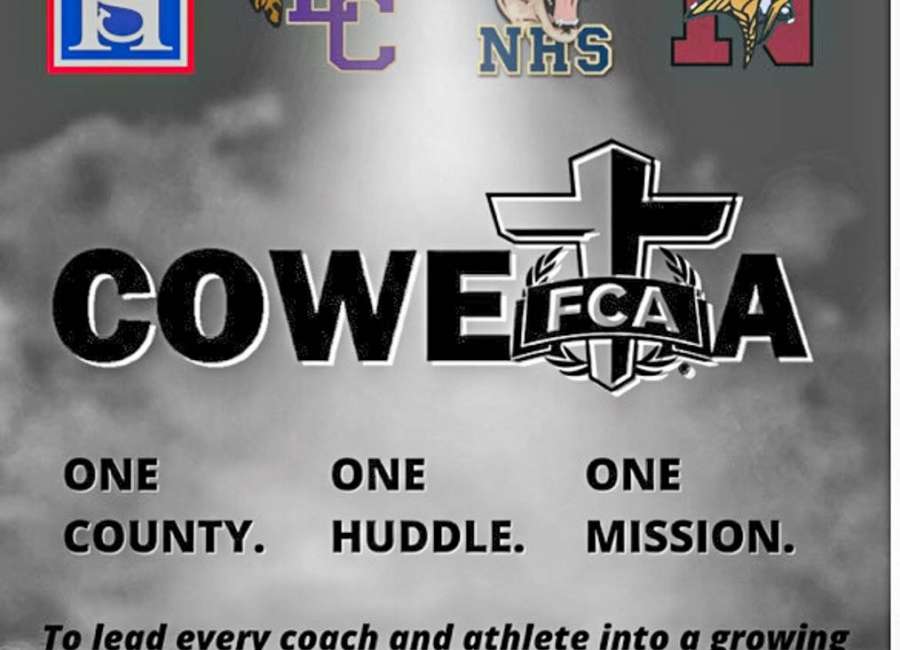 Coweta Fellowship of Christian Athletes is looking to reach more students this semester by changing the format for its weekly "huddles."
Tamara Ledford, Coweta County Area Director for FCA, said typically their weekly meetings, called "huddles," were held mornings before school at each campus once a week.
Ledford said students would start showing up around 7:45 a.m. and at 8 a.m. the huddle would start. She said student leaders at each school plan the meeting – whether they have a speaker, small group or game day. Ledford said they have to wrap the meeting up by 8:12 a.m., when the bell rings for students to go to class.
She said The Heritage School is able to have its Friday morning huddles this year, but Coweta FCA made the decision to not host huddles in public schools this semester.
Instead, Ledford said they are going to have a weekly huddle on Tuesday evenings where students from East Coweta, Newnan, Northgate and The Heritage School can all come.
"I am beyond excited in anticipation for what these kids will get to experience in the new format," Ledford said.
The huddles will be in the gym of Heatherwood Baptist Church every Tuesday beginning Sept. 15 from 7:30 to 8:30 p.m. Ledford said everyone is invited including students, student athletes and coaches.
Ledford said when she was in high school, their huddles met off campus for an hour once a week in the evenings.
"That time to me with my FCA group is where I met my very best friends I still do life with, where I found Christ, where I learned you can follow Jesus and have fun at the same time," Ledford said.
Ledford said what is most exciting about the new format for the huddles is that FCA will have an entire hour with the students. She said this will foster more connection since students won't have to rush to class like they would in the morning huddles.
She said it's also exciting that students from all the schools will have the opportunity to experience FCA together.
"For them to be able to connect with each other weekly in this environment, it's going to do great things for their relationships long term," Ledford said.
Masks will be required at the weekly huddles, and everyone will have their temperature taken. The huddles will also be streamed on FCA's Instagram page, @coweta_fca, for those who are ill or don't feel comfortable attending.
The first huddle, on Sept. 15, will feature a panel on diversity and racial issues.
"We would be neglect not to discuss diversity and racial issues right out of the gate," Ledford said.
Ledford said it was Coweta FCA's Board Chairman Ryan Foles idea to address racial issues at the first huddle.
Foles will moderate the panel which will feature student athletes, FCA volunteers, FCA board members and community figures of all ages and races.
"Race seems to be on the forefront of national news and in the feeds of every social media platform across the country," Foles said. "It is touching every age, every ethnic background, every socioeconomic status and both genders."
"When you have students scared to speak, fearful of each other because of skin color and to go out of their homes in Coweta County because of the racial divide that is apparent, it is time to provide some love and talk about truth when it comes to race," Foles added.
Ledford said the underlying theme for the first huddle will also be the truth of the Gospel.
"It's an amazing start to be the organization that says we love and accept you because Christ loves and accepts you, that's what FCA is all about," Ledford said.