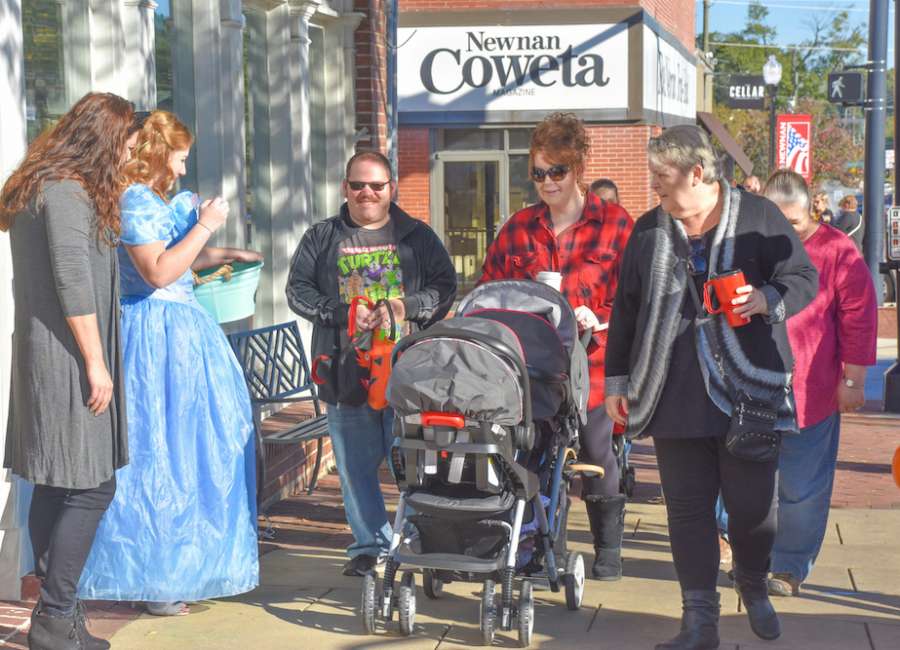 The "cutest day in downtown" won't be happening this year.
Downtown Newnan's Munchkin Masquerade Halloween event has been canceled because of COVID-19.
The annual downtown tradition takes place Halloween morning, when thousands of costumed preschoolers and their parents descend on downtown to trick-or-treat at local businesses.
"We are deeply disappointed to cancel the annual Munchkin Masquerade, but it is impossible to properly social distance thousands of young children in downtown Newnan," said Abigail Strickland, special events coordinator for Main Street Newnan.
The event always draws a huge crowd, with packed sidewalks and long lines of those waiting for candy.
"We can't control the crowd because there are so many people," Strickland said.
Main Street has also canceled the Tucked Away music festival. Market Days and the fall Art Walk are continuing.
With those events, things are more spaced out, and business owners can control the amount of traffic inside their stores.
At Market Day, the number of vendors has been cut in half, and all vendors are spaced out, Strickland said. Vendors are encouraged to use touch-free payment, are required to offer hand sanitizer, and can't give out samples. They're also asked to handle all of their goods, so that customers aren't touching them.
With the Art Walk, Main Street is requiring that the artists be outside unless there is significant space inside the store.
Main Street Newnan's mission is downtown development and helping downtown businesses. "That's what we're here for, to make sure that these businesses are thriving," Strickland said. Some of the events that have been canceled because of COVID-19 aren't particularly conducive to local businesses.
The Munchkin Masquerade is a favorite event of Main Street staff, Strickland said. "We are very saddened by canceling it," she said. "There is nothing better than watching a bunch of preschoolers in their costumes. It's the cutest day in downtown."