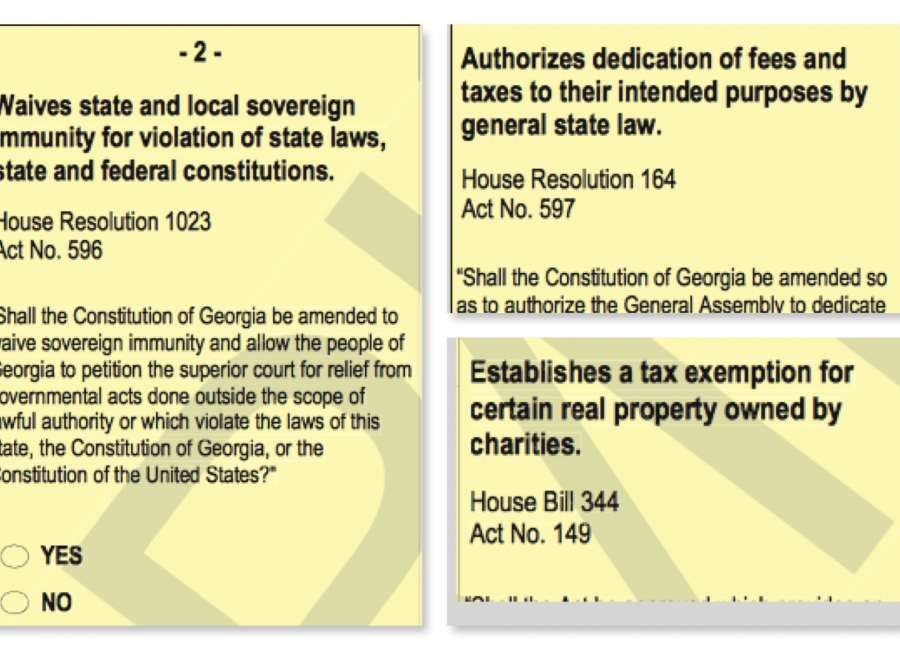 In addition to voting for president and U.S. Senator, Georgians will get to decide on two amendments to the Georgia Constitution and vote in one state referendum on Nov. 3.
The two constitutional amendments are based on resolutions that passed the Georgia Senate and Georgia House of Representatives. The resolution for Amendment 1 passed the Georgia House 164-4 and the Senate 53-0. The resolution for Amendment 2 passed the House 164-0 and the Senate 50-0.
Amendment One: Changes the constitution to allow fees and fines charged for certain purposes to be dedicated to those purposes.
The most well-known fee, for tire disposal, has been in place for years. Though the fee was envisioned as helping to clean up tire dumps around the state – and most Georgians paying the fee may think it's being used for that purpose – no law regulates how that money can be spent. The tire disposal fee money has been notoriously used by the state for other purposes over the years.
According to the Association County Commissioners of Georgia, two-thirds of fees for tire disposal, landfill fees and hazardous waste cleanup collected over the past 10 years were used for unintended purposes. When it comes to tire disposal fees specially, only $23 million of the $73 million collected actually went to tire cleanup and disposal, according to ACCG.
If approved, the amendment allows the Georgia General Assembly to pass laws that would specify exactly how these speciality fees can be spent. Any law setting up these special funds, however, would have to receive a 2/3 majority in each chamber to become law. The fee designation laws would also automatically expire after 10 years unless renewed.
The fees could be diverted if the state is in a financial emergency.
Amendment Two: Waives sovereign immunity and would allow for Georgians to sue the state or local governments for actions that are unconstitutional.
Because of existing sovereign immunity, there are strict limits on when the state or local governments can be sued.
The amendment only applies to lawsuits alleging a government action is unconstitutional. While it allows Georgians to sue to stop the unconstitutional action, it doesn't allow the award of monetary judgements, court costs or attorneys fees.
If the amendment passes, suits must be filed against the state or the local government – city or county. The suits can name individual government employees or agencies. The waiver of immunity will only apply to actions taking place on or after Jan. 1, 2021.
Statewide Referendum: This question applies to Habitat for Humanity and other tax-exempt charities that own property for the purpose of building or repairing homes.
If approved, it would make property owned by the charities exempt from property taxes if the property is owned exclusively for the purpose of building or repairing single-family homes, and the charity finances its own interest-free loans to the owners of those homes.