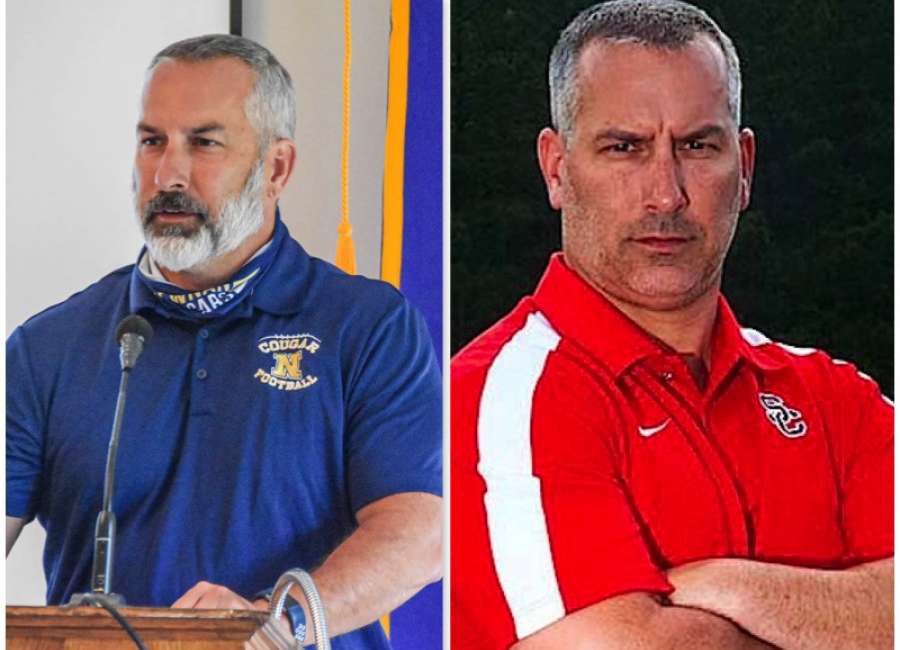 By Rob Grubbs
There are three state football championship banners hanging in the Sandy Creek gym and three trophies in the trophy case.
The head coach for those three teams, Chip Walker, will be standing on the visiting sideline for the first time at the Battlefield when he takes his Newnan Cougars up the road to face the Patriots. While there are great memories there, for Coach Walker, it is more of a business trip this time around.
To see Coach Walker's history at the Fayette County school, you must go all the way back to 1998. Don Tyre was the original head coach at Sandy Creek when the program started in 1992. After his seven seasons, the administration decided to go in a different direction.
Meanwhile, in Ft. Valley, Georgia, Head Coach Rodney Walker led the Peach County Trojans to the state championship game, where they lost to Dougherty. His son Chip was just up the road in Forsyth, Georgia on the coaching staff at Mary Persons, where they made it to the semi-finals that season.
Coach Rodney Walker applied for and got the head job at Sandy Creek and brought along Chip as a coach. It was the birth of an eventual dynasty and unparalleled success in Fayette County.
When asked about those memories of working for his father, Coach Chip Walker shared, "It was rough, I am not going to lie about that. He would get on anybody, including me. It was just my fifth-year coaching and I was learning. But it was something that I always cherish, getting to work with him."
Rodney Walker spent six seasons at Sandy Creek, where he raised the level across the board. When he left in 2005 to go to Mary Persons, Chip took the head job and took them to a whole new level. In the five-year period between 2008 and 2013, the Patriots went 78-4-1 and won three state championships.
Now entering his fourth year at the helm at Newnan, Coach Walker heads back to where the magic happened. Current Sandy Creek Head Coach Brett Garvin has continued the success, they went all the way to the semi-finals last season. Coach Walker shared, "Coach Garvin and I coached together 16 years, we know each other well. He taught two doors down from me and our kids grew up together."
It is not just Coach Walker who is going back, but a large contingent of the Newnan coaching staff has Sandy Creek ties as well. Jeremy Sweeney played on Coach Walkers first Sandy Creek team in 2005 and has been with him ever since. Other assistant coaches who played for Coach Walker at Sandy Creek include Bruce Dukes, Bo Heard, Eric Sweeney and Trey Walker.
Also, Coach Bill Luckie, who was the Northgate head coach for five seasons, joined Coach Walker's staff in 2010 and they have been together ever since.
While Sandy Creek will always be special to Coach Walker, his focus and attention is solely focused on the days ahead at Newnan High School. He made that clear, "This thing is not about me and Sandy Creek.
This is about these young men that play at Newnan, it is their next opportunity. It will be a little extra special because we missed last week's game against Carrollton when they had to cancel. It is an opportunity for our football team and program to get better and take another step."
Coach Walker will continue his reunion tour next week when he leads the Cougars to Forsyth to play Mary Persons where he got his first high school job.
If he could only get Wofford, where he spent his first season coaching after graduation to agree to come to Drake Stadium, his coaching career would be full circle.