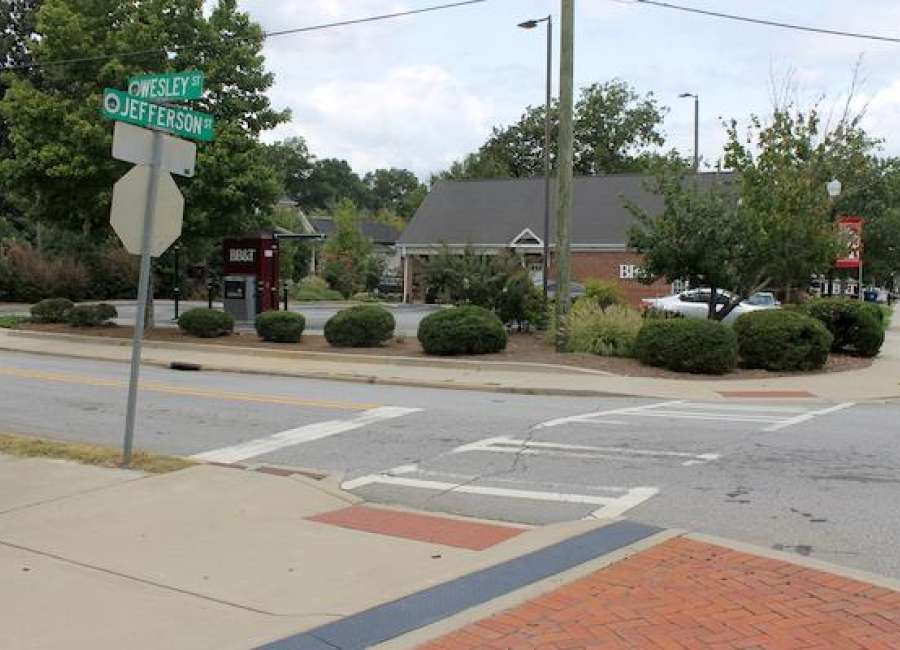 The Newnan City Council discussed potential options to resolve the limited sight distance issue at the intersection of Wesley Street and Jefferson Street at its meeting Tuesday.
At the council's Aug. 11 meeting, staff were asked to look into a reported line of sight issue at the intersection of Wesley Street and Jefferson Street. The city forwarded the issue to the Georgia Department of Transportation for their input since Jefferson Street, State Route 14, is under their jurisdiction.
GDOT concluded that the recent addition of on-street parking has resulted in a line of sight issue at the intersection and offered four recommendations for the limited sight distance issue. GDOT's recommendations are:
Remove on-street parking for approximately 90 feet (five parking spots)
Remove crosswalk at Wesley Street and move up the stop bar
Install a mirror outside the right-of-way across from Wesley Street
Convert Wesley Street to one-way, westbound
Additional options include installing a flashing warning sign facing Wesley Street, indicating approaching traffic, or installing an intersection ahead warning sign on Jefferson Street before the intersection with Wesley Street.
A crash history report from 2013 to 2018 provided by GDOT did not indicate the occurrence of five or more crashes within a 12-month period resulting in personal injury or property damage.
Council Member Dustin Koritko asked if it was possible if they could remove a couple of parking spots and move the stop bar up.
"That's possible, and that would be an improvement," said Public Works Director Michael Klahr. "I think that the five spaces was probably based on volume of traffic and the speed limit is where that 90 feet would be the minimum for clear sight distance."
"A combination of taking out the crosswalk, moving up the stop bar and maybe a couple of spaces would certainly be an improvement," Klahr said.
Klahr said this option would probably eliminate the crosswalk at the intersection.
Council Member Rhodes Shell, who recently met with Safe Routes to School Georgia Representative Patti Pittman, said they talked about the Jefferson Street and Wesley Street intersection. Pittman told Shell if Newnan wants to be a walkable city, that they wouldn't remove the crosswalk.
"I've looked at it every way possible and to me, making it one way going away from that intersection makes more sense," Shell said.
Mayor Keith Brady said he agreed with Shell, and that removing the crosswalk won't keep people from crossing the street there, but it would make it less safe. Council Member Ray DuBose also spoke in favor of making Wesley Street a one-way, westbound.
"Our firetrucks use that street quite often as their accessing point to the south and it would be much easier for them to approach it on a one-way street instead of having to navigate oncoming traffic there," DuBose said.
Brady suggested that the council instruct city staff to look into the possibility of making Wesley Street a one-way and bring it back to them. The council voted unanimously in favor of Brady's suggestion.