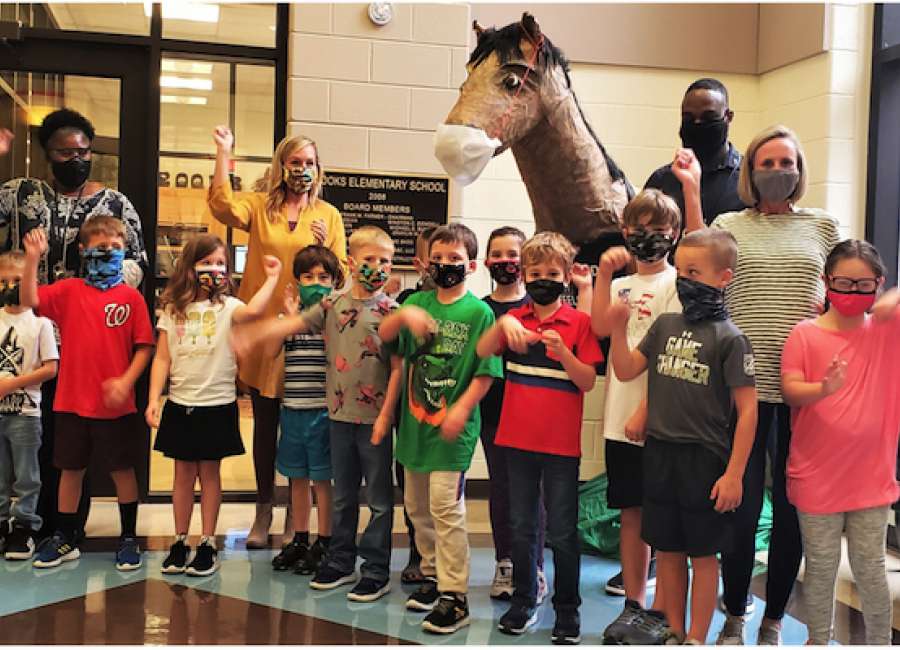 Brooks Elementary School has been named a National Blue Ribbon School for outstanding academic achievement.

The north Coweta school is one of 367 schools nationwide – and one of only nine in Georgia – to receive the prestigious national designation for 2020.
"Everyone's excited," said Principal Jillian Andrew. "We are so very proud of our teachers and students and how hard they work, every day here. This is such an honor for them."
U.S. Education Secretary Betsy DeVos congratulated the winners after they were announced Thursday.
"Congratulations to this year's National Blue Ribbon School awardees," she said. "It's a privilege to recognize the extraordinary work you do to meet students' needs and prepare them for successful careers and meaningful lives."
Coweta County Superintendent Evan Horton said the designation is "an incredible honor" for the school.
"I can't say enough how proud I am," he said. "To be one of the few schools honored this way in Georgia – and in the entire country – speaks to the quality of work done there by teachers, students and staff and administrators. And you don't get that quality of work without a lot of support and buy-in from parents and the whole community."
According to the U.S. Department of Education, the National Blue Ribbon Schools award "affirms the hard work of educators, families, and communities in creating safe and welcoming schools where students master challenging and engaging content."
Now in its 38th year, the National Blue Ribbon Schools Program has bestowed almost 10,000 awards to more than 9,000 schools, with some schools winning multiple awards. Schools are eligible for re-nomination after five years.
The U.S. Department of Education recognizes all schools in one of two performance categories, based on all student scores, student subgroup scores and graduation rates:
• Exemplary High Performing Schools – These are among their state's highest performing schools as measured by state assessments or nationally normed standardized tests.
• Exemplary Achievement Gap Closing Schools – These are among their state's highest performing in closing achievement gaps between a school's student groups and all students.
"We're proud of our test scores, but what we are really proud of is the dedication of our students and staff and what they do every day at school," Andrew said, adding that Brooks relies on the "four pillars" of relationships, relevance, engagement and rigor to ensure student success.
"Walking into any classroom, it is evident that these four ideals drive instruction and promote learning," she said. "Teachers and administrators have high expectations for ourselves and our students. Students, even the youngest of our learners, embrace expectations, set personal and academic goals, and advocate for themselves and their academic success."
Other Georgia schools honored as Blue Ribbon Schools included the Academy for Classical Education (Macon), Cornerstone Christian Academy (Norcross, Private School in Gwinnett County), Stone Mountain (DeKalb), Early College Academy (DeKalb County School), Johnson Elementary School (Rome), Martha Ellen Stilwell School of the Arts (Jonesboro), Murdock Elementary School (Marietta), State Bridge Crossing Elementary School (Johns Creek), and Stevens Creek Elementary School (Martinez).
Up to 420 schools may be nominated each year by the top education officials in each U.S. state, the District of Columbia, Puerto Rico, the Virgin Islands, the Department of Defense Education Activity and the Bureau of Indian Education. Private schools are nominated by the Council for American Private Education (CAPE).
The 2020 National Blue Ribbon Schools Awards Ceremony will be held virtually Nov. 12-13.