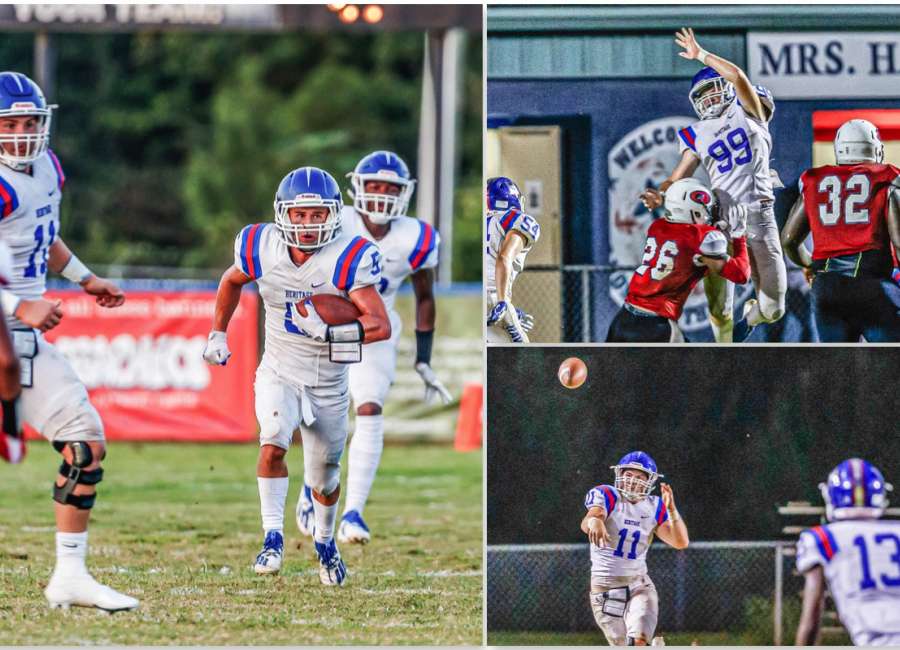 By Rob Grubbs

While much has been made regarding the move into the Georgia High School Association by the Heritage Hawks, internally for Head Coach Micah Alba and the team, it is business as usual. They played at the highest level in the Georgia Independent School Association and are ready to take those lessons learned with them.
Entering his fourth season at Heritage, Coach Alba always maximizes his talent and gets the most from every player on the roster. While their total number is around 27, that does not indicate the overall size of their heart, grit, skill and endurance. Those are the qualities the Hawks coaching staff will look to carry into the fourth quarter.
Coach Alba played for legendary Georgia high school coach Ed Dudley at Walton. He played collegiately at Brigham Young University. He began his coaching career at Fresno State before coming back to Georgia. He coached previously at Dublin, LaGrange and Carrollton before being named the head coach at Heritage in 2017.
GISA does not allow spring practice, so Coach Alba is familiar with coming into fall camp looking for his team to establish their identity.
"From what I have seen, our identity is high effort and high execution. We talk about those at all practices," he said. "On defense, we have to get all hats on the ball; everyone has to do their job. On offense, 10 men black so one guy can run.
"That is why football such a great sport, each player has to be selfless for his brothers. They have to do their job their teammate can be successful."
OFFENSE – The Hawks will operate out of the Spread Wing-T with the quarterback in the gun at the snap. According to Alba, "We can't be a hurry-up team because we would run ourselves into the ground. We try and be up-tempo within reason."
After the graduation of last year's quarterback Branch Burns, the Hawks had an open competition for the starting job this year. Braxton Goodwin, William Bryant, Ellis Coggin and senior Harris Celata all battled for the spot. Celata, who transferred from Norcross, won the job and was named the starter, and Coggin was named his backup.
Coach Alba said of Celata, "He is big and physical; we ask a lot of our quarterbacks — they read a lot from play to play getting us in the right position. He has a big arm, so we are really looking forward to what he can do."
On Coggin, Alba shared, "He is very athletic and smart. He is a sophomore and will continue to get ready."
Running back may be the deepest position on the Hawks offense. Andrew Rich returns for his senior season and will be joined by junior James Thorpe, both will be getting a ton of reps in the running game. Fred Tolbert and Coggin will get opportunities as well.
"That is what we do," Alba said. "We start with the run and go from there."
Rich just got an offer to play in college from Washington and Lee and is getting a lot of other interest.
At receiver, Yannis Rembert, Mack Mikko, William Bryant, Jay Chapman, Rich, Braxton, Goodwin and Coggin will all see time. Each of those will be rolled in to keep the guys on the field fresh. Bryant is the top receiver from that group coming back from last season, where he had 11 catches for 128 yards.
The offensive line is made up of Wyatt Anderson, Keirnan Skelly, David Browning, Sam Wall and Ty Sudduth as the starters. "They are doing a good job; they have had a lot of reps this summer. It is just hard when you don't get to scrimmage someone else. Wyatt and Skelly are both multi-year starters, and they bring a lot of experience. That is a positive for us."
Matthew Tvrdik is a freshman and will get a lot of reps while Cody Anderson and Laeth Haddad can help as well.
DEFENSE – The Hawks will run a multiple defense based on what they expect to see that week. Alba shared, "We base out of a 3-4, but we can slide someone around into 4-3 or a 4-2-5 without confusing our guys; it is a seamless transition. We base our strategy on what we are going to see on Friday night; that is what we game plan for."
Since they only have 27 players on the roster, the same cast of offensive players will be on defense as well.
Up front, Tolbert, Wall, Wyatt Anderson, Browning, Sudduth, Tvrdik and Skelly will roll in and out, trying to stay as fresh as possible.
David White has been a stalwart for the team the past two seasons and has been moved to inside linebacker. Cody Anderson and Jamal Chandler-Lewis are also getting into the mix.
The outside linebackers include Bryant, Lathan and Thorpe. They have three to four guys at every position to just roll through during the game.
In the secondary, Rich, Chapman and Micah Alba Jr. are the safeties. Mikko and Coggins are at corner with Rembert, and Cameron Clemons giving them depth.
SPECIAL TEAMS – Mikko is extremely versatile; in addition to playing cornerback, he also kicks field goals and is the long snapper on punts. Skelly will handle the punting chores. Wall will do the snaps on field goals.
Kickoff returns will be handled by Rich, Rembert and Coggin, while Rich and Alba Jr. are on punt returns.
OUTLOOK – The Hawks will be region mates with rival Trinity Christian in Region 4-A Private. They will be playing the Lions again for the first time since 2017, which will be good for the community. They had to adjust their schedule to replace the Our Lady of Mercy game, but they were able to find King's Ridge Christian in Alpharetta as a replacement.
Coach Alba summed things up: "Every year we play 18-20 players, and the way we work in the summertime and the way we run through practices and the tempo we put in place get our guys ready. We have done a good job of that. We end up playing teams that are deep in numbers and they may hurt us, but the teams like us in numbers, I feel good about."
He continued, "Our expectation is that we improve each week, that we take one week at a time, worry about what we can do and go out and play hard every week. We cannot control what everyone else is doing, but we can control our responsibilities. When we do those things, we will be successful."
While GHSA is a new path for the Heritage Hawks to travel, the journey still needs the same approach. They are about to embark on that 2020 journey.