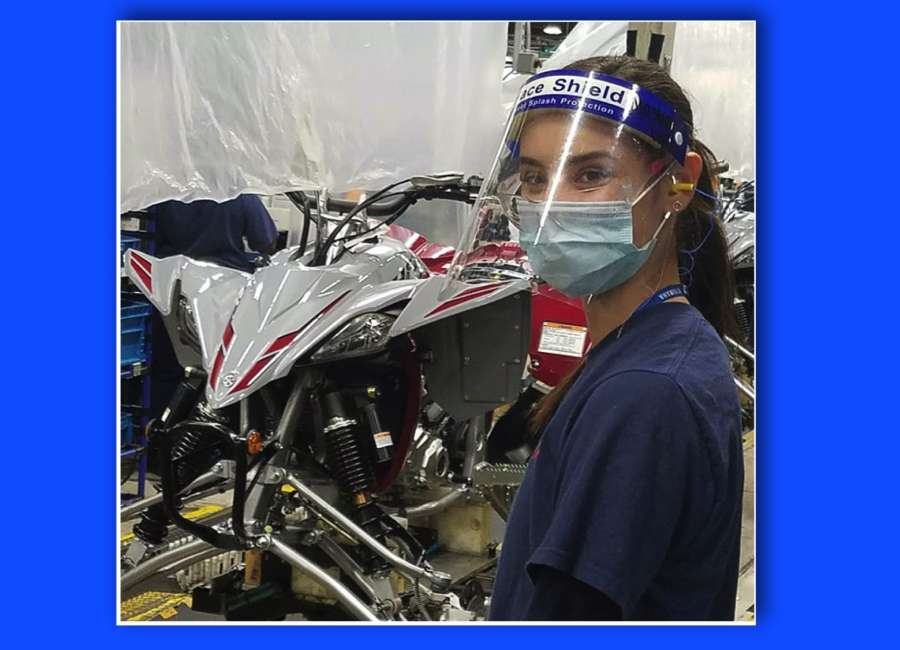 Yamaha Motor Manufacturing Corporation of America has announced plans to hire over 100 new employees.

Yamaha Motor Manufacturing Corporation of America, (YMMC) plans to immediately hire over 100 new employees to assist in many assembly line functions to help keep pace with the growing demand for all Yamaha recreational products assembled at its Newnan Georgia facility, according to a statement released Monday.
Based in Coweta County, Yamaha Motor Manufacturing Corp of America (YMMC) designs and assembles four key product lines including Golf Cars, All Terrain Vehicles (ATV's), Personal Watercraft and Recreational Off-road Vehicles (ROV's), or what many refer to as Side-by-Side vehicles.
Yamaha is looking to fill open positions for assemblers, material handlers, welders, certified forklift operators, and other positions. Additional information about available positions and how to apply can be found online at www.yamaha-motor-georgia.com
"We have learned over the last few months that people all around the country have discovered just how much fun you can have with family and friends with all of our outdoor products while maintaining social distance," said Bob Brown, Vice President, Finance and Operations Support.
"This fact has increased demand for all the products we assemble here at YMMC. As a result, we are looking for eager new talent to immediately join our team and help us assemble products that create a lifetime of exciting and memorable experiences for so many customers."
"Yamaha Motor Manufacturing Corporation of America, the largest private employer in Coweta County, has been an essential partner for the community for over 30 years," said Coweta County Development Authority President, Trae Westmoreland. "Industrial and economic growth tend to go hand in hand. We are excited to see increases in labor productivity and standard of living in such unprecedented times."
"The Coweta County Development Authority is elated to hear that Yamaha Motor Manufacturing Corporation of America is creating jobs in our community," said Coweta County Development Authority Chairman, Ronnie Clotfelter. "They have been an integral stakeholder for many years providing a solid foundation for Coweta County."
Yamaha Motor Manufacturing Corporation of America (YMMC) assembles WaveRunners, ATVs, Golf Cars and Side-by-Sides at our facility in Newnan, Georgia. Yamaha Motor Manufacturing Corporation (YMMC) was formed in 1986 and started manufacturing units in 1988. It now manufactures Golf Cars, ATV's, Water Vehicles and Recreational Off-Road Vehicles for global distribution. In January of 2015 YMMC manufactured its 3 millionth unit and celebrated 30 years of manufacturing at their Newnan location in June of 2018.
Their products are marketed through Yamaha Motor Corporation, USA (YMUS), which include motorcycles and scooters, ATV and side-by-side vehicles, snowmobiles, Waverunner personal watercraft, boats, outboard motors, outdoor power equipment, power assist bicycles, golf cars, power assist wheelchair systems, surface mount technology (SMT) and robotic machines, unmanned helicopters, accessories, apparel, Yamalube products and much more. YMUS products are sold through a nationwide network of distributors and dealers in the United States.
YMUS has a corporate office in California, two corporate offices in Georgia, facilities in Wisconsin and Alabama, and factory operations in Tennessee and Georgia.
Additional U.S.-based subsidiaries include Yamaha Marine Systems Company (YMSC) with divisions Bennett Marine (Florida) and Kracor Systems (Wisconsin), Skeeter Boats (Texas), with division G3 Boats (Missouri), and Yamaha Precision Propeller (Indiana).