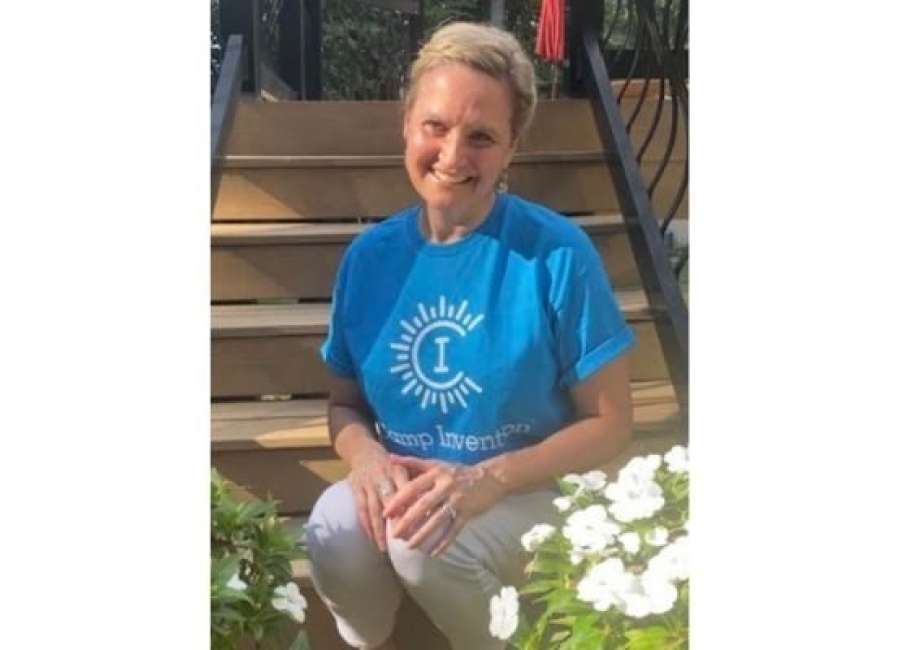 Mary Thompson, a gifted teacher at Ruth Hill Elementary School, expanded her educational base this summer by teaching students across the nation as a National Inventors Hall of Fame Camp Invention Connect national teacher.
This year, Camp Invention Connect offered camp virtually due to the COVID-19 pandemic. Thompson first taught the camp virtually in June to a small group of Coweta County students, according to a press release.
Then, she was offered to teach virtually for two national camps. Over the summer, Thompson shared her enthusiasm for science, technology, engineering and math with students from Eastern, Central and Mountain Time Zones.
She connected virtually with a wide range of elementary students from Vermont, New York, Connecticut, New Hampshire, Massachusetts, North Carolina, South Carolina, Washington D.C., Wisconsin, Alabama, Illinois, Colorado, Kansas, Texas and Arizona.
Thompson dressed up for each day's theme to represent the tasks. Theme days included: Championship Day, Design Thinking Process Day, Rescue Squad Day, Flight Lab Day and ended with a Red Carpet Day where students showcased the project they were most proud of.
Thompson said she looks forward to teaching Camp Invention every year, because it is sponsored by a nonprofit organization whose main goals are to: build curiosity and confidence in students, cultivate collaboration skills, dig into science and math skills through real-world experiences, and help them realize their potential in helping build a better world. In doing so, it gives students a sense of freedom to explore and create in a safe environment.
After teaching the first national camp, Camp Invention's program development manager, Morgan Foit, contacted Thompson to see if she would be willing to head up a unique group of students for the second national camp. Thompson said she jumped at the chance.
The group was considered unique because the majority of the campers were scholarship recipients from National Inventors Hall of Fame Inductee, Dr. Eric Fossum and Dartmouth College, where Fossum is the director of the Doctoral Innovation Program.
Fossum was inducted into the National Inventors Hall of Fame in 2011. He has over 170 patents and was recruited by NASA to help with the Hubble Space Telescope. His innovation in CMOS Active Pixel Image Sensor Camera-on-a-chip is used in over 90 percent of camera phones, according to Thompson.
At the end of the week during their showcase, campers were able to connect virtually by meeting with Fossum, sharing their inventions and asking questions. Fossum often visits the camps in person; however, given the pandemic, this year he visited virtually.
"I really appreciated your enthusiasm and preparations, and the way you imparted a warm caring feeling to each camper," said Fossum to Thompson via email. "The group we sponsored was lucky to get you as their leader, although I suspect it was a little more than just plain luck of the draw. Thank you again for working hard for Camp Invention and helping inspire future inventors and kids in STEM in general!"
Thompson said she receives just as much joy, experience and confidence as the students take away. She said the experience of teaching online through Camp Invention Connect has helped her gain confidence in the upcoming school year as the Coweta County School System begins the year with online teaching.
"From the virtual teaching experience I was able to gain over the summer, I'm going into the new school year with confidence and excitement in reaching and teaching kids online," Thompson said in the release.
Thompson said she was able to connect with the students online just as she does in person through virtual Camp Invention Connect. In addition to connecting with students, she was able to ignite an energy of excitement for learning in the virtual classroom.
She also said she received positive feedback from parents about the virtual camp experience.
A mother of twin girls from Illinois said, "Thank you for the time you spent with the girls … they loved every minute and every invention that they had to make. You impress them! It took them out of their comfort zone because they are used to creating books. I thank you for the experience they had with you. They really enjoyed being in camp and you as their teacher."
A father from Washington, D.C., emailed Thompson and said, "Dear Coach T., Thank you for a fantastic week of camp, and for your enthusiasm and great instruction. Evie and Clara both enjoyed it very much, and my wife and I were both very impressed with the programming, instruction and materials. We will definitely put in a good word for your excellent leadership when we receive the survey."
Ruth Hill Elementary School's Principal, Dr. Aaron Corley, has agreed to host another virtual Camp Invention Connect experience in the last week of December for Coweta County students under Thompson's leadership.
In addition to the virtual learning experience, students will receive a box filled with materials and supplies such as: daily guides, tape, feathers, ruler, magnets, modeling clay, chenille sticks, popsicle sticks, straws, stickers, graph paper, markers, a camp shirt and two robots.
Parents who are interested in signing their child up for the virtual invention experience or those interested in sponsoring a student by awarding a scholarship can email Thompson at mary.thompson@cowetaschools.net .