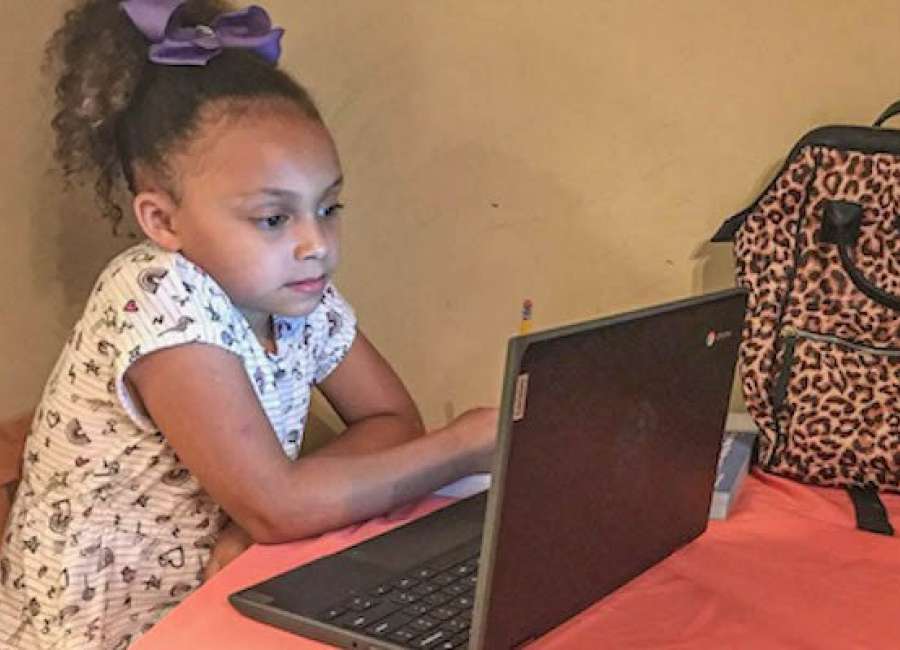 A phased student return has been announced for the Coweta County School System, and some families who have struggled with virtual learning are breathing a sigh of relief.

Others are on the fence, scrambling to make a decision about continuing – or discontinuing – the school system's online Empower learning option amid still-high COVID-19 transmission rates, staring down an Aug. 30 decision deadline.
Many teachers who have spent weeks in empty classrooms, presenting lessons to computer screens, are looking forward to having their students back, even under conditions and scheduled necessarily altered for health and safety.
No expectations from first-year teacher
It may commonly be termed the "new normal," but for first-year teacher Ashlee Grace Chitwood, there is no such thing.
"My first year teaching, it's during a pandemic – it's quite the year so far," said Chitwood, who teaches music at White Oak Elementary School and will welcome back her first students in person on Sept. 3.
Freshly graduated from Jacksonville State University with a music education degree in hand, Chitwood always planned to be a teacher – eventually. The global COVID-19 pandemic expedited her teaching plans.
"I originally planned to do some mission work before I started teaching, but then corona happened, and I started looking for a job," she said.
She landed the White Oak job and buckled in. And to begin with, at least, Chitwood said she has leaned more on her experience as a Jax State student than as a student-teacher.
While Chitwood was in school, a tornado tore through and damaged the JSU campus, forcing students to learn virtually for a period of time. That experience has come in handy as Coweta Schools opened with fully virtual instruction on Aug. 13.
"Before, virtual learning was an asset to the classroom," Chitwood said. "Now, it is the classroom. It's school online, and it's exactly what you think. The problems you'd expect are the ones you have."
Flexibility is key, she said. That includes everything from incorporating a family cat into a music lesson to utilizing household items as instruments to drawing pictures of all the buttons – especially the mute button – to help young students understand how to use Google Classroom.
"I'm a little bit more energetic than I might normally be in the classroom to get them up and moving because it can be a little bit mundane just sitting there looking at your Chromebook," Chitwood said. "We use the same standards that we normally would use at the beginning of the year, but we just use what they have at home.
"I'm always thinking of ways for them to interact with me, and it's fun to see them participating," she added.
Chitwood said teaching in a classroom full of students will be a different experience, but her students have shown they are willing to adapt, join in and learn quickly in addition to being comfortable with technology.
"I'm just along for the ride, just trying to make it the best I can for the kids and the situation," she said. "It's going to be exciting and it's going to be a challenge, but if it's anything like how well virtual has gone, they'll listen, soak up whatever is put in front of them and learn so quickly."
School with teenagers and little ones
Mandy Inman, a working mother, has sons in ninth and 12th grades, a daughter in first grade and a 3-year-old son. At her home in Grantville, she said she has been battling spotty internet service, teenagers with vastly different work styles, and keeping her toddler out of his sister's hair while she tries to navigate her schoolwork from Glanton Elementary School.
"I feel like I can't do anything but monitor and listen with one ear while I'm trying to do a million other things," Inman said.
She said she's computer savvy but has had to learn Google Classroom to help Jayde, her daughter, with her work, even though she said she believes the teachers are doing the best they can.
"Grades 1-3 are where you get those base learning skills solid, and the thought of me having to be the one to teach her those things is terrifying."
And it's even tougher without a dependable internet connection.
"All three of them can't use the internet at my house, so the older two go to their grandmother's," she said. "I was using the hotspot on my phone until it ran out, and now we're just doing the best we can."
Inman said she has struggled to help her high schoolers find their groove as well. Brooks, a freshman at Newnan High School, works fairly independently – "He just sits down and does it," she said.
But Quinn, a senior at Newnan, was "racking up zeros" before he convinced his mother he needed to be able to work during the day and do his coursework in the evenings. His arrangement with Inman is a little unusual: she had him sign a contract that stipulates he will work during the day, be home at 7 p.m. and sit down to do his schoolwork for at least three hours every night.
"The kids' personalities come a lot into play," she said. "Some are going to do fine and some aren't. When they aren't, you just have to twist it a little bit."
Inman said Jayde is "adamantly ready" to go back to school, and Quinn is going back "because he needs to." However, Brooks – a member of the ninth grade football team – is considering remaining enrolled in the Empower program to reduce his chances of exposure to COVID-19.
"I told him I was going to leave it up to him," Inman said. "I never thought he would consider it, because he's so ready to go back to school. It's a huge decision."
Inman said the recent death of an acquaintance from COVID-19 has altered her opinion about the Coweta County School System's health and precautions and scheduling.
Quinn and Brooks – if he decides to return to school – will be required to wear masks and will attend school in person every other week, learning virtually on their off weeks.
The hybrid schedule will be implemented, at least initially, at all middle and high schools. Elementary-aged students like Jayde, who typically have smaller schools and classes, will be expected to attend every day.
"At the end of the day, (schools) are doing the best they can," Inman said. "And better safe than sorry."
School with all elementary students
The viral image of a 5-year-old boy wiping away tears with the collar of his T-shirt struck many parents as a true representation of what some young students were feeling as they went back to school in front of a computer in their own homes.
Jana Coombs took the photo of her son, Poplar Road Elementary School kindergartner Ezra Coombs, in response to her mother's text asking how the first day of virtual school was going. She shared the photo online, saying she felt it might help other parents whose children were dealing with similar issues.
"I knew others would be going through the same struggles and emotions, that they would understand it's hard and this is the reality," Coombs said.
The issues are amplified for Coombs, the mother of two other elementary-aged students – 9-year-old Brynlee and 7-year-old Reezlyn – as well as 8-month-old Levi.
"The ages have been the biggest trouble for us, not being able to give them each the attention necessary for their needs," Coombs said.
She said she has struggled with three different schedules and workloads, homework, logins and curriculum that mimics face-to-face instruction for each grade.
"It's just too much to try to run a household, work, take care of the kids and be the teacher as well," Coombs said.
Brynlee, Reezlyn and Ezra will return to in-person classes next month by their own choice, a decision their mother said she fully supports.
"We value their opinion and experience, and we feel like it's the best choice since they've been off for six months," Coombs said. "I think their mental health matters as well, and a lot of children struggle with the lack of socialization."
However, she said she appreciates the school system providing families with the option of fully virtual learning.
"It's still a good option for some people," she said. "Having that decision to make for your own household is a priority for now. There has been some controversy over the (Coweta County Board of Education), but I respect everybody's opinion."
Coombs also praised her children's teachers.
"They have done an outstanding job, and we are so thankful to have teachers who are going above and beyond in these circumstances," she said.
Return to in-person instruction
Dr. Evan Horton, superintendent of Coweta County Schools, said the school system's goal has always been to get students back into the classroom as soon as it was safe to do so.
"We all want to get back to face-to-face instruction for students," Horton said. "We have tried to plan for the best and safest approaches to achieve that, while still maintaining the virtual option for students so that families can make choices."
However, COVID-19 transmission rates remain high not only in the county but in surrounding areas. As the school system released plans last week to ease back into in-person instruction by Sept. 8, Horton reminded families of the possibility that some in-person classes may potentially be disrupted should an outbreak occur in the school system – despite health and safety precautions and protocols.
"COVID-19 will continue to be a fact of life in our community for the time being," he said.