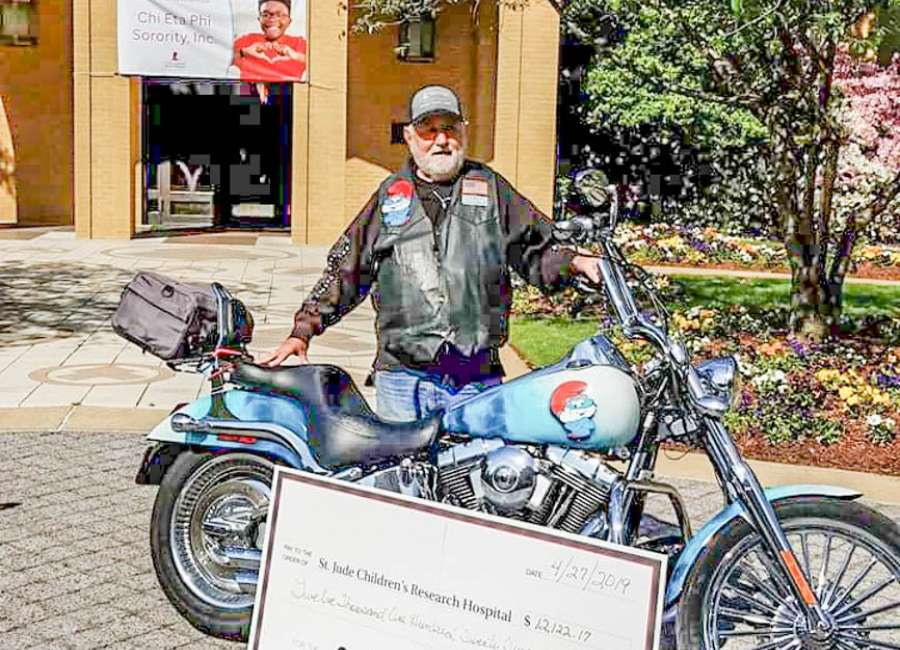 The South Atlanta Chapter 186 Southern Cruisers Riding Club, also known as SCRC Chapter 186, will host their annual Ride for St. Jude on Aug. 29.

Registration begins at the Coweta Veteran's Club off Highway 29 in Newnan and a variety of family-related events will be held at the club upon their return.
At the center of attention for the "Cruisin' for a Cure" ride is the raffle of a custom refurbished 1970 Ironhead Harley Davison by Art Dunnier.
Last year's ride raised $12,122.17. This year's mission is to deliver the proceeds from the raffle for the Ironhead and some of the activities planned.
Veterans are often the connection between the Coweta Veteran's Club and the riders. Some ride as Bomber Girls, and others as the SCRC, while another spin-off is the Sons of the American Legion.
Some of these same riders are part of the Patriot's Guard that escorted the remains of Sgt. Billy Joe Maxwell home from Korea to Hogansville, Georgia, last year. The group has also participated in the Great South Harley-Davidson for Cruisin' to Back the Blue, Special Olympics, the Relay for Life, as well as helping the Marine Corps League with Toys for Tots.
In October 2019, they rode and provided support for one of their riders, Ben McCoy, as he was recovering from a gunshot wound.
The group participated in the 9/11 Candlelight Vigil Ceremony last year. While attending in the past, SCRC member Doni Holcomb met with 9/11 Candlelight Coordinator Verna Funk to see if the riders and veterans could assist.
The timeline of the day that transpired on Sept. 11, 2001, was read by Holcomb with a lit torch for each airplane used to attack America at the World Trade Center in New York City, at the Pentagon and the United Flight 93 that crashed in a field near Shanksville, Pennsylvania.
"The riders, along with Holcomb, read the transcript from when then-President George W. Bush went to NYC to visit what was known as 'the pile' on Sept. 14, 2001," Funk said. "Shouting 'USA, USA' many times over was most inspiring."
The Veterans Day ceremony in November 2019 named Barbara Boone, retired Navy, as their "Veteran of the Year" run by the American Legion Post 57, a member of the CVC board and a SCRC rider herself.
The SCRC Ride for St. Judes's on Aug. 29 will include some fresh air and long rides through Coweta back roads.
For more information, email Chapter186@gmail.com or call 678-923-1462.