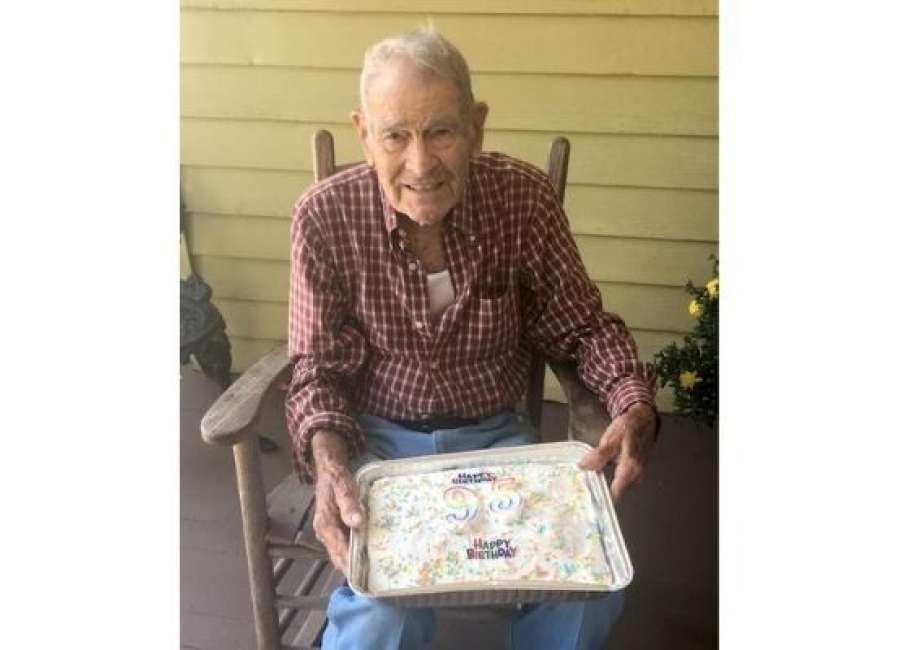 Sargent Baptist Church celebrated member Edwin Bean's 95th birthday with a surprise party on Aug. 2.

Brenda Clark, a member of the church, said she was talking to Bean's wife Sue who told her that he had a birthday coming up. The Beans live across the street from the church but haven't been attending during the COVID-19 pandemic because of their health issues.
Clark said the church decided to secretly request that members bring birthday cards for him, and she baked him a cake. After the service Sunday, the entire congregation walked across the street to their house carrying the cake and birthday cards.
Sargent Baptist's Pastor Brian Self told Bean that the crowd had come to sing "Happy Birthday" to him and everyone joined in singing while Bean stood on his porch. Clark said in typical Sargent fashion, the train went by when they began to sing.
She said Bean was very emotional and touched by the gesture. Clark said both Bean's wife and daughter, Karen, who was visiting, were also surprised.
"They have contributed so much to the church through the years, and we wanted to do something to brighten his day," Clark said.
Clark said Bean is a proud World War II Navy veteran and is still involved in veteran's affairs. She said he has a garden and can be spotted on his riding lawn mower and in his woodworking shop.
Bean is retired from the Bibb Manufacturing Company, and his wife Sue is retired from the Coweta County School System. They have two daughters, Karen and Theresa. Karen is married to Jeff Snyder, and Theresa is married to Ken Morneault — they have two sons, Thomas and Luke.
"It made us feel very good to brighten the day for the Bean family," Self said. "It is nice to repay their kindness."