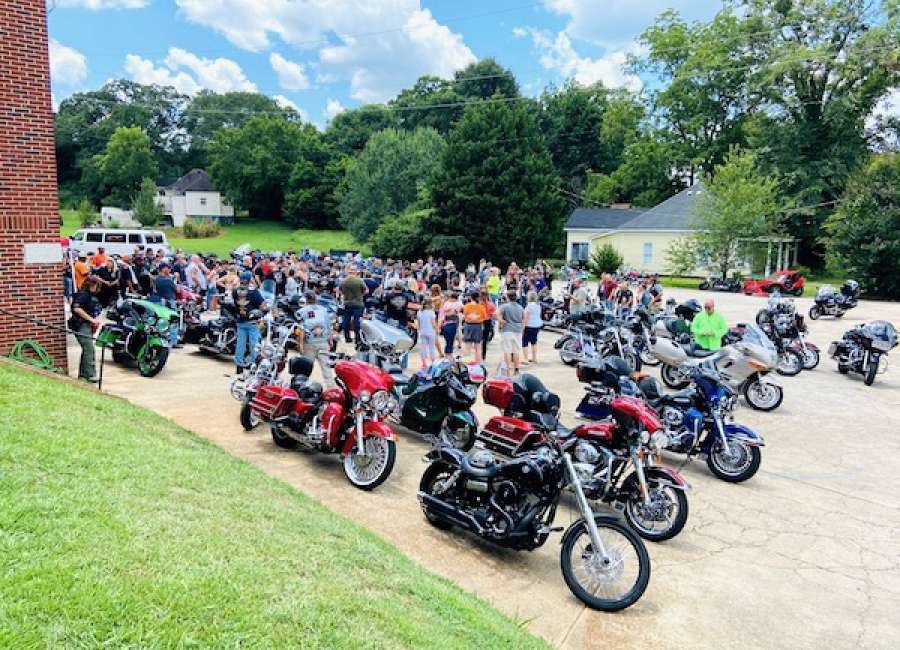 The F.A.I.T.H. Riders of Change Church held their second annual Ride for Recovery over the weekend and raised $3,000 for Coweta F.O.R.C.E.
Coweta F.O.R.C.E. provides support for recovery from addiction. Organizer Wayne Stewart said they had planned to host the ride in May, but postponed it because of COVID-19.
Stewart said 75 motorcycles and 25 cars participated in the ride, which started at Change Church in Grantville and ended at Coweta F.O.R.C.E. in Newnan. After the ride, free burgers were served at Coweta F.O.R.C.E.
Stewart said the Grantville Police Department led escort for the ride, and the Hogansville Police Department, Troup County Sheriff's Office, Newnan Police Department and the Coweta County Sheriff's Office assisted with the escort.
He said he rode towards the back of the pack of motorcycles and was amazed to see how many bikes were in front of him.
"To see that many in the lineup sitting back there with my wife was an amazing thing to watch and take place," Stewart said.
The event raised $3,000 for Coweta F.O.R.C.E., beating last year's total by $1,000.
"It was an amazing turnout," Stewart said. "When you're dealing with recovery, I know it takes time and money to keep the lights on at Coweta F.O.R.C.E. and if you don't support them they have a hard time doing that."
Coweta F.O.R.C.E. is a local nonprofit organization, and all its recovery services are free. Hank Arnold, Coweta F.O.R.C.E. executive director, said every little bit of fundraising helps, and local support is a huge benefit for the organization.
"It's really cool to see that we live in a community that supports recovery and that we have a reputation that people want to support our organization," Arnold said. "When we have organizations that do stuff for us that raise funds we are super grateful and appreciative."
Stewart said the most important part of the ride was to bring awareness and support to those recovering from addiction.
He said the ride got started last year when he chose it for his community project to finish Family Treatment Court. Stewart said he had a long history of sobriety and had been sober from 2006 until he relapsed in 2016.
Stewart joined the county's Accountability Court program and began to fight for his recovery. He said his family, his church family at Change Church and his Alcoholics Anonymous group helped him on his path to recovery.
He said towards the end of the Family Treatment Court program, each participant has to come up with a community project to complete. Stewart said he came up with the idea for the motorcycle ride because he wanted to support Coweta F.O.R.C.E. and it was an opportunity for him to ride his motorcycle.
Stewart said he wanted to think outside of the box, and since he already had a relationship with his church and the F.A.I.T.H. Riders, he felt like he could do something big. He said he also already had a relationship with Arnold, who is his sponsor.
"When we start looking at recovery on a broad spectrum, it takes a partnership," Arnold said. "Nobody can say their lives haven't been impacted by addiction, whether it directly impacts you or someone you know in your community."
Stewart said after last year's ride James Wheeler, president of the Change Church chapter of F.A.I.T.H. Riders, looked at Stewart and said they needed to make the ride an annual event.
This year, Stewart said in addition to the F.A.I.T.H. Riders, the Christian Motorcycle Association participated and volunteered, and Foundation Christian Church came to give out free ice cream.
Stewart said Broken Chains, a motorcycle club with Celebrate Recovery, and members of the Iron Order Motorcycle Club came out to support the ride.
He said one of his favorite parts of the ride was knowing where people were in their recovery last year, and seeing the progress they have made.
"I've grown; I'm not in the same place I was last year," Stewart said. "I saw people that have celebrated milestones in their recovery. Friday I celebrated 1,000 days free from all substances."
Stewart spoke with Wheeler after the ride and said a third annual Ride for Recovery will take place next year.