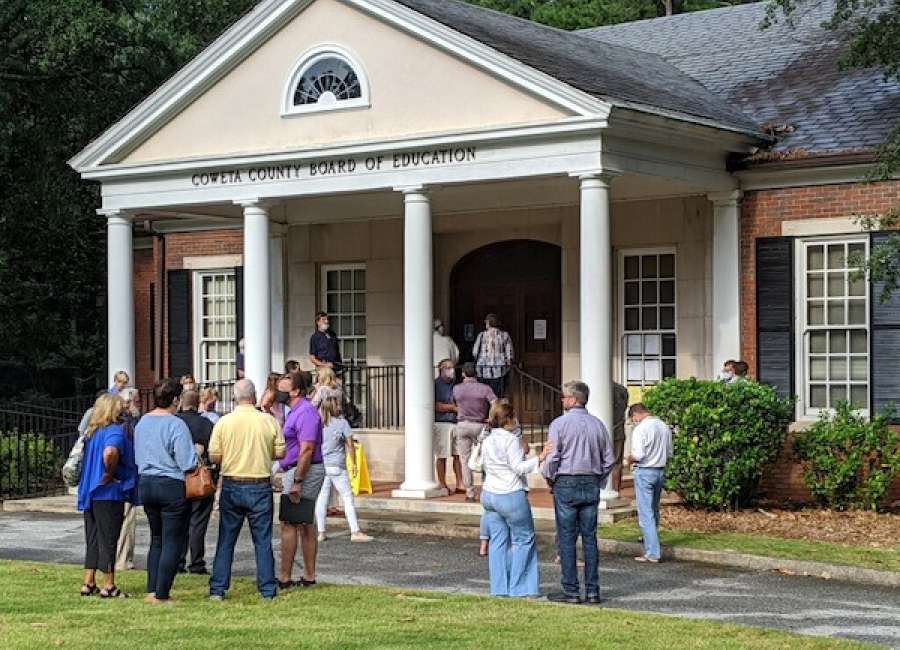 Coweta residents addressed their concerns with the Coweta County Board of Education at two millage rate public hearings held Tuesday.
The Coweta County School System is losing $11,946,254 in funding cuts from the state of Georgia in 2020-21, and a $3,771,665 decrease in local tax revenues due to an increase in school system property tax exemptions for senior citizens goes into effect in 2020.
The expansion of senior tax exemptions and an increase in applications for the exemptions have increased the total amount exempted from school system property taxes in 2020.
Assistant Superintendent of Finance Keith Chapman said the Coweta County Board of Education intends to lower the millage rate for maintenance and operations to 18.33 mills. By levying the 18.33 mills, the Board of Education will increase the property taxes it will levy this year by 12.66 percent over the rollback millage rate.
The board has maintained a millage rate of 18.59 mills since 2004.
The total tax digest has grown from $4,913,867,868 to $5,731,391,699, or an increase of 16.64 percent, Chapman said.
Each year, the board of tax assessors is required to review the assessed value for property tax purposes of taxable property in the county.
When the trend of prices on properties that have recently sold in the county indicate there's been an increase in the fair market value of any specific property, the board of tax assessors is required by law to redetermine the value of such property and increase the assessment. This is called a reassessment.
When the total digest of taxable property is prepared, Georgia law requires that a rollback millage rate must be computed that will produce the same total revenue on the current year's digest that last year's millage rate would have produced had no reassessments occurred, Chapman said.
This calculation would require the school board to roll back its millage rate from 18.59 mills to 16.27 mills.
Since the school board elected against rolling back its millage rate, it must advertise its intent to increase the property taxes it will levy this year by 12.66 percent over the rollback millage rate.
Georgia law requires that three public hearings be held to allow members of the public to express their opinions on the increase. Two hearings were held Aug. 11, one at 7:30 a.m. and one at 6 p.m. The third and final hearing will be Aug. 18 at noon.
Local property taxes fund a portion of the Coweta County School budget for school operations. It is separate from the school system's Educational Local Option Sales Tax, which funds local school construction, renovations and other capital projects, and which cannot fund operational expenditures.
In June, the Coweta County Board of Education approved an operational budget of $220,227,476 for fiscal year 2021.
The FY 2021 budget decreases the school system's annual budget by approximately $2,146,000 less than the school system's FY 2020 general fund budget adopted in June 2019. The proposed 18.33 millage rate would provide funding for the lowered school system budget, along with state school revenue and approximately $1.2 million from the school system's projected $27.6 million reserve fund.
At 18.33 mills, the amount exempted would increase from $10,666,480 in 2019 to $14,438,135 in 2020. Those and other reductions in school system revenue are offset by approximately $3 million in one-time Federal CARES Act funding in FY 2021.
The FY 2021 General Fund budget of $220 million is funded principally by $104 million in state revenues and $114 million in local property tax and other local revenues. The General Fund budget includes the largest portion of funding for instruction and pupil services, maintenance and operation of schools, transportation, and other operational costs of the school system.
Information detailing revenues and expenditures in the school system's FY 2021 budget can be found on the school system's website at www.cowetaschools.net (under District Information, click on the Budget, Financial, and SPLOST Info tab for "Budget Information - FY2021").
State cuts
Georgia House District 71 Rep. Philip Singleton addressed the board at the morning hearing. He said this was a difficult year for Georgia, especially when it came to the state budget.
Singleton said when it came to budget discussions at the state capitol, all the talk was based around how they could save as much money as possible in the education system. He said they ended up with just over a 9 percent budget cut to education.
"We knew that it was going to be hard, and we knew that almost every county that we deal with in the state are taking significant budget cuts as a county," Singleton said.
He said unemployment is at an all-time high in Coweta, and there is a 25-year high in mortgage default rates in the U.S. right now. Singleton said the largest employer in the county is the airline industry, of which he is a part of.
Singleton said his salary is about to be cut 40 percent. He said he lives in District 4, and his home taxes have gone up every year he has lived in the county.
"I've not come and once said, 'Hey, stop raising my taxes,'" Singleton said. "I'm telling you right now that it is the wrong message; it is immoral leadership for us to raise revenue in the middle of a crisis."
He said residents are suffering through the COVID-19 pandemic, and the airline industry is being majorly impacted.
"We cannot, as leaders, we cannot take advantage of that crisis, and I don't think that's what you're trying to do, but that will be the perception," Singleton said.
Singleton said he has never received the volume of phone calls, emails and questions in the last 30 days on this topic.
"Unequivocally, Coweta County citizens do not want you to increase their taxes," Singleton said. "They are willing to fight with you and fight through the problems. Our community is strong, and if we have to cut back, we will make our school system strong and we will support you. But they do not support a tax increase, so I encourage you to not do a tax increase."
Residents speak out
At the morning hearing Aug. 11, 12 residents addressed the board ahead of next week's vote on the millage rate. At the evening public hearing, 16 people expressed their concerns with the proposed millage rate, and one person expressed their support for the board.
Dan Miller said he is one of the many people who had a significant increase in their property valuation this year, over $100,000 worth. He said with the rollback not being put in place, his education taxes would go up $1,300 this year.
"And yes, I have children in the school district and they love it," Miller said. "But what I see is artificial turf, tennis courts being torn down for parking lots and being built somewhere else. I see things in the budget that in my business, which is health care, we would have to cut in difficult times."
Travis Devers, a firefighter and paramedic, said he didn't get a pay raise at the fire department because of the COVID-19 pandemic. He said his wife, a neonatal practitioner, also took a large pay cut during the pandemic.
"We need to be smart with our money," Devers said. "It's just that everybody's hurting right now and for you to turn around and try to up our millage rate and then the county wants to up their taxes as well, it's going to take a whole paycheck for me."
"I mean, I'm a fireman, I shouldn't have to do that," Devers added.
Brant Frost IV said he's taken over 1,900 Paycheck Protection Program loans over the last four months for small businesses that are dying. He said people are hurting, and the timing for increasing taxes is not now.
"As has been said before, we do have a rainy day fund and if this is not a rainy day I'm not sure what is," Frost said. "It's the wrong time to increase taxes; it's the wrong time to ask people for more money."
The third and final public hearing will take place Tuesday, Aug. 18 at noon at the Board of Education office located at 237 Jackson St. in Newnan. The board anticipates discussion and adoption of a millage rate at a called meeting following Tuesday's public hearing.