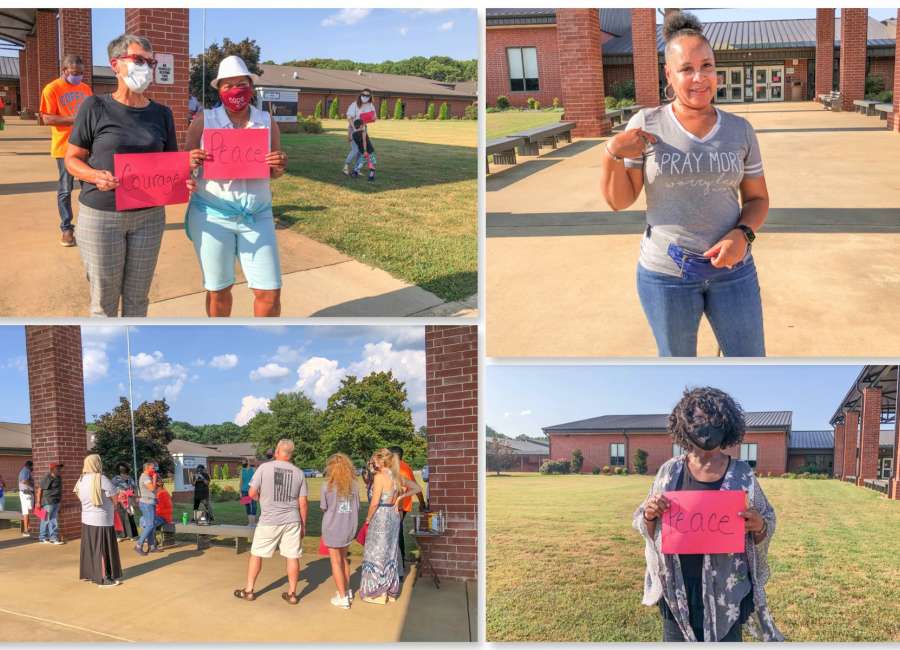 Story by Julia Sanders, NTH Contributing Writer
Last weekend, community members came together on MLK Drive in Newnan for a prayer event.

The event, called Pray On MLK, is a nationwide prayer and worship event located along each Martin Luther King Jr. street. This is the first year the event has taken place. Karen Yvette Smith of Newnan organized the event in Newnan.
"I heard about it through a friend of mine," Smith said. "Someone sent her the information about Pray On MLK, and she instantly thought about me."
Chicago was the first city to name a street after Dr. Martin Luther King Jr., on Aug. 8, 1968. Now, streets all over the country are named after MLK. Part of the purpose of the event was to peacefully protest and show compassion and love, just like MLK did.
"It's just continuing the legacy of Martin Luther King's nonviolent, peaceful protests," Smith said. "There's been a lot of civil unrest going on in this world, and so we want to make sure that we know that God is the center of all of it. And through this pandemic, through the injustices, through all the stuff going on, we need to keep God in the center of everything going on."
The first hour was spent praying. People stood side-by-side along the sidewalk, and they each held up a piece of paper with words such as Justice, Peace, Love and Courage. Jarmaine Elder led a prayer for justice and Dianne Smith led a prayer for peace.
Danny Hudson prayed for equality, JoAn Kinrade prayed for courage, Ronald Smith prayed for forgiveness and Angela Luckey prayed for love. In between each prayer, Karen Y. Smith stated a quote from MLK. The second hour was spent with acapella worship.
Sara Wieda said she came to the prayer event because she is friends with Karen Smith, but she also came for a sense of community.
"What I really hope is that the community just comes together and sees that the community is supported and that they can all just come together," Wieda said. "A lot of churches are closed right now, and because of that, a lot of us are missing that community component."
With social distancing, events canceled and churches closed, many people have felt isolated. At the prayer event, everyone wore masks and stood 6 feet away from each other to practice social distancing. Wieda said she has listened to sermons online, but it doesn't make her feel connected.
"It's kind of hard to engage with it online. You don't get that same kind of spiritual experience you get when you are gathered with other people. This (the prayer event) is really important to me. I think it feeds my soul because I've just felt so separated from everybody lately," Wieda said.
The event's main theme was community. Smith said her main goal of the event was to bring the community together during a time that social distancing and social injustice has divided people.
"I hope people know that we are all in this together. No matter how you feel about this person, no matter how you feel about what's going on, know that we are in this together," Smith said. "We can be in this fight together. We have to come together in order to make the change in this world."