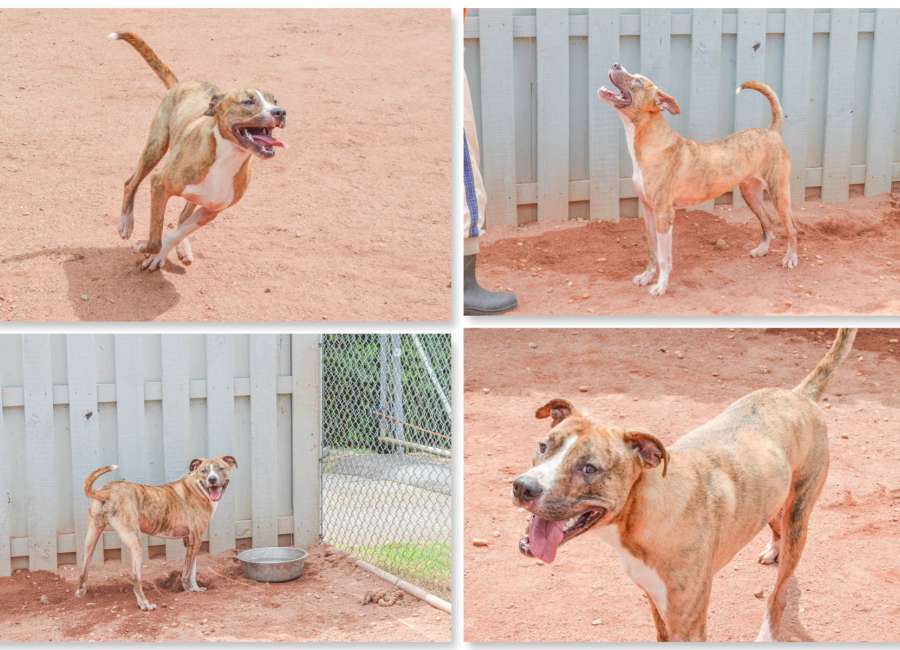 Hi. My name is Elliot
Elliot is a playful Staffordshire terrier mix who has been at the Coweta Animal Services shelter for the past year.
Elliot loves to run – including running laps around you. His speed earned him his name – after legendary NASCAR driver Bill Elliott. "He loves to play," say shelter workers.
Elliot needs a special diet because of skin allergies and some digestive issues related to his allergies. He's currently on Prescription Diet ZD.
Elliot gets along with most dogs, particularly female dogs, though he is dog selective and doesn't get along with all male dogs.
The Coweta County Animal Services Shelter is open for adoptions, but things are a little different because of COVID-19.
To enter the shelter, visitors must have their temperature taken, wear a mask or face covering and sign a form attesting that they do not have symptoms of COVID-19. Everyone must also step into a disinfectant station for their shoes.
Only two people per household may enter, and no one under 18 is allowed to enter the shelter. Adopters can't bring their own pets into the shelter to meet potential adoptees at this time, either.
The shelter is located at 91 Selt Road, Newnan. Shelter hours are Monday through Friday from 8 a.m. to 5 p.m. and Saturdays from 9 a.m. to 2 p.m. Adoption hours are 10 a.m. to 4:30 p.m. Monday through Friday and 10 a.m. to 1:30 p.m. Saturday. All animals are spayed or neutered and microchipped before adoption and have their first round of vaccinations.
Kittens or puppies who are too young for spay or neuter surgery must be brought back to the shelter for the surgery, which is included in the adoption fees.
Adoption fees vary. Please call 770-254-3735 for more information.