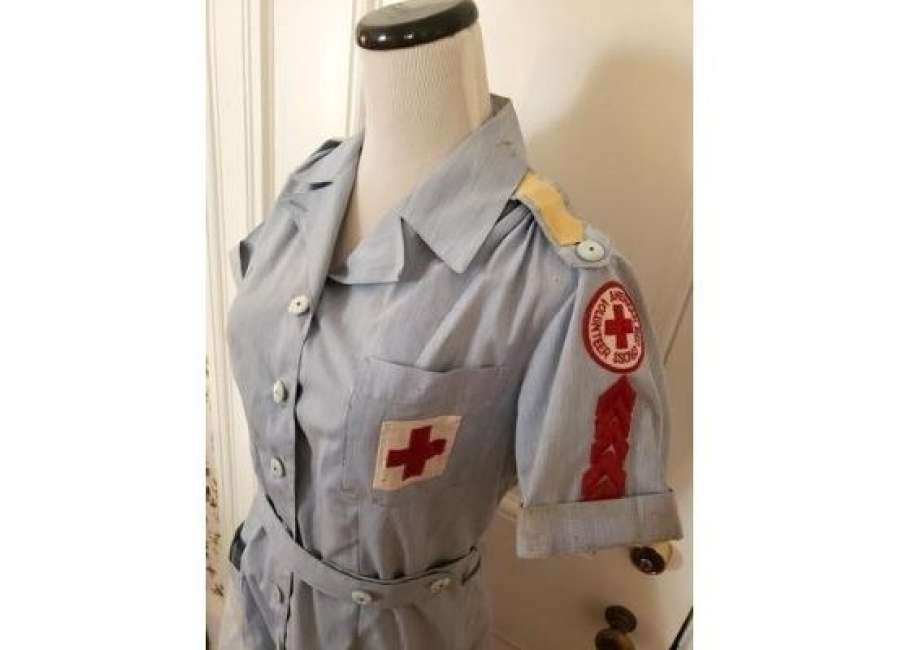 The Newnan-Coweta Historical Society recently added two American Cross nurse's uniforms to its permanent collection after the objects were mysteriously donated to the organization.
In the middle of the COVID-19 shutdown, an anonymous donor left two mid-1900s era American Cross nurse uniforms at the back door of the McRitchie-Hollis Museum — one dark blue and one light blue uniform. The uniforms were left with no note and no indication of who the donor may be, according to a release from NCHS.
"The uniforms were left at the entrance to a door that we hardly ever use," said Emily Kimbell, NCHS director in the release. "I am so glad that I happened to check the door that day! It rained later in the evening, so the uniforms may have been damaged or destroyed if they had been left out."
Despite now knowing the origins of the uniforms, NCHS staff was able to research some information about the donations. The dark blue uniform is a Shane Deluxe uniform from the 1940s that was worn during World War II.
The light blue uniform is a Dilly Uniform designed in a style frequently worn by school nurses in the 1960s. The uniform has six chevrons on each sleeve. Each of these chevrons represents four years of service, translating to 24 years of service for the original owner.
Matching nurse's caps, marked with the American Red Cross symbol, accompany both uniforms, according to the release.
NCHS staff identified the uniforms as local to Coweta County due to the Craft Cleaners hanger used to hang the uniforms and donated with the clothing items. Craft Cleaners was located at 44 Perry St. in Newnan, the building is now the site of the Steven E. Fanning Law Offices. However, NCHS staff would love to know more about the history behind the uniforms and the story of the original owner.
"Thank you to whoever donated these items!" said Noelle Hagen-Atwood, NCHS curator. "We would love to know the story behind them. They are both wonderful pieces of Coweta County history."
If you know more about who left these uniforms at the McRitchie-Hollis Museum or who the original owner is, contact the NCHS offices at 770-251-0207. Those wishing to make a donation in the future should contact NCHS staff to schedule an appointment to drop off items.