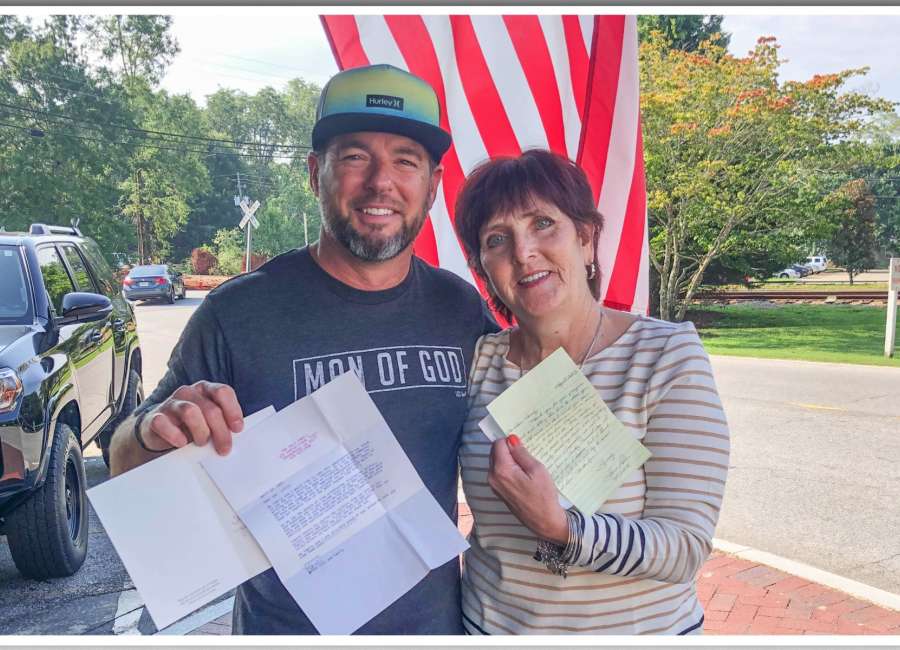 Story by Julia Sanders, NTH Contributing Writer
Seventeen years ago, Diane Ealy decided she wanted to write a letter to a soldier serving in Iraq after seeing an announcement on television. Ealy's ex-husband was a Marine, and she picked Sgt. Shane Loftin off the list of veterans because he was also a Marine.

Her letter was typed in red and blue ink on white paper to symbolize the colors of the American flag.
Years after writing the letter, Ealy became curious about what happened to Loftin. She looked him up online last week and found that he owned Shane's Pest Solutions nearby. She called the company's number, and Loftin picked up.
"Are you a sergeant?" Ealy asked Loftin over the phone. Loftin replied that he was, and asked who she was. They ended up talking for about 15 minutes, and then decided they wanted to meet in person.
"I'm just stunned. I remember sitting there and writing this letter," Ealy said.
Loftin served in the military from 1999 to 2005. Over the years, he kept the letters he got while in the war.
"I have stacks of letters from kids in elementary schools who drew me pictures, and you know, when you get that stuff, it's just priceless," Loftin said.
Loftin said that it wasn't until years later that the importance of the letter hit him.
"For veterans, when they are deployed and they get mail from home, there's nothing like a package or a letter from somebody that you have no idea who they are," Loftin said. "I don't think the weight of it hits you at the time because in all of that, we are emotionally numb because of what we are doing and what we are going through and all that. So it's taken a very long time for me to realize just how awesome this letter is."
For Loftin, the letter was a form of hope and validation of his military service and Christian faith.
"There's no telling how many times I've read this over the years. I've had it for 17 years, so there's always things that I pick up different from it every time," Loftin said. "This time it's just I hear approval from somebody that I know believes in God and believes in what we are doing. And for me as a veteran, because for a long time, and probably a lot of veterans do this, they question whether or not what they did was enough."
Ealy said she strongly supports veterans.
"I firmly believe in the military. I believe that we have to support them. We don't have a choice. They are our lifeline to freedom." Ealy said. "Our military to me is above any politician, because those politicians aren't on the front line."
Loftin mentioned that America needs more people who write letters to their veterans.
"I know the selflessness it takes to sit down and write a letter to some stranger they don't even know and to pray for some stranger," Loftin said. "In this letter again, now that I look at it, this letter is from God through her (Ealy) to me to let me know that I'm okay and that what I'm doing is good."
Ealy says she sees the impact the letters have on veterans, and she wants to write more letters in the future.
"I see how much it does mean to him. Because I don't think we on the writing end get the impact of what it does mean to these guys to receive these packages and these letters and stuff. Yeah, I'm definitely going to start back doing that," Ealy said.