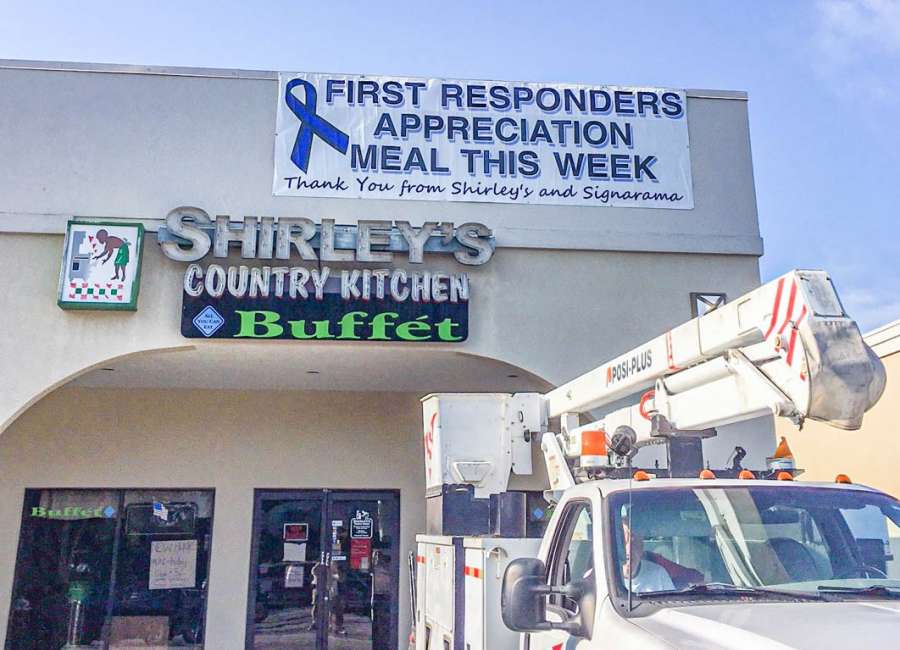 By Morgan Crumbly, news@newnan.com
Nothing says thank you quite like a free meal.
As a token of thanks, Coweta's first responders and their families will receive a meal free of charge at Shirley's Country Kitchen the first week of August.
These free meals will be provided Monday through Friday and are a local business owner's way of showing his regard for local law enforcement and firemen.
Hugh Taylor, local owner of Signarama, has hosted the "First Responders Appreciation Meal" for five years in a row.
"It started years ago when the police were getting a bad rap all across the nation," Taylor said. He said it is "sort of like what's going on today," in reference to Black Lives Matter protests following the deaths of George Floyd and Ahmaud Arbery.
Taylor said that he wanted to host the event for a full week because of first responders' hectic schedules. Taylor said he and Shirley felt it was important for first responders to be able to eat a good meal whenever they could find the time.
"We never know what day they have off," Taylor said, " So all week long lets them come in and have a meal on the house."
Taylor said he holds this event at Shirley's because his business was in the same shopping center as the restaurant for 14 years. Taylor said he got to know the owner of Shirley's during this period of time and joked about their close relationship.
"She told my wife, 'I'm gonna feed him,'" Taylor said. "'Don't worry we'll keep him fed.'"
Taylor said he has seen law enforcement frequent the restaurant as well and noted its convenient location and mouth-watering meals. "It's convenient for them to pull in and out of, and she always has plenty of food," Taylor said.
Taylor said the "First Responders Appreciation Meal" is his way of saying thank you for your service.
"Particularly in Coweta County, we've always had a good group of law enforcement — both city and county," Taylor said, " Our fire department is great as well."
He said he wanted first responders to know that there are individuals who appreciate them.
The "First Responders Appreciation Meal" event will be Aug. 3-7.
Taylor said he wanted first responders to come to Shirley's whenever they can. "It could even be a Friday night meal for the whole family."