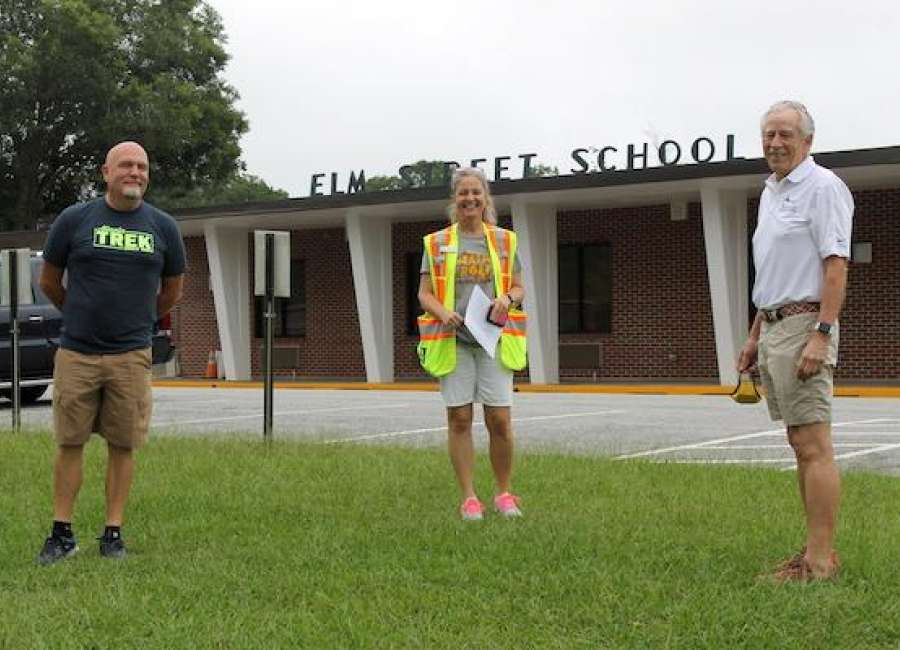 There were 22 pedestrian and auto crashes, and five bicycle versus auto crashes in the Newnan area from 2013-18, according to the Georgia Department of Transportation.
To help combat this, Patti Pittman with Safe Routes to School Georgia met with Newnan City Council Member Rhodes Shell and Bike Coweta President Chris Doane Wednesday to evaluate the walking/biking option for Newnan students.
Pittman, Doane and Shell walked the school route around Elm Street Elementary, and Pittman jotted down notes about areas that could use crosswalks, street lights or bike lanes. She said making areas safe for kids makes it safe for everyone.
"If we make it safe for the most vulnerable populations, it will be safe for everyone," Pittman said.
Pittman said she will share the notes she took from the walk with the DOT and the city. She will include what she noticed, and some suggestions that the city may be able to implement to make walking and biking to school safer for students.
Pittman is the school outreach coordinator for the North Georgia region of SRTS. She attended the bike safety classes Bike Coweta held in June.
The Safe Routes to School program empowers communities to make walking and bicycling to school a safe and routine activity once again. Georgia's SRTS Resource Center assists schools and communities with education, encouragement, enforcement, evaluation, planning and other non-construction related SRTS activities, according to www.saferoutesga.org .
Shell said he met Pittman at the safety classes, and they had a conversation about the speed limits through downtown and safety around the schools.
Pittman said Safe Routes to School is a state-funded program that looks at infrastructure for pedestrian and bicycle safety, so kids can commute to school by biking and walking.
Doane said he had Pittman come in for the bike safety classes. His intentions were to get Pittman, Safe Routes to School and the DOT to help kids be able to ride bikes and walk to school safely.
One thing they are looking at is developing bike racks, and Doane said Bike Coweta is working on a prototype of a bike rack for the downtown area.
"By us walking today, we're looking to get the conversation going," Doane said.