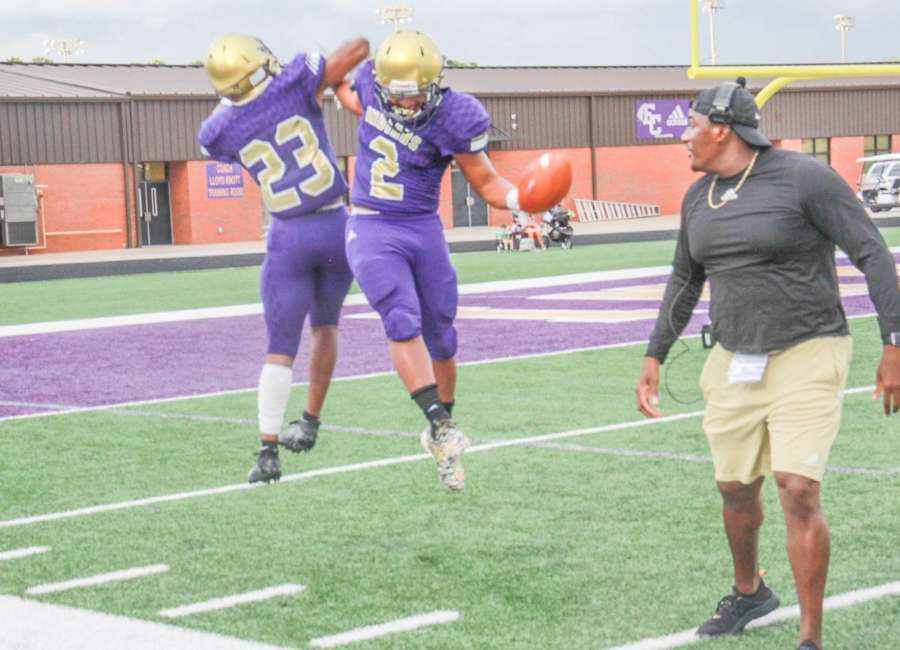 (Sharpsburg, Ga.) They were not keeping score, there was no need to.
On Friday night, there was one winner, the entire East Coweta High School community.

After a two hour scrimmage that saw some big plays, a couple of pick-sixes and a dominant offensive line, the entire team and coaching staff approached the home stands and there was a shared moment of celebration with the parents and fans. That moment was the final score.
With their season opener against Starr's Mill less than two weeks away, Head Coach John Small and his coaching staff are making their final preparations. The elimination of the two preseason scrimmages by the Georgia High School Association (GHSA) cost the team opportunities to work on substitution patterns and game situations, so the dress rehearsal intra-squad scrimmage was needed. But most importantly, the lights were on, the uniforms were crisp, and football was back.
With the roster broken into two teams, the purple squad started the game with an impressive opening drive that included a 22-yard pitch and catch from quarterback Daniel Schoch to Mason Holmes that put them inside the five-yard line. Sophomore Trey Bowles scored a play later behind the massive Indian offensive line.
The purple team scored again, this time on a 50-yard TD run on a quick burst by Jayden Bolton. Undaunted, the white team got a couple of touchdowns on interception returns, one by Jordan Crosby and another by Crosby Ellis.
Other highlights included a nice sack on a safety blitz by Pierre Robinson, an explosive kickoff return by Christian Cook and a dominating presence of the Indian offensive line.
After the game, Coach Small said the energy level was "unbelievable."
"it was great to have people in the stands with some sense of normalcy," he said. "Our kids fed off that energy. What we really liked was the fact that our kids don't get rattled, they don't freak out and they don't panic. They have a mindset we like; they want to compete, and they want to play."
Small also recognized the work ethic of senior linebacker Eric Adams. "I thought he played well tonight, he shows up every day and works his butt off. It was great to see him in the game, I was really proud of him."
With some tape to work from, Small and his staff have just under two weeks to prepare for their season-opening opponent, the Starr's Mill Panthers. Originally scheduled to be the first game of the Inaugural Coweta/Fayette Classic triple header, it will now be played at Garland Shoemake Memorial Stadium on Thursday, September 3, 2020, at 7:30pm.
The Panthers from Peachtree City have won four consecutive region championships and made it to the State Class 5A semi-finals last year. Sophomore quarterback Will Yarbrough will lead their Wing-T Jet offense while running back Brandon Mathis will do the heavy lifting in the running game. The Panthers are led on defense by seniors Wes Haney and Cole Bishop.
It will be a stiff challenge for the Indians. But for these guys who started conditioning work in groups of 20 back in early June will have a real opponent on the visitor's side. And this time, the scoreboard will be on.