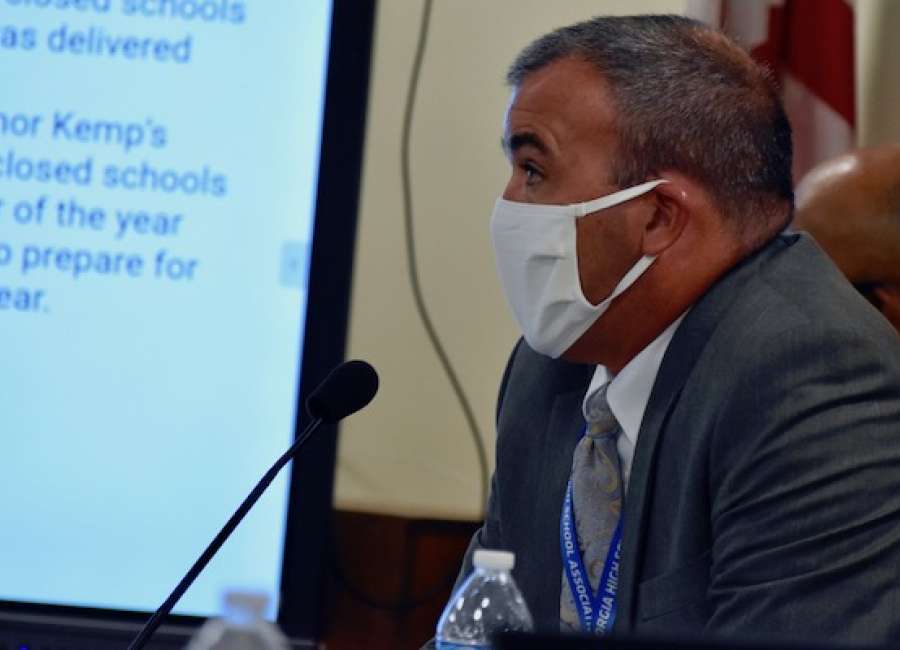 School ended abruptly last spring for students in the Coweta County School System amid the COVID-19 pandemic, and it looks like they'll have to wait at least a little longer before they see the inside of a classroom again.

During a called meeting on Thursday, the Coweta County Board of Education unanimously approved a reopening plan that has students starting school on Aug. 13 but learning virtually at least through Sept. 4.
Citing "substantial, uncontrolled community transmission" of the disease, Superintendent Evan Horton recommended the move to board members, who earlier in July had agreed to push back students' return to school from Aug. 6 to Aug. 13 because of concerns about escalating COVID-19 numbers.
"The spread hasn't been controlled in our community, according to public health," Horton said. "I cannot risk the safety of our students and staff. I won't take the risk… with the unknown of the spread at this point."
After the initial period, Horton said he will reassess public health data and conditions to determine whether students can safely return to schools for face-to-face instruction as early as Sept. 8.
Most teachers and employees will report to work at their schools on Monday, and remote/virtual instruction will be led from school buildings.
Special services and meal programs will continue to be provided during the online period, and Chromebooks will be issued to students in grades K-2 who previously weren't assigned devices by the school system.
Horton said while some districts in the area have postponed their start dates by several weeks, he sees no benefit in further delays.
"I feel like it's important to go ahead and start teaching and learning in some form," Horton said.
Unlike last March – when school system staff shifted into what Horton called "crisis teaching" – virtual instruction will resemble a regular school schedule, using the school system's new Empower platform for all students.
Empower will allow student lessons to be led by teachers using Google Classroom. It will use a combination of live instruction/interaction and online student work. Through Empower:
• Students will be able to take the courses that they were scheduled for as if they were in a face-to-face model.
• Students will be assigned to a Coweta classroom teacher that teaches at their assigned school.
• Students will remain connected to their base schools.
• A student's daily schedule will resemble the schedule that they would follow when they return to face-to-face instruction. Students will receive direct instruction which will also be recorded for viewing later if needed. Students also will receive assignments that they will complete on their own.
• Students who receive specialized support – including special education services and IEPs – will continue to receive those services.
• Instruction also will incorporate specials and Connections classes for students.
Horton said the goal of online/remote learning is to keep students in their expected classes and working with their school-based teachers, which will allow for a seamless transition back to face-to-face learning for all families who choose that option.
To transition back to in-person learning, the school system could consider several options, including a hybrid option – first with elementary schools – in which students would alternate days attending school to allow for recommended social distancing.
The school system is also continuing to follow health and safety guidance and refining the school system's protocols for face-to-face instruction, Horton said.
Board members expressed their support for the reopening plan, some reading from prepared statements.
"I feel very confident after hearing from our staff and Dr. Horton," board member Andrew Copeland said.
Copeland said the start of school is like a familiar trip that still requires a GPS.
"As we know, sometimes obstacles can get in our way and the GPS will reroute our path," he said. "We have not gone this route before, but we will still get to our destination in the end."
Board vice chair Beth Barnett said she's been advocating for students' return to school for weeks.
"Does this plan do that as quickly as I'd like? No," she said. "Is this plan going to make everyone happy? Probably not. But does it address the concerns we've had from the parents, teachers, grandparents and community members? It does."
Barnett said the reopening plan – which she said provides choice and flexibility, protects students and staff, and remains sensitive to the needs of the community – takes into account feedback from parents and other community members.
"Each concern that has been heard is valid, each opinion is valued," she said.
Coweta County is "stronger than this disease," Barnett said.
"Instead of fear, let's show courage to our children," she said. "In this time of impatience and short tempers, let's all pause, take a breath, and extend grace to those around us, remembering that the priority is our students, our collective future."
Now that the plan has been approved, students and their families should begin receiving details from their schools shortly, according to Dean Jackson, the school system's public information officer.
For more information on Coweta County School System's reopening plan, visit www.cowetaschools.net .