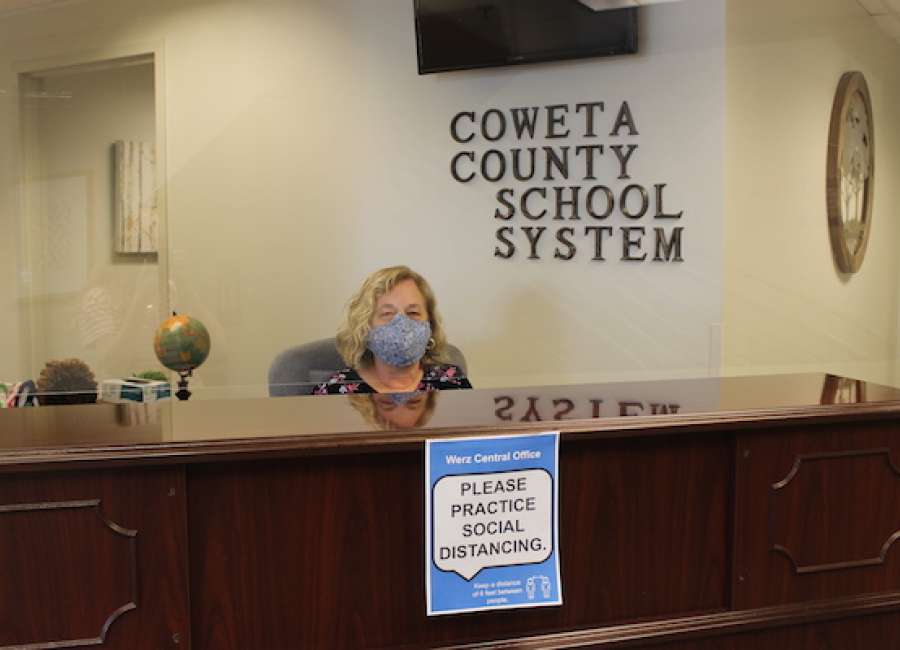 (Edited to correct date 8/5/20, 10:33 a.m.)
Parents and families in the Coweta County School System are gearing up for the start of an unprecedented school year Aug. 13, with all students beginning instruction virtually.

Here are some common questions regarding how school will look, along with information about what to expect as Coweta students – who haven't had face-to-face instruction since March 12 – navigate school in the midst of the global COVID-19 pandemic.
When is my child going back to school?
All students in the Coweta County School System will start school virtually on Aug. 13 and continue online instruction through at least Sept. 4. Public health data and conditions will be reassessed in late August to determine if students can safely return to school for face-to-face instruction on Sept. 8. A hybrid option – in which students may alternate attending class in person – could be considered at that time, with elementary schools returning first.
What will my child's school day look like?
Students will take the courses as scheduled for their face-to-face work. They will be assigned a classroom teacher who provides instruction from a classroom at their school. Daily schedules will resemble the ones they will follow when they return to the classroom. Students will receive direct instruction, which will be recorded for viewing later if needed. They also will receive work to complete on their own.
I'm a working parent. How am I supposed to supervise online school?
Live sessions will be recorded, and teachers are being asked to post assignments several days in advance so that families can work at their own pace and still meet deadlines. Teachers will be available individually online to answer questions and provide any needed resources to meet families' specific needs.
What about school meals?
Families will be offered the opportunity to sign up for meal service. They can pick up from schools during bulk meal distribution via curbside service, as has been used for spring and summer feeding programs. There also will be the option of delivery by bus to a centralized location based on address.
What if my child requires special services and/or support?
Students who are eligible for specialized support will continue to receive these services. Skills blocks will be worked into schedules for each school and each set of circumstances, operating like it would within a traditional school setting but delivered virtually. General curriculum students will be monitored during instruction by a special education teacher, who will provide additional support and pull students into small groups in Google Classroom if needed to help reinforce lessons. Time also is built into students' schedules to work on goals and objectives with their teachers and to answer any questions. Students with an adapted curriculum that includes functional academics and life skills will be working through a program already in place, with their regular special education teacher who is already familiar with their needs. The teacher will schedule whole-grade and independent work times with those students and their families. Speech-language services, occupational therapy and physical therapy also will be provided virtually.
Does this mean I have to use the Empower virtual program now, even though I chose the face-to-face option?
All students will begin the year using the Empower model, and families will be given the option to continue virtual learning or return to the classroom when it is determined that face-to-face instruction can be safely resumed.
What if my child doesn't have a school system-issued Chromebook, and what if I don't have reliable internet service at home?
The school system will distribute Chromebooks for students in grades K-3, which will be delivered to them. Outdoor wireless access points are being added at seven Coweta elementary schools so parents can drive up and download work from their cars. Wifi hotspots for buses have been requested from the state, and availability schedules will be posted on school websites.
The school system will distribute a small number of personal wifi hotspots and is working to improve cell service in underserved areas. Schools will be providing families with physical materials for remote learning, as needed, and will work individually with families to ensure students have the resources necessary to complete their assignments.
Where do I find out about my child's specific class schedule and other details?
Teachers reported to work Monday as scheduled, and they have started preplanning and training for the 2020-21 school year. Schools should be communicating with families starting this week, and any questions should be directed to the principal of your child's school.
Have a question we haven't answered? Ask us! Email news@newnan.com and we'll try to get you an answer.