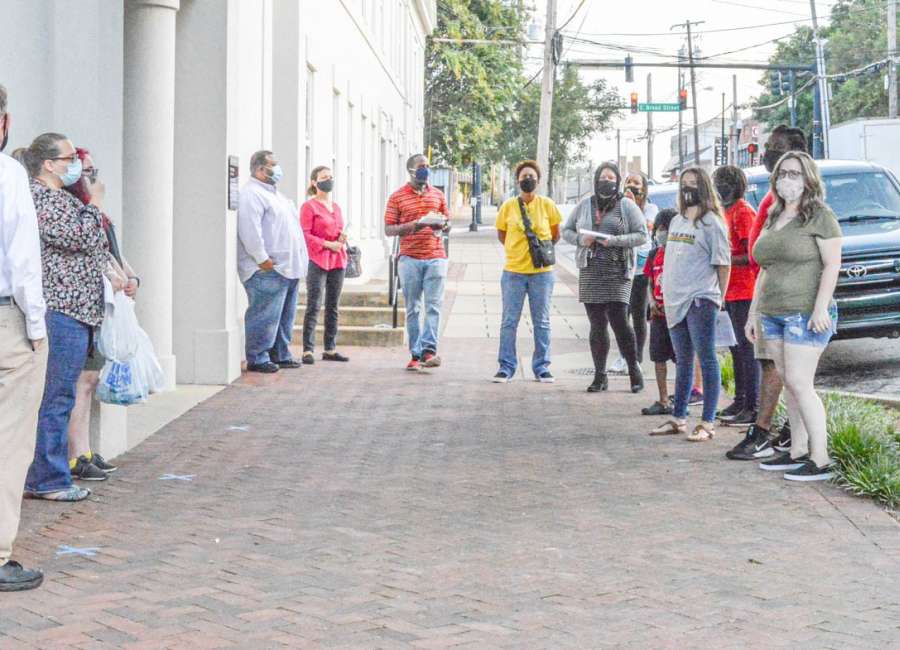 Several Coweta residents expressed concerns about how the recent arrest of a 19-year-old Black woman was handled to the Coweta County Board of Commissioners Tuesday night.

A bystander took videos of the aftermath of the arrest and posted it on social media, where it was widely shared. The videos have since been deleted.
According to the Coweta County Sheriff's Office incident report, Jourdan Watson was pulled over for running a red light.
Watson reportedly began to cry when a deputy was writing her ticket, then attempted to grab the ticket, demanding, "Give me my f***ing ticket." She then allegedly grabbed the ticket and ripped it up, striking the deputy's hand in the process.
When asked to step out of the vehicle, she allegedly refused and demanded a second deputy be on the scene. Deputies eventually pulled her out of the car by her legs.
When the video begins, she is on the pavement, cuffed and hyperventilating, as traffic goes slowly by.
The bystander speaks to the deputies from across the road, trying to find out what is going on. He asks if he can come over, says he is a friend and a teacher, and is told he can come over.
He tries to calm Watson down but when the deputy finds out he doesn't actually know her, he is asked to leave. Watson is heard asking him not to leave.
Watson was charged with battery, running a stop light and obstruction of a police officer.
Sara Wieda told the commissioners she was at the meeting to demand an investigation into the incident.
With the release of the video through social media and subsequent news reports, Wieda said, "A young girl has been subject to vicious racial slandering comments from Coweta County citizens.
"From what I can see in the video … the CCSO forcefully manhandled a nonthreatening young girl, disregarding her as she very obviously panicked on the side of the road, slumped down until she was nearly in respiratory distress," Wieda said. "This traffic stop was grossly mishandled, and the officers must be held accountable to the conduct standards of their department … and to the public they serve."
Wieda said as a school teacher, "I have been hit, I have been bit, I have been kicked and I have been spat on. If I were to manhandle a child in the same manner the sheriff's office displayed in this video, the public would not be asking me what the child did to deserve my hitting the child. They would just come after my job. And I would ask that the same standards would be applied to our officers."
"Officers had no right to abandon their training and deescalation techniques," she said.
She asked that the body camera footage from the arrest be released to the public and that the commissioners work with all agencies involved to find if there was any misconduct.
Sheriff Lenn Wood said on Wednesday that his office is actively investigating the incident and will be releasing the body camera videos. Wood said he wants to talk to Watson's family before releasing the video and will show it to the family before it is released, if they want to come and see it.
Dorothy McGraw spoke about anxiety disorders and how a survey of drivers found that anxiety is the most common emotion when someone gets pulled over. "What led to Jordan Watson feeling uneasy about stepping out of the car with that specific deputy?" she asked.
The video shows the deputies holding Watson on the asphalt, and she calls out for help and starts to have an anxiety attack, she said, leading to her hyperventilating until she passes out.
McGraw said that, as someone with anxiety and PTSD, being in that situation could send her into a full-blown episode.
Eve Olsen said she has been made aware what some officers may interpret as respect from citizens is actually fear.
"And that's because of a double standard," she said. "How can an officer uphold the law if they break it themselves when trying to make an arrest? For example, how can an officer treat a woman violently in an arrest and yet have the ability to arrest someone for the same behavior?"
Officers should know that such behavior can send a shockwave into the community, she said. "They may think their actions show to serve and protect, but they are causing trauma instead of trust.
"Many people feel like law enforcement is getting picked on. However, this pattern of double-standard policing is hypocritical," Olsen said. "I request that police get better training in deescalating a situation instead of dominating it at any cost."
Curtis Tally, who is Black, said he has been "getting harassed and followed by the police for no reason."
He has an older car, which might be part of it, he said. In the last month, he's been pulled over three times. He said once he was told his brake lights were out. When he went to check them before buying new bulbs, they worked fine, he said.
The third time is what scared him. When the officer turned on his lights, Tally pulled off the road, thinking he was getting out of the way, but he was getting pulled over. He said the officer, who was Black, came toward him, with his hand at his gun, and when Tally turned and looked at him, "he said, 'Sorry, wrong person; have a good day.'"
The encounter shook him. "I just think there should be a better way to handle felony warrants you have on people instead of saying, 'He looks like the person,'" Tally said. "It's not a color thing; it's just a problem with how they actually police."
Tally said he thinks most law enforcement officers do a great job. "I just want the bad apples to be looked after."
After the meeting adjourned, several of the speakers and others present stood on the sidewalk and chanted for several minutes, saying, "deescalate, not dominate" and "serve and protect, not abuse and neglect."