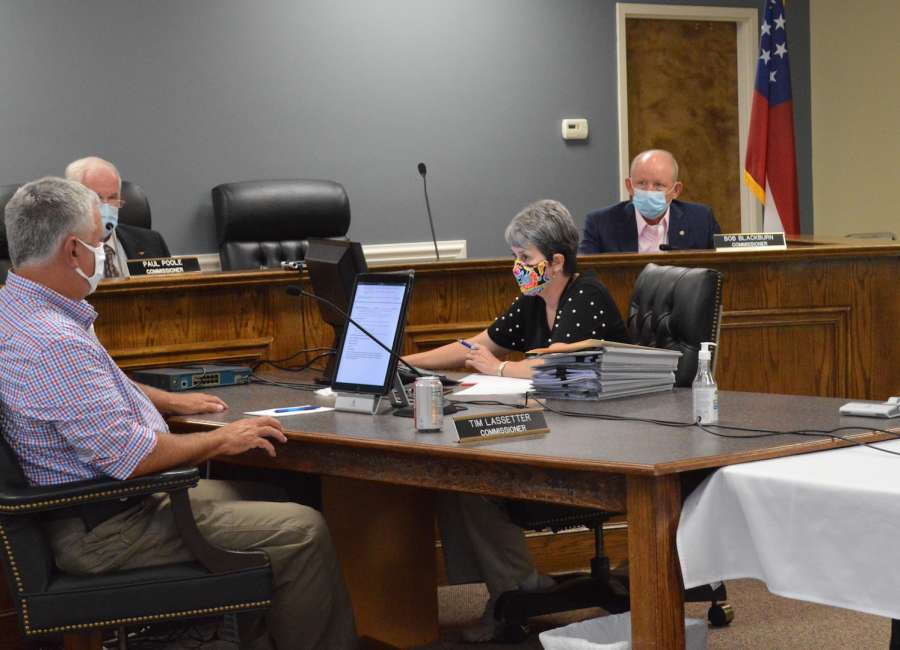 The Coweta County Board of Commissioners has gone on record expressing concerns about the proposed rock quarry across the river from Coweta in Whitesburg.
The gravel quarry will produce various grades of "construction aggregate" and is proposed for agricultural property on Black Dirt Road. A portion of the property touches the Chattahoochee River, just across from the border of Fulton and Coweta counties.
The land is zoned agricultural, and the quarry developers contend that no rezoning is needed because Carroll County's zoning ordinance allows for mineral extraction in agricultural areas.
Commissioner Tim Lassetter, who represents a portion of the affected area, added discussion of the issue to this week's commission meeting agenda.
Lassetter asked his fellow commissioners to support making an oral resolution to send to Carroll County, "just saying we are concerned about the safety, the environment and the welfare of our citizens – throughout the county but in particular those that could be negatively impacted by this quarry in Carroll."
Commissioner Bob Blackburn, who represents the part of Coweta closest to the proposed quarry, said he has gotten a "ton" of calls from residents in the Roscoe area. "They are concerned with the silica dust, and they are also really concerned with spooking some of the livestock with the explosions," Blackburn said. Rock will be removed from the quarry with blasting.
"They don't want it," Blackburn said. "Roscoe, Georgia, does not want the quarry – period."
Tuesday night, the Carroll County Commission voted unanimously to update the county's zoning ordinance to remove allowances for mineral extraction in the agricultural zone. Though that change wouldn't affect the current quarry proposal, it will prevent any other quarries from being located on agricultural land. The commissioners had enacted a moratorium on acceptance of any new application for mining and material removal on agricultural land in July.
The developer of the proposed quarry is Green Rock LLC of Alabama. In previous correspondence with The Newnan Times-Herald, David Grayson, director of mining operations for Green Rock, said that the county ordinance allowing mining in agricultural zones was "definitely" part of what made the site attractive to the company.
A group of Carroll County residents is actively working against the quarry. For more information, visit the Citizens Opposed To Carroll County Rock Quarry Facebook page or call 470-562-9846.
The quarry project is currently undergoing a Development of Regional Impact review by the Three Rivers Regional Commission. The original 30-day comment period on the quarry proposal has now been extended through Aug. 27, according to Carroll County Commissioner Ernie Reynolds.
Comments on the DRI can be mailed, emailed or faxed to Kimberly Dutton with the Three Rivers Regional Commission at Three Rivers Regional Commission, PO Box 1600, Franklin, GA 30217, 706-675-0448 or ksdutton@threeriversrc.com .
For more information, contact Dutton by email or at 770-854-6026.