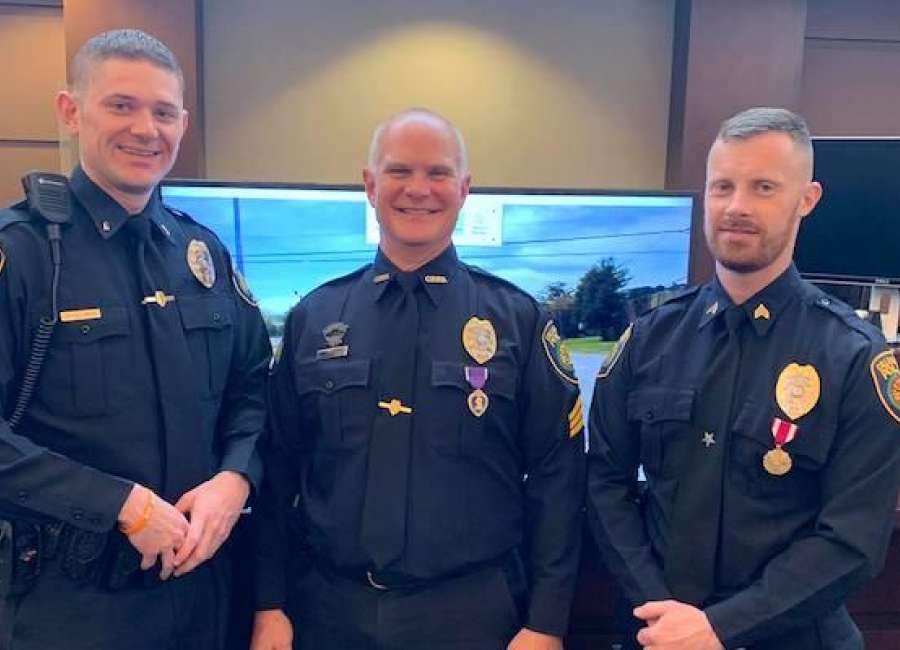 Newnan resident and College Park Police Department Sgt. Chuck Landrum was recently awarded a Purple Heart after being wounded in the line of duty.
Landrum was shot in the neck April 4 following a police chase. He said he was out of work for two weeks, then did a week of light-duty before returning full time.
Landrum is the commander of the traffic division for CPPD. He said around 10:40 a.m. April 4, he received a license plate reader alert on a vehicle that was stolen and used in a homicide the day before.
He and other officers of the CPPD started chasing the suspect, along with Georgia State Patrol troopers and officers of the Hapeville Police Department. The pursuit went through multiple jurisdictions, and shots were fired between the suspect and CPPD officers, according to a post on the CPPD's Facebook page.
The suspect wrecked the vehicle near the intersection of Toffie Terrace and North Inner Loop Road in East Point. Landrum said he rammed the suspect's car, and the suspect shot him through the windshield of his vehicle.
"As soon as I rammed him, I felt something tug on my neck," said Landrum. "I didn't know what it was, then I saw the hole in the windshield. That's when I thought, 'Man, that guy shot me.'"
The CPPD Facebook post said the bullet hit Landrum's bulletproof vest and deflected upward and lodged into his neck. However, Landrum said he thinks the bullet hit him directly in the neck.
Landrum said he applied pressure to the wound and called over the radio that he had been hit. CPPD officers Sgt. Steven Dunn and Lt. Cody Smith immediately took him to Atlanta Medical Center South.
"I was just breathing, and I was afraid to shut my eyes, even though I wanted to," said Landrum. "As soon as I realized I was hit, I swear I said, 'Protect me, Jesus,' and I felt him right next to me."
Landrum said the bullet was surgically removed from his neck. He said although the wound has healed, it has taken him about four months to feel completely normal. For a while, Landrum said he felt out of balance and would get tired more easily.
He said after he was wounded, the College Park Police Chief Ferman Williford told Landrum he was going to recommend him for a Purple Heart award.
Landrum was given the award in a ceremony at the police station recently. He said his family, several officers and the mayor of College Park attended.
He also said his colleague Dunn, who put him in the patrol car and took him to the hospital, received a Meritorious Service award.
"It's an honor and it sounds trite, but you do feel like you're being honored for something that somebody else would've done the same thing," Landrum said. "There is an element of that, but it's certainly an honor."
Landrum said he was amazed at the outpouring of support he received after he was wounded. He said people have written him cards from as far away as Oregon.
"It's so important for people to understand that right now, there are so many that support us and know that they need us," Landrum said. "The reality on the ground is different than it's portrayed on TV."
He said he recently went through a drive-thru to get something to eat while on duty, and the person in front of him paid for his meal. Landrum said that's something that happens with some regularity.
Landrum added that he feels so much gratitude for Dunn and Smith who helped get him to the hospital after he was shot.
"These two guys are some of the best friends I have," Landrum said. "It is really hard to put into words what they did for me."