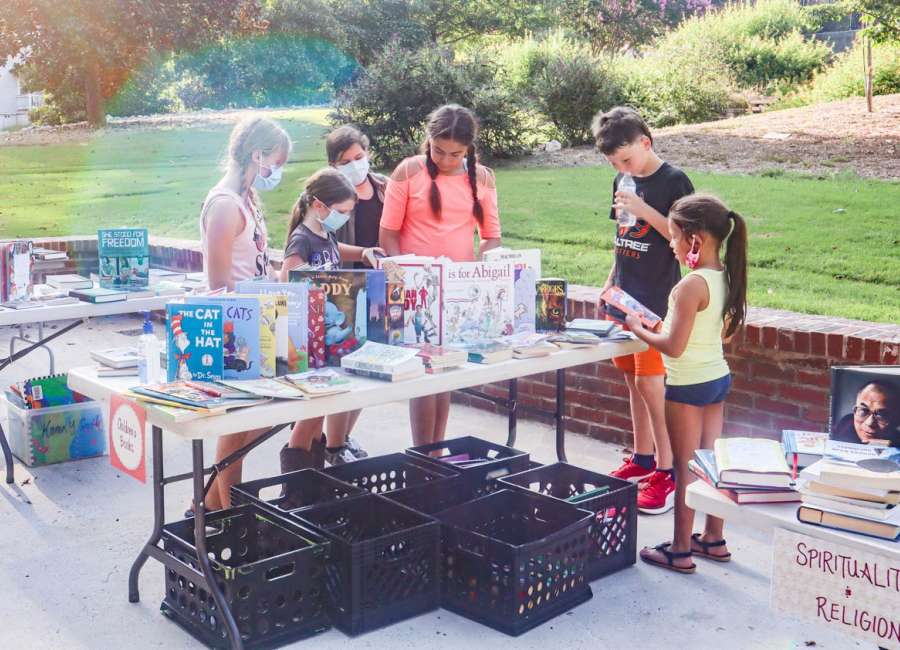 By MORGAN CRUMBLY

Citizens for Positive Reform hosted a book drive Saturday in downtown Newnan.
The "Hook'd on Books Swap'n Drive" took place in Lynch Park.
Books were made available to attendees via self serve tables with books organized by age group or genre. Youth of all ages and adults browsed from a selection of dozens of books.
Sara Wieda of Citizens for Positive reform helped to organize the "Hook'd on Books Swap'n Drive." Wieda said she has been teaching math to special needs students for three years.
Wieda said as an educator, it was important for her to ensure that youth in the community are still being academically engaged, despite the limited access to books because of the pandemic.
"I think the pandemic has restricted access to books and libraries, which means it has restricted access to information," Wieda said, "This would be a good day to provide the community with an outlet to get books they may not have access to right now."
At the event, CPR had school supplies available for students to take home.
There was a voter registration booth for any eligible parent or student who needed assistance with the process.
Wieda said CPR began organizing as a cohesive group almost two months ago.
"We came together informally at the courthouse in response to the death of George Floyd," Weida said.
Wieda said members of CPR noticed things in the community that could be "addressed for positive change" like literacy and homelessness.
Weida said she hoped that the "Hook'd on Books Swap'n Drive" could be a step to address problems CPR sees in the community.
"We're hoping to make this drive an annual event," Weida said.
She said the Coweta County School System does a great job, but there are disparities concerning opportunity.
"We're hoping to target more of the underserved communities in our county to make more equitable access," Weida said.
Weida said that CPR is partnering with Jill Prouty, a library administrator at the Peachtree City Library, to incorporate more youth programs in the community.
An hour into the book drive, children were able to read the books they selected for an alloted "story time."
Newnan resident Melissa Mojica brought her nieces to the event to participate in story time.
"This is what they need to do in their free time — reading," Mojica said.
"It will help them in the future," Mojica said, "You need reading to further yourself."
District 5 Coweta Commissioner, Alphonso Smith, attended the book drive and gave a speech about community engagement and voting.
He talked about his collaboration with CPR in scheduling community engagement events like "Neighborhood Netz Outreach," which is scheduled for this Saturday.
Wieda said, in the future, CPR plans to organize voter registration drives and other events with the intention of influencing positive change.