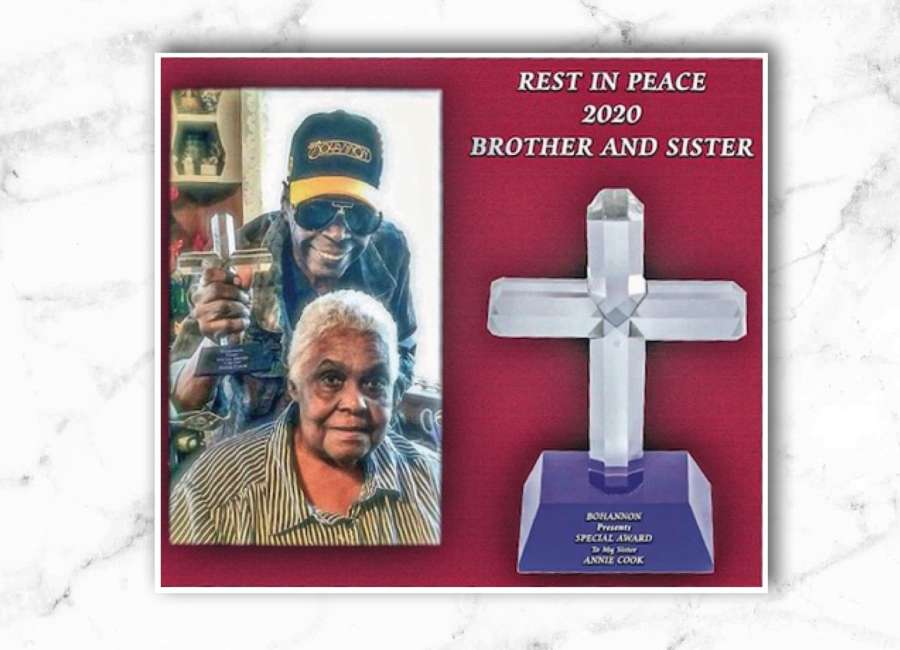 The Bohannon family would like to sincerely thank their hometown of Newnan, Georgia, Mayor Keith Brady, the surrounding Metro Atlanta community, and those from around the United States and other parts of the world for their prayers, condolences and other acts of kindness. They would also like to thank Roscoe Jenkins Funeral Home, Murray Brothers Funeral Home, Mt. Sinai Missionary Baptist Church and Pastor Antoine Martin.
Levi Bohannon, the brother of both Hamilton Bohannon and Annie Lee "Sister" Cook, says that it is very heart-warming to know that people cared so much, not just from around the Newnan area, but from around the world — some from as far away as Europe and China.
For Hamilton Bohannon's daughter April, the far-flung condolences reminds her that her father's legacy lives on in his music: "It's very touching — seeing all of those acts of kindness from China, Mexico, Spain, all over Europe — knowing my dad affected people that way, I'm just the proudest daughter on the planet."
Pier Cook Mehrvarz, Hamilton's niece and daughter of Annie Lee "Sister" Bohannon Cook, is very grateful for all of the life-lessons that her mother and uncle instilled in her: "They taught me the value of working hard and independence. My mother worked as a school crossing guard for over 50 years and at Bibb Manufacturing for almost 30 years, in addition to taking a second and third job to support me and put me through college." She continues, "My mom is remembered by family, friends, and former students as reliable, caring, and understanding".
"She was a natural born leader," said Levi Bohannon. "She was just always one step ahead of the game. She took care of everything."
April Bohannon Binion explained, "My dad and aunt were two of the most loving, nurturing people I will ever know. They never did meet a stranger. If you needed help, it didn't matter if you were family or not, if they had the resources themselves or not. They would find them. It's a legacy I see living on in my cousins and other relatives today."
Brother Howard Bohannon appreciates how Annie Lee "Sister" Cook helped his parents raise him and his siblings. He also recalls how he enjoyed traveling with his family and witnessing first-hand the enthusiasm and excitement from his brother's fans as they headlined concerts all over the world: "His music is one-of-a-kind and he never copied anyone," said Howard. "He was blessed to have the natural talent of writing all of his music."
Pier Mehrvarz added, "My mother was always very proud of her little brother, Hamilton, who she called Hamp. His songs 'Let's Start the Dance', 'Save their Souls', 'Thoughts and Wishes', and 'Singing a Song for my Mother', were some of her favorites."