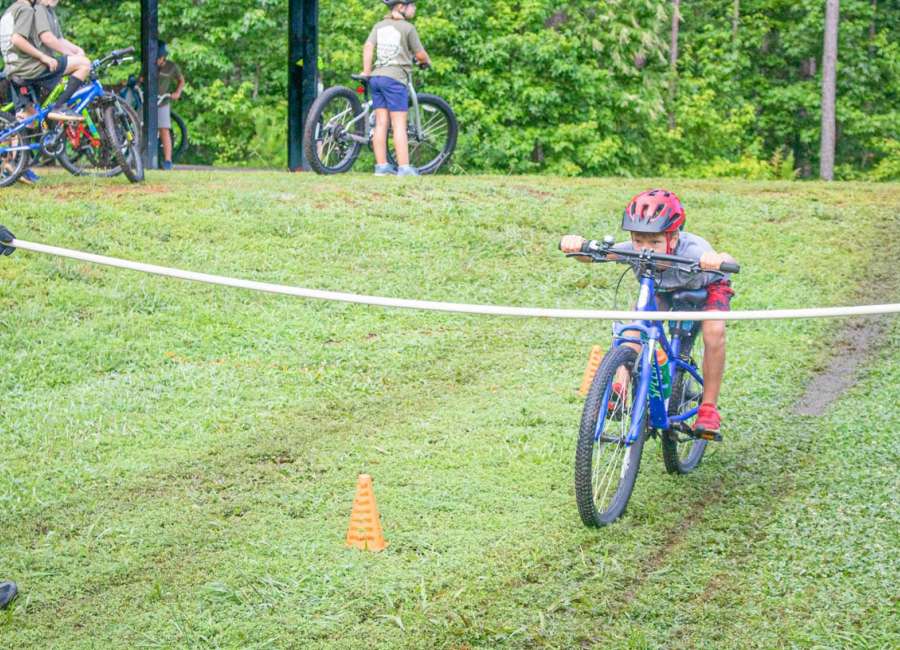 By MORGAN CRUMBLY
Bike Coweta and the Coweta County recreation department recently held a youth mountain biking camp at the newly extended Brown's Mill Battlefield trail.
The battlefield received a 5 ½-mile addition to its bike trail that was completed at the beginning of June.
Bike Coweta partnered with the Coweta County recreation department to hold a mountain bike camp for youth on the trail once its additions were finalized.
The camp was held Jun.6-9 at Brown's Mill in Newnan for bikers aged 6-12.
Chris Doane, who chairs Bike Coweta with other local cycling advocates, and is the Vice President of MTB Atlanta, said the camp was a great way for young bikers to become familiar with the mountain biking trail.
"Not only does it introduce kids to Brown's Mill, which is a safe place to ride, but it provides them a secure place where they don't have to compete with cars," Doane said.
Doane said that Bike Coweta wanted to hold this mountain biking camp as an opportunity to showcase the biking facilities that the community has to offer.
He said the camp was able to further provide physical activity for youth who have had limited athletic options due to the pandemic.
"Our kids still need to get out and get some activity and they're still looking to do that," Doane said.
Because of the nature of mountain biking, Doane said that it is one of the few physical activities that allow social distancing.
As opposed to road biking, where people ride in clusters, mountain biking requires more area per biker.
Doane said because of the "natural spacing" of mountain biking, the Brown's Mill camp was made possible.
Doane said the attendees were broken down into groups based on age and skill level.
"We had about 30 campers. They were broken down into groups of about 8-10 kids."
He said the groups allowed for further distancing during warm-ups and stretching. When the kids began riding, they were led by camp leaders and had more ability to socially distance.
"Once we got them on the trail, everything was cool," Doane said.
Doane said Brown's Mill has a "network" of trails that now extends six-plus miles.
"There's the outer loop, the inner loop, the beginner loop and the connector trail," Doane said.
The first three-quarters of the Brown's Mill trail was completed in 2019, and a ribbon-cutting event was held to promote it.
"One of the challenges of opening up the trail this year was people heard about it more by word-of-mouth, organically, and we haven't been able to have a ribbon-cutting for it," Doane said.
Bike Coweta worked with the trail advocacy group, Mountain Bike Atlanta, to approve the construction of the Brown's Mill mountain bike trail with the Coweta County Commissioners.
Doane said it was important for Bike Coweta to get this notion passed as a part of their mission to make Coweta County and Newnan a safer place for bikers and families to ride.
One purpose of the Brown's Mill Trail extension is to offer bikers a place to ride and train away from roads.
The mountain trail is intended to serve an additional purpose as a training facility for the local National Interscholastic Cycling Association team.
"Brown's Mill was also set up to provide our local middle and high school team a place to practice and train," Doane said.
One local NICA team, the Chattahoochee Grippers, consists of riders from Carroll, Coweta, and Fayette counties.
Doane said that this team has grown from 11 to over 30 members.
He said he believes cycling has grown in popularity in response to the pandemic, because cycling provides an alternative for athletes who are not able to play contact sports this season, due to cancelations.
Doane said he has seen cycling become an outlet for members of the community who aren't athletes as well.
"Bike shops have been covered up with business," Doane said, "there's probably been 3 to 4 thousand bikes sold in Coweta County since March."
Doane said the city is extending trails like Brown's Mill as a reaction to this trend.
"You're starting to see the city and the county develop bike facilities that cater to the community. They're doing it as a response to the demand for that," Doane said.
Bike Coweta's goal is to provide a safe and bicycle-friendly community to local citizens and to encourage cycling tourism as a source of local economic impact.
Doane said the Brown's Mill mountain trail is an example of how having proper biking facilities can positively affect the local economy because it influences tourism.
"Brown's Mill has already had several group rides organized by Coweta County parks and rec which had cyclists coming into town from both Columbus and Atlanta," Doane said.
"When Brown's Mill is positioned as a mini destination for mountain biking, it invites people to go to a bike shop or come and have coffee," Doane said.
"Part of Bike Coweta's mission is to influence economic impact as it relates to bike fatalities."
Doane said currently Bike Coweta is focused on bike facility planning with the city and county.
"It's holistic work," Doane said, "We're looking for opportunities to have more bike racks and bike parking."
He said in the future Bike Coweta looks forward to having group rides and other cycling events in the area.