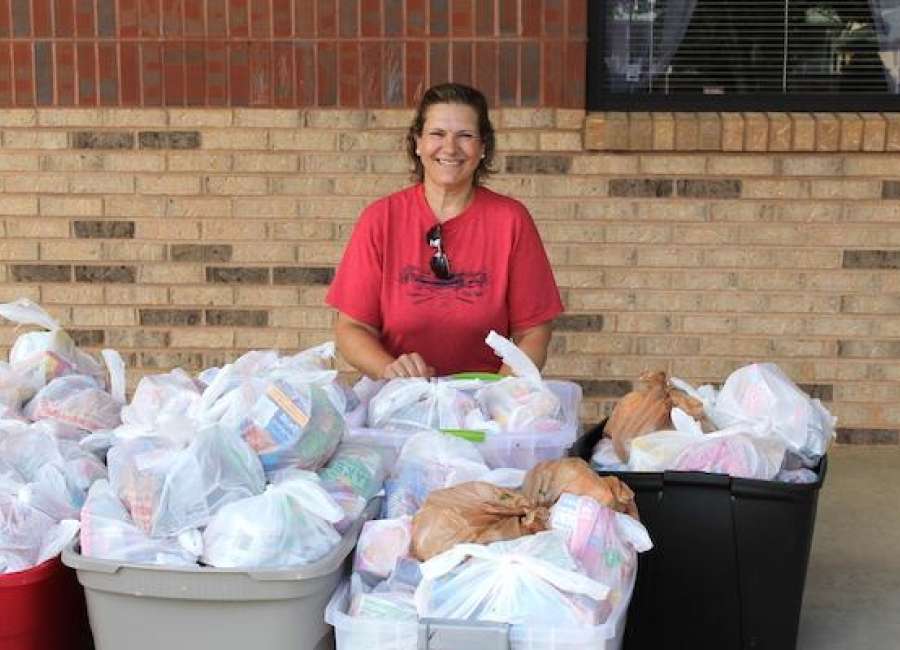 When schools closed for COVID-19 in March, the school system jumped in to provide breakfast and lunch for school-aged children, and the Backpack Buddies program assisted by providing bags of food for the weekend.

Since the school closure through the summer, the school system and Backpack Buddies have kept local children fed, no matter what school they go to.
Backpack Buddies is a local nonprofit that helps fill the gap for students who receive breakfast and lunch at school but need help with meals on weekends and holidays.
The organization works with school counselors to identify students who could benefit from the program, their parents sign them up and they are sent home with a bag of shelf-stable, easy-to-eat food on the weekends.
Backpack Buddies has continued to hand out bags of food for the weekend through the school system's meal service program on Fridays. Program Coordinator Lori Burnett said they have provided about 23,000 bags of food since March.
Burnett said every time she thought they were getting close to running out of food, they would post what they need on the organization's social media pages. She said they always received everything they needed and more.
"It's been amazing," Burnett said. "The community support during this time has just been amazing."
Backpack Buddies has been working with limited volunteers to reduce the spread of COVID-19. Usually, groups would come in once a week to volunteer, but Burnett said they've been using the same small number of volunteers.
Burnett said they won't have volunteer groups come back in at least until the Coweta County School System transitions to face-to-face instruction.
Local neighborhoods have also stepped up to help Backpack Buddies, hosting food drives for the organization. Backpack Buddies has taken its van to five neighborhoods where residents have brought donations to fill it up.
Burnett said when the COVID-19 pandemic first began, they had a hard time going to local stores and buying food because stores were limiting quantities of items, such as canned goods.
While Backpack Buddies is an agency of both the Atlanta Food Bank and Midwest Food Bank, those organizations don't always have the type of food Backpack Buddies needs. Burnett said the food they provide to children is shelf-stable and easy to open, so they can prepare it themselves if needed.
However, Burnett said whenever they have a need, they put it out on their social media pages, and it is usually met. When they announced they were having a hard time buying in large quantities, community members stepped in to help.
"COVID-19 has definitely brought us many challenges across the board, but my mind has been blown by the love and provision from our exceptional community," said Backpack Buddies President and Founder April Anderson.
Backpack Buddies will continue to provide bags of weekend food on Fridays when school starts back virtually Aug. 13.
Right before school was canceled in March, Burnett said they were sending home nearly 1,150 bags weekly. She said that was the most they had sent out up to that point.
In assisting the Coweta County School System's summer meal program, Backpack Buddies hit its highest number in late June, distributing around 1,700 bags a week.
Parents can sign up for their students to receive Backpack Buddies bags for the school year when they fill out a free and reduced lunch form from the school system. The form to sign up for Backpack Buddies can be found here .
Backpack Buddies needs volunteers to pick up and distribute weekend bags on Fridays when school begins virtually. The volunteer sign-up form can be found here .
These are the current food items Backpack Buddies needs: individual fruit cups; ramen noodles; canned soup; ravioli, both pop-top and cans or any pasta meal in a can; grits or oatmeal packets; small boxes of cereal, individual servings; mac-n-cheese boxes; individually wrapped snacks such as peanut butter crackers, cheez-its, pudding cups, cookies; and cases of water.
Backpack Buddies receives donations Wednesdays from 9 a.m. to noon and Fridays from 9 a.m. to 1 p.m. The office is located at 96 Werz Industrial Blvd.; those dropping off donations can pull up to the back of the building at the roll-up door.
Backpack Buddies can work with those who can't make the donation times to set up another time. Text 678-770-8618 to coordinate a time. Backpack Buddies posts updates on its website, backpackbuddiesga.org .