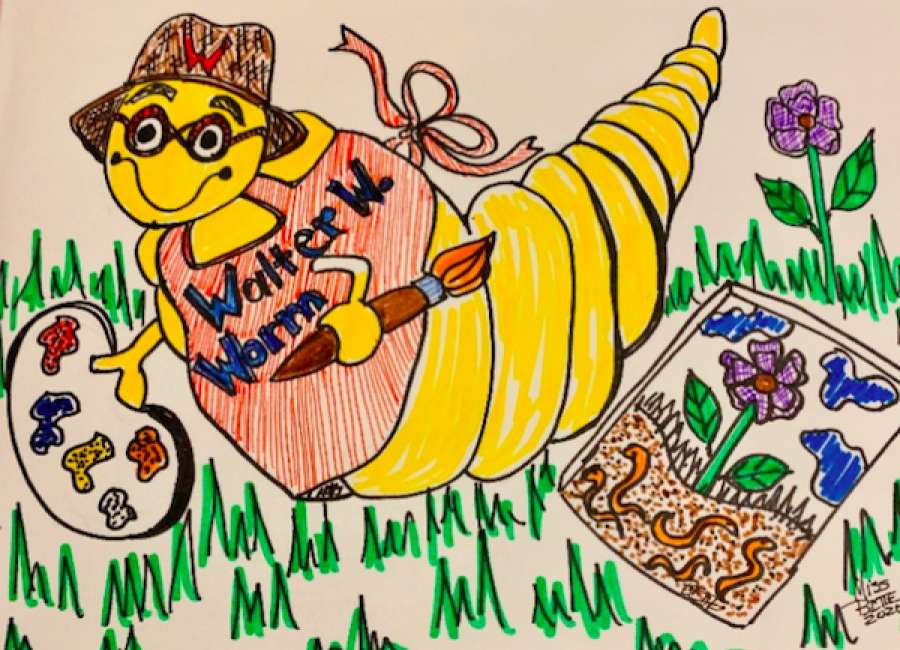 The Young Artists of Newnan and Coweta County, in partnership with the Coweta County Parks and Recreation Department, is hosting a virtual art lesson and contest in July.
Children can enter the contest by drawing an earthworm character based on "Walter the Worm," according to Bette Hickman of The Young Artists of Newnan and Coweta County.
"While sheltering in place at her farm, Miss Bette (Hickman) began digging in the dirt, discovering the wonderful world of earthworms!" the release said. "She pondered the importance of the wee worms and how their activity below the grass enriches the earth and allows the grass to grow."
"The discovery of these small creatures opened the door to this project, Walter the Worm and His Friends! We hope you will decide to join in and celebrate the wonderful world of worms!" the release added.
Walter W. Worm is an artist in his free time. His regular job is working as a Coweta County Parks and Recreation Department groundskeeper. He has worked his way up to Foreman and is highly respected by all.
"Walter has a great crew of fellow worms that are dedicated workers who squirm daily in the good earth, adding nutrients and ensuring the health of the grass throughout the recreation grounds," the release said.
Walter and his crew strive daily to make their boss, Coweta County Parks & Recreation Department Director Jim Gay, proud. Walter became interested in art when the Harriet Alexander Art House was built.
"He enjoyed watching the Young Artists take their art materials outside the art house to enjoy the beauty of nature," the release stated. "He started listening to Miss Bette and Miss Teri and decided he would try his hand at drawing and painting."
Walter always includes worms in his work, and he hopes other artists will begin to think about the worms under the grass and create art in recognition of his friends.
Here's how to draw your own earthworm character:
Pencil first, drawing lightly so you can erase if need be.
When you have drawn the lines you want to keep, use your Sharpie (what we call an "inking" pen) to ink in those lines.
Erase all your pencil lines and then decide what colors to use.
You may decide to use crayons, colored pencils or markers.
Now give your earthworm a name and write a few lines about them to share with others.
Take a picture of your earthworm character and their story and send it to cowetarecchallenge@coweta.ga.us by July 31. Registration for the contest is at https://secure.rec1.com/GA/coweta-county-ga/catalog under the "Virtual Recreation" tab.
The drawings received will be judged by a panel put together by the Coweta County Parks and Recreation Department. The winner will be announced on the Parks and Recreation website and will receive one free month of art lessons in September from The Young Artists of Newnan and Coweta County.