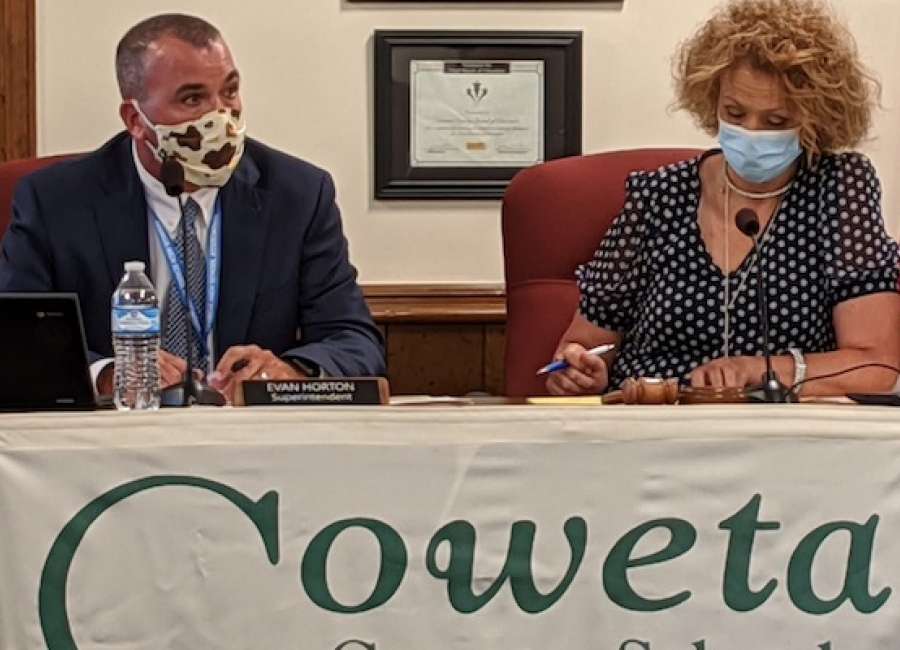 Coweta schools are preparing for an unprecedented school year because of COVID-19, and some changes may require state approval.

The Coweta County Board of Education has approved a local board resolution requesting amendments to the school system's operating contract with the Georgia Board of Education.
The board is asking for the following changes:
• Compensation for teachers' duty-free lunch periods, in case students are required to eat meals in classrooms and have to be supervised by teachers.
• Flexibility in providing the required 90 minutes per week of physical education and health for students in grades K-5, to allow for social distancing within classes.
• Utilization of media programs during "specials" – classes that are meant to enrich or expand on a particular area of study, which typically are hands-on or project-oriented. School officials say greater flexibility is needed to deliver specials while maintaining social distancing guidelines.
"We're requesting these waivers specifically in light of the situation with COVID-19," Superintendent Evan Horton said at the meeting.
Coweta County is a Strategic Waiver School System, operating under the terms of a contract with the state that provides a local school system with the freedom to adapt its educational methods to help to increase student achievement. The school system also has developed a fully virtual option for the 2020-21 school year.
On the state level, the Georgia Department of Education is working with state officials and legislators to craft a similar request to suspend standardized testing for the 2020-21 school year.
"Given the ongoing challenges posed by the pandemic and the resulting state budget reductions, it would be counterproductive to continue with high-stakes testing for the 2020-2021 school year," said State Superintendent Richard Woods and Gov. Brian Kemp in a joint statement issued in mid-June.
The waiver would include Georgia Milestones, CCRPI school and district ratings, and the TKES teacher evaluation summative rating.
"We believe schools' focus should be on remediation, growth and the safety of students," Woods and Kemp said in the release.
The state appears to be moving away from a focus on testing. In February, Georgia legislators passed Senate Bill 367, which decreases the number of high-stakes, high-pressure tests for students.
"We are more in line now with the federal minimum testing requirements, which means there will be more time for students to learn and teachers to teach," Woods said. "This legislation is a response to the persistent and urgent concerns raised by classroom teachers, students and parents, who have been sounding the alarm about the negative impacts of excessive high-stakes testing for years."
Horton said he appreciates the approach taken by Kemp and Woods, especially as schools attempt to recover from the premature end to the academic year in mid-March.
"It will allow us to focus on school, to focus on supporting our students and staff, and to focus on addressing gaps in student learning created by this year's COVID closure," Horton said. "I wholly support the governor placing priority on student instruction and on the safety of our schools as students return. His approach frees us up to do that."
Coweta Schools will make necessary adaptations – as indicated by the waiver amendment request approved Tuesday by the school board – but Horton said Coweta Schools will focus on providing a healthy environment for students and staff as the global COVID-19 pandemic rages on, and on providing a quality education for students.
"Things will look different and operate differently in some respects than they did before COVID-19," he said. "But the overall goal is a safe, healthy and traditional school experience that allows us to focus on teaching and supporting students."