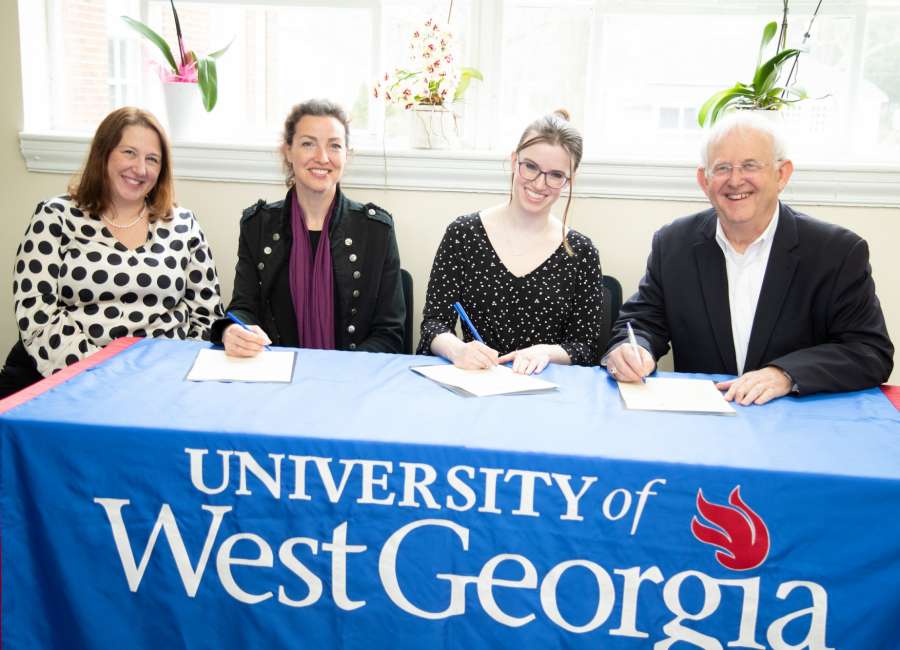 The Newnan-Coweta Historical Society (NCHS) recently committed a generous gift to the University of West Georgia to support the Community Archival Program.

This partnership of collaborative cultural stewardship, administered through UWG Ingram Library's Special Collections, includes archival materials and a graduate student stipend for support of the project.
"We are honored to be a partner with UWG on this project," said NCHS President Gary Welden. "The staff at NCHS have benefited from and learned from the partnership and believe it will benefit the community for years to come."
UWG Special Collections is aiding NCHS in arranging, describing and preserving archival materials of historical importance, as well as making inventories of these collections available online for research by students, scholars and the public.
"The partnership grew out of UWG Special Collections' interest in connecting to the broader regional community in order to preserve items of archival and historical value, embodied in our Community Archives program," said Dr. Michael Camp, political papers archivist in Ingram Library.
Camp has begun arranging and describing some of NCHS's most notable holdings, including papers of the McRitchie, Hollis and Peniston families, along with historic materials from Newnan High School and records of NCHS's involvement in the creation of the Brown's Mill Battlefield historic site.
The graduate student supporting the project, Jennah Marston MacPherson, is originally from Newnan. Her work this past spring included processing the Newnan Historic Persons Photograph collection, which contained images of Civil War soldiers from Newnan, buildings, local families and events held in Newnan.
"I learned a lot about the history of Newnan while I processed this collection, and I found it all very interesting since I grew up in the Newnan area," said MacPherson of the project. "I hope to continue adding photos to this collection when I get back to work at the NCHS this fall."
In June 2019, UWG Special Collections and NCHS executed a memorandum of agreement establishing a partnership between the two entities. A formal signing to honor the partnership took place in March 2020 at UWG Newnan.
"We are grateful to NCHS' board of directors for providing gift funding to support the project," Camp concluded. "This partnership furthers our goal of preserving and making accessible the historical resources of the west Georgia region."
Last year, UWG Ingram Library's Special Collections was utilized nearly 150 times.
Special Collections supports the following hallmark collections:
West Georgiana History and Culture Collection: Collections that capture regional history, people and culture
Georgia Political Papers and Oral History Program Collection: Document Georgia's politics and political history, as well as the Georgia Political Oral History Project
University Archives: From A&M to UWG Collection
Humanistic Psychology and Parapsychology Collection: Internationally acclaimed psychology collections
COVID-19 Collection: Active collections of regional experiences of COVID-19 from the west Georgia region
For more information on UWG's Special Collections visit westga.edu/library/special-collections/index.php.
For more information on UWG's Community Archives Program visit westga.edu/library/communityarchives.php.