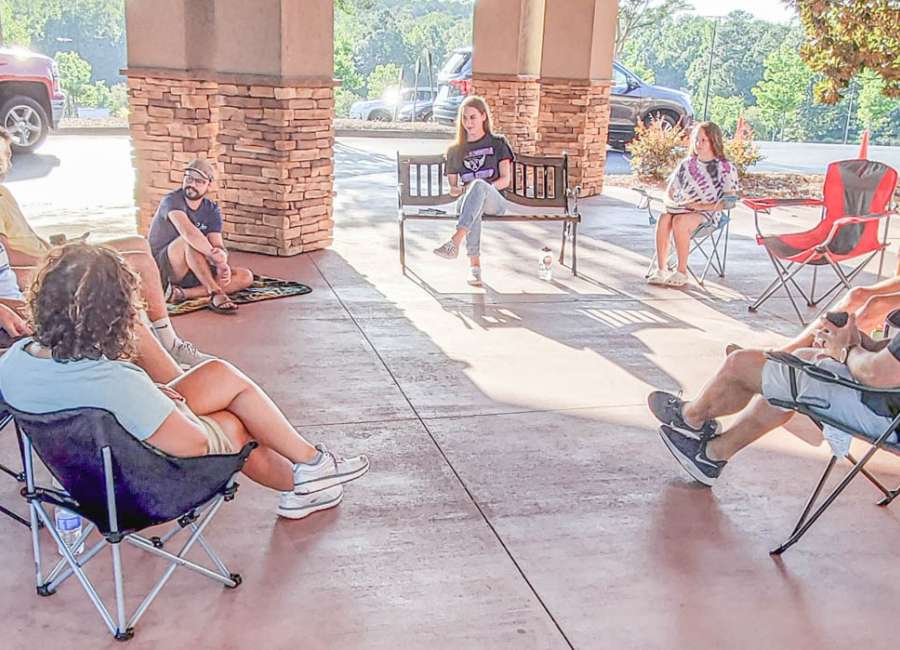 Following the abrupt halt to the Trinity Christian Lions track season, the team has been heavily focused on team bonding, as well as the spiritual and mental development of their athletes.
As of Sunday, July 19, the lions partook in their second face-to-face devotional of the summer at Crossroads Church.

The first summer devotional took place, July 12, as the Lions have restarted in person devotions, spearheaded by 400m runner and triple jump athlete Bryan McGuire. Players and coaches see this time as an opportunity to be faith leaders, and be a positive reinforcement in each other's lives. However, the Lions were still able to keep their weekly devotional tradition during COVID-19 through Zoom calls every Monday.
"Our meetings are more like group discussions. We just want to help each other grow, "said student-athlete Bryan McGuire.
"In order to be disciples, you've got to build disciples," said Coach J.P. Weaver. "We want to continue to grow and invite people to these meetings, but even if there are just seven or eight people here, that's great. What's important is having deep conversations and influencing others."
During track season the team participates in devotion every Monday; also, during the meetings, a baton captain is chosen to lead meetings as well as choose the captain for next week.
Starting last year's offseason, the team started their most recent tradition of coming together for offseason discipleship every other Thursday during their lunch.
"We usually have about 35 kids in the classrooms, and we even get other kids from other sports to come in," said Weaver. "It's all about life lessons."
The abrupt ending to last year's premature season taught the team that anything can be taken away from you in an instant, and that adversity is inevitable; therefore, you must continue to push forward no matter the circumstance, according to Weaver.
"We always tell our kids, run every rep like it's your last; jump like it's your last rep, because you never know when it's going to be taken from you," Weaver said.
The Lions track team put a lot of emphasis on its student-athlete development program, with additions of Sandy Granade, who has been a group fitness instructor for over 20 years. Granade, who has been with the team for four years, leads the team in stretching and core workouts.
"Incorporating stretching and core exercise allows you to make your body stronger and tolerate the stress of a track program. If the body comes in strong and flexible, you're a much better athlete," Granade said.
The amenities Trinity has offered its athletes has translated into their recent success as the 2019 4x100 team eclipsed a GISA AAA record. Both the girls and boys' teams have combined for 8 regional championships; however, the girls have been runners up in the reason twice, including GHSA. The program has also had 17 athletes to sign national letters of intent.
Trinity also feels very confident about their recent jump into GHSA due to their ability to cross over and have all of their regular-season meets. Competing with teams such as Landmark and Parkview gives them even more confidence going forward.