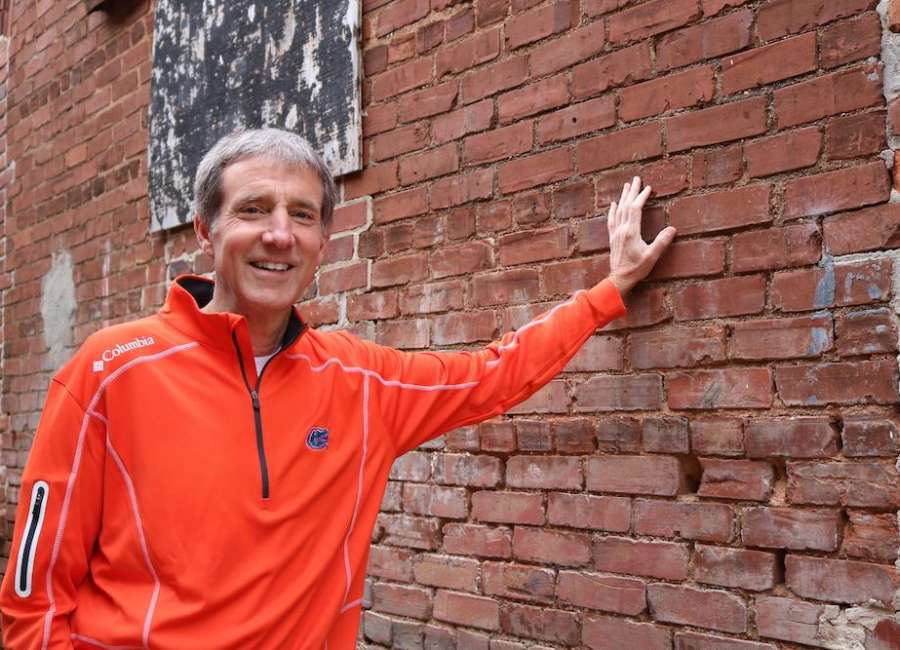 I haven't been running well lately. There was a time when I could count the number of bad runs I had in a year on one hand. For the last 100 days or so I can count the number of good runs I've had on one hand, and still have a couple of fingers left over.
Lately, it seems that there is just something missing in my running, the way the wings of a bird or the sails of a ship would be if there were no wind. In other words, I don't seem to have any spring left in my step.
***
Gary Griffin wrote something recently that shed a little light on what I believe has a little something to do with what has been ailing me:
So, I was out at the Miccosukee Greenway early this morning and ran into
my longtime age group running rival and good friend Bill Perry.
I had not seen Billy since the (corona) virus set in.
Our paths used to cross fairly often back when the world was normal.
Billy was out there going for a long bike ride with his boys and I was doing a long walk inasmuch as I was on restriction from having had cataract surgery two days ago.
Billy says to me, ' you know we're in the middle of the fourth quarter, don't you?'
I responded that I had not really thought about our mutual aging process
in that way but that yeah, he was probably right.
I then tried to one-up him (as we always did when racing against one another back
in the day) by saying, 'you know we've lived in eight decades, don't you?'
Billy assured me that he was fully aware of that milestone as well.
We parted ways, Billy out on his bike and me on foot and I got to thinking.
(BTW, I can think when I walk. People have asked me for years, 'what do you think about when you're out there running hour after hour?' and all I could ever say was 'how glad I am going to be when I'm done…')
In other words, I don't solve any world problems or even my own
much smaller problems. But like I said, walking's different. I can think.
So today after Billy and I went on our merry ways I began thinking of our brief conversation. Like me, Billy is a man of faith in Jesus Christ;
His Resurrection and the promise of eternal life.
As such, Billy is one who knows that this world is not all that there is.
When he said that thing about he and I being in the middle of the fourth quarter of our lives he was speaking of temporal things. But to carry out the football analogy into the eternal world of promise, I believe he and I are actually in that millisecond
just before the kicker's foot hits the ball to start the game that goes into an unlimited number of overtimes – a game with no bad calls, penalties, fumbles or faceguard slinging and a game in which everyone wins.
So, Billy. I guess it's about time we put in the first team, huh? The clock's a tickin', buddy. Not just for Billy and I but for all of us. Peace be with you all.
***
I've had the good fortune of living in eight decades myself, and in all probability,my life is now somewhere in the fourth quarter. At this point in my life, slowing down is to be expected.
But I'm grateful for that; not everyone is fortunate enough to make it this far.
***
Our son Josh was playing in a basketball game for his school team when he was knocked to the court in the second quarter. Play was halted as the team's coaching staff rushed over to him to assist. Josh was helped to his feet and escorted to a seat on the team bench. At halftime as his teammates ran to the locker room, Josh shuffled behind with - judging by the look on his face – his head in the clouds. He sat on the bench – with his eyes glazed over - for the entire second half of a game he would later have no recollection of.
Almost two decades later history repeated itself: Josh was taken out of the game in the middle of the second quarter. Only this time it wasn't a basketball game; rather, the game of life. It didn't seem fair at the time and it doesn't seem fair now; nor will it ever be. If Josh could only have made it to halftime, there's a good chance he could have made the necessary adjustments that good teams make to turn things around in the second half. Unfortunately, we'll never know.
***
I've said for many years that the only person a runner is truly capable of impressing are himself or herself. For example, my son Justin is equally impressed (or unimpressed, as the case may be) if I run 10 miles or 100 miles. Cindy seems to think it's more difficult to run five miles in the heat of the day than it is to run for 24 hours straight. Probably the most recurring 'accolade' I hear from my non-running friends is that I'm able to eat anything I want without gaining weight because I 'run 10 miles every day' – as if running 10 miles every day is something that take no effort whatsoever on my part and – you know – just sort of comes naturally.
But Josh was different. He understood the dedication, the commitment and the sacrifice it took to be a runner. He understood how to face pain, look it in the eyes and run right through it. He understood there was no finer sport on earth than running. It makes me proud to know he learned a little bit about those things from me. As for Josh saying that when he grew up he wanted to be just like me, well, there is just no higher compliment.
Now that Josh is gone, there is no one to appreciate the couple of hundred marathons I've run; he knew from experience how much discipline, training and effort it took just to get that first one under his belt.
There is no one to appreciate the thrill and privilege I've had of running the Boston Marathon a dozen times; Josh accompanied me one year to watch, and as I turned onto Boylston Street and headed towards the finish line I picked out his face in the crowd. We made eye contact, and I could tell by his expression that he knew exactly how I felt.
There is no one to appreciate that, if I've run enough miles to get me two-thirds of the way from the earth to the moon. Josh understood from personal experience how much effort it takes to run just a single mile.
There is no one to appreciate what I had to endure to run 135 miles through Death Valley; Josh knew because he was there with me every step of the way in that extraordinarily hot summer of 2003.
There is no one that appreciates the books I've written on the subject of running the way Josh did; he devoured every one of them. In fact, he even wrote the Foreword for my very first one, Running through My Mind.
It may very well be that I've run the way I have for more than four decades was because of Josh; he was a runner and could understand and appreciate what I did. I wasn't doing it for myself; rather, I was doing it for Josh. I wanted him to be proud of me; enough that he would pass on stories about his running-obsessed father for generations to come. So it is beginning to make sense: once he was gone, so was the spring in my step.
***
I can't run as fast as I used to, not by a long shot. I don't run as far as I used to. The bad days outnumber the good by 10 to 1, if not more. At the end of my latest book about running, Running out of Gas, I mentioned that although I'm now at the point of running on fumes, I'm still running.
But things have changed. Ever since Cindy and I lost our precious son, the needle on my gas tank is pointing perilously close to 'E.'
***
On November 30, 2018, I had the honor of running into Ben Hill Griffin Stadium onto Steve Spurrier - Florida Field to commemorate the 40-year anniversary of my consecutive days running streak. Josh, along with my good friends Antonio Parks and Keith Kettrey, accompanied me on that memorable day, a day that I would give anything to do all over again.
October 21, 2020, would have been Josh's 35th birthday. On that day Antonio, Keith and I will be running 35 miles in Josh's honor. It's probably farther than I need to be running at this point in my life, and in all probability,it will be my last 'long run' of any significance. There are 100 days until my date with destiny; after that it may be time to put running – at least as I remember it – in my rearview mirror. With all of that being said, you are probably wondering why I'm doing it.
I believe it's something I have to do for Josh because - if Josh were still here - he would be doing it himself.
It's a small sacrifice; one that any father would be willing to make for his son.
Scott Ludwig
July 13, 2020
November 30, 2018
Gainesville, Florida
Josh (far left), Scott (5th from left), Antonio (7th) and Keith (9th)